John Logan
Conductor
John studied initially at the Royal Scottish Academy of Music and Drama (the previous Royal Conservatoire of Scotland) before he completed a postgraduate study at the Guildhall School of Music and Drama. He went on to join the City of Birmingham Symphony Orchestra under the direction of Sir Simon Rattle. During his five year tenure in Birmingham, John enjoyed worldwide touring and involvement in major recordings. He was also at this time heavily involved with the Orchestra's education programme. In 1994, John was appointed Associate Principal Horn with the Royal Scottish National Orchestra and has continued his involvement in many other areas of the music profession. He is also an accomplished accordion player.
RSNO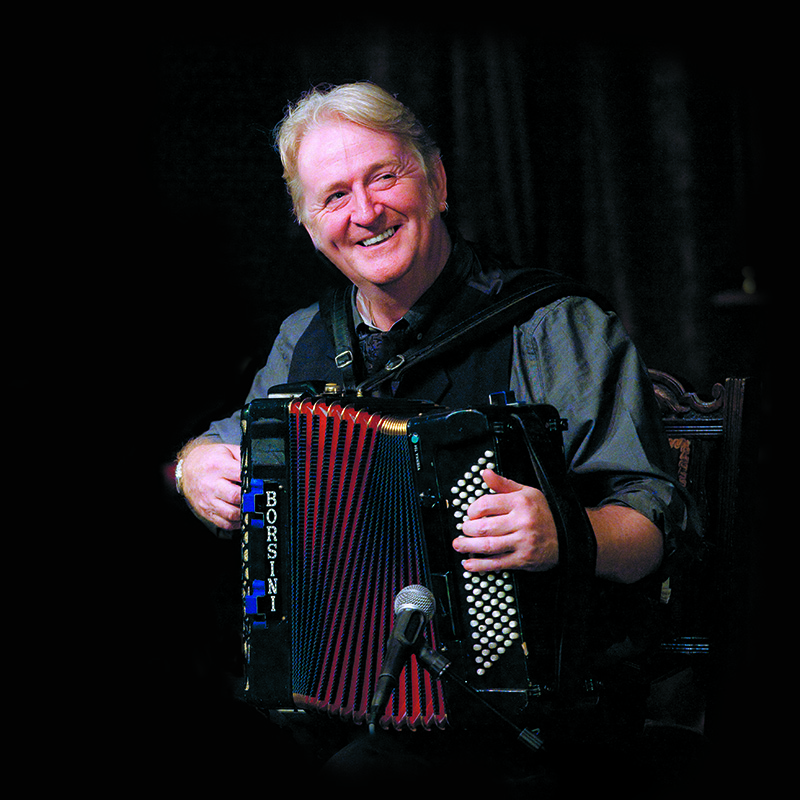 Phil Cunningham
Accordion/Keyboard
Superb, innovative instrumentalist, with not simply the fastest fingers in the West but some of the most sensitive ones, too! The man who, in Scotland at least, made the accordion respectable again and also plays fine keyboard and whistle;composer, whose range extends from heart-tugging slow airs to vibrant tunes for a string of successful theatrical productions and to full-scale concert suites, where bagpipes, bodhrans and bouzoukis meet up with sometimes bemused classical orchestras in a whirlpool of rampant, exuberant sound; powerhouse behind two innovative and hugely influential bands, Silly Wizard and Relativity; television and radio presenter, producer and director, involved in some of the seminal programmes that have enabled Scottish music to walk tall; record producer, responsible for many must-have albums; unfailingly affable, world-travelling ambassador for traditional music; humorist, whose breezy banter can have a 2000-seat hall falling about in the aisles; unfailingly patient, inspiring and witty musical partner of the great Shetland fiddler, Aly Bain; winner of countless music awards, including a writer's Grammy and, with Bonnie Raitt, multiple gold, silver and platinum albums; teacher, who not only helps young people but was on one occasion called in to give David Essex a singing lesson; Doctor of the University of Stirling, Member of the Order of the British Empire... where the hell do you start with Phil Cunningham? Perhaps at school - Portobello High, in Edinburgh. It was there that the gauntlet was thrown down. Although he had been the star violinist in the class of 1974, and had been studying classical music on the accordion, his departure at the age of 16 delighted the music teacher, who told him: "You're a waster, just like your brother. You'll do nothing, and go nowhere." Phil never forgot that. And, as his musical career increasingly took him to faraway places, never forgot to send the teacher a postcard. " Dear Sir. Here I am in Bermuda. Where are you?"
RSNO
Aly Bain
Fiddle
Aly Bain is Scotland's supreme traditional style fiddler. His playing is unique - driving, impassioned and pure - with vibrant, unmistakable tone that has earned him a following of ardent fans throughout the world. Born in Lerwick, Shetland in 1946 Aly began playing the fiddle at the age of eleven. In his early twenties, Aly headed to mainland Scotland. His dramatic playing, with great tone and technical ability brought early recognition as an outstanding musician of the folk music revival, and almost overnight, raised the level of expectation for music lovers throughout the country. To quote Billy Connolly of these early days, 'I had never heard the clarity of tone or the beauty. ...I had never heard the passion.' Aly embarked on a life of intensive playing, recording and travel that continues to this day. He helped establish the folk band Boys of the Lough with whom he toured extensively and recorded for many years.Simultaneously, Aly pursued a solo career in collaborative and television projects. Although Aly's musical base is in Scotland his extensive travels have led to an appreciation and mastery of many kinds of music. He has applied this knowledge to the production of several networked television series bringing traditional music to a constantly widening audience, including the renowned series 'Down Home', which has now reached almost cult status. Aly has received many honours for his services to music, including four Doctorates and an M.B.E., and numerous Honorary Citizenships in the USA. He continues to be an ambassador for Scotland abroad and a powerful advocate for traditional music. His teaming up, star collision, with brilliant accordionist/composer Phil Cunningham has added yet another dimension of appreciation for audiences everywhere. They have toured and recorded together since 1988 and to date they have recorded four albums, released on Aly's own record label Whirlie Records.
RSNO
National Youth Pipe Band of Scotland
&nbsp
The National Youth Pipe Band of Scotland is a non-competing cutting edge performance pipe band for 10-25 year olds in Scotland. Launched in 2002, the National Youth Pipe Band is the first and only organisation of its kind to bring together Scotland's most talented young musicians at a national level. Membership is drawn from across Scotland's 32 councils, and young pipers and drummers come from an array of different competing pipe bands and musical backgrounds, brought together as a collection of the very best chosen to play for their country. The National Youth Pipe Band provides unique development opportunities for its young members and an exceptional musical experience for its audiences. The NYPB is a dynamic, exciting, and modern spin on the traditional pipe band experience, and performs both at home and abroad.
RSNO
Our Sponsors and Partners