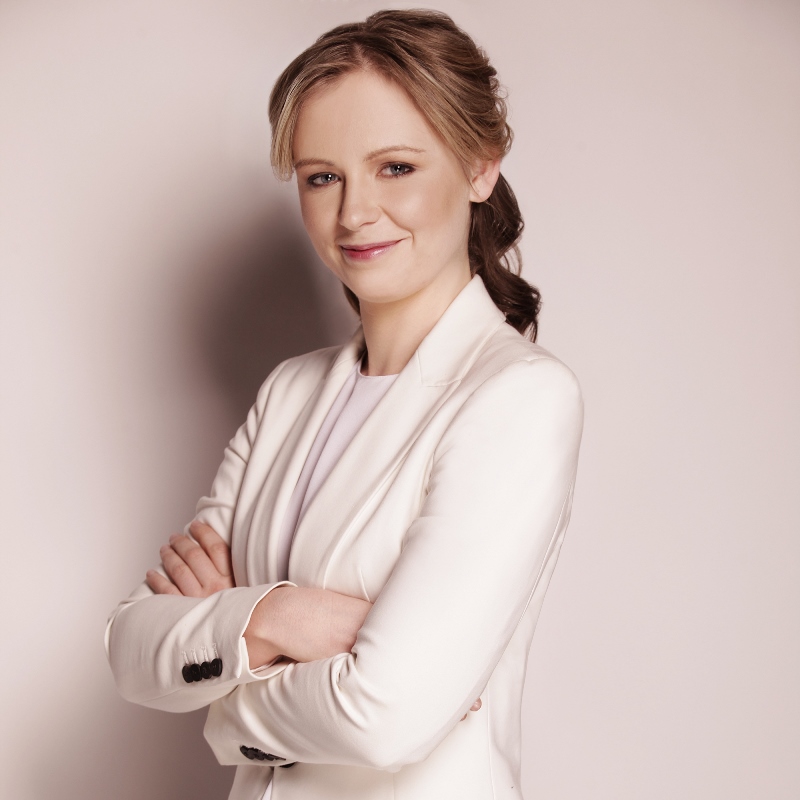 Ravel Le Tombeau de Couperin
Neruda Concerto for Corno da caccia (Trumpet)
Interval
Beethoven Symphony No7

Every player in the RSNO is a star, and when you hear our principal trumpet Christopher Hart playing this little jewel of a concerto from 18th century Prague, you'll understand why. It's a long way from Ravel's ravishing homage to the baroque era - written in the aftermath of the Great War. And then conductor Gemma New raises the roof with Beethoven's Seventh Symphony: 40 minutes of unstoppable rhythm, raw energy, and melodies you'll never forget.
Box Office: 01463 234 234
Discounts
Over 60s £2 off full price tickets; Under 18s £6.50; Under 26s, Students, Unwaged £12; Friends Under 18 £5.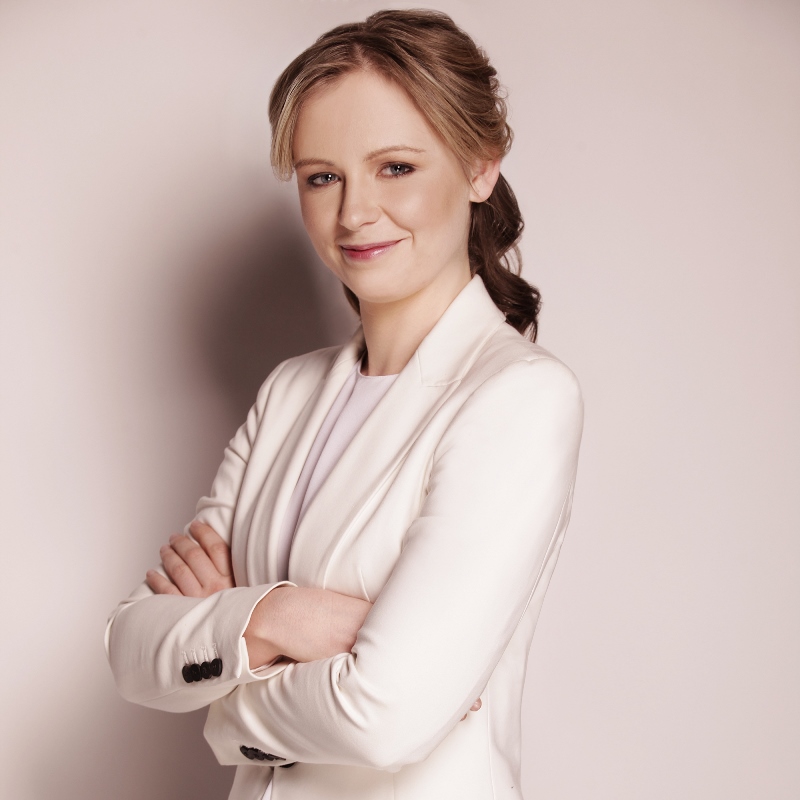 Gemma New
Conductor
Sought after for her insightful interpretations and dynamic presence, New Zealand-born conductor Gemma New is Music Director of the Hamilton Philharmonic Orchestra in Ontario, Canada and Resident Conductor of the St. Louis Symphony Orchestra. In addition to maintaining a close relationship with the New Jersey Symphony Orchestra and Chamber Orchestra of San Antonio, New's recent and guest engagements include such North American orchestras as the Albany Symphony, Cabrillo Festival of Contemporary Music, Manitoba Chamber Orchestra Orlando Philharmonic, New York City's Orchestra of St. Luke's, in addition to the Helsingborg and Malmö Symphonies in Sweden, Poland's Szczecin Philharmonic, the Royal Scottish National Orchestra, and the Auckland Philharmonia and Christchurch Symphony in New Zealand. A former Dudamel Conducting Fellow with the Los Angeles Philharmonic, New has led youth, school, and community programs with the LA Phil, and assisted Music Director Gustavo Dudamel, Conductor Laureate Esa-Pekka Salonen and other guest con-ductors. Additional significant experiences include a David A. Karetsky Conducting Fellowship at the American Academy of Conducting at the Aspen Music Festival, and an Ansbacher Fellowship, during which she was selected by members of the Vienna Philharmonic to take up residence at the Salzburg Music Festival. New has also resided in Leipzig, Germany as a Felix Mendels-sohn-Bartholdy Fellow, where she studied Mendelssohn's music with Kurt Masur and led the Leipziger Symphonieorchester in the historic Lindensaal of Markkleeberg. Holding a strong interest in contemporary music, New made her Carnegie Hall conducting debut in 2013 when she led works by John Adams and Andrew Norman on the American Soundscapes series. In 2010 she founded the Lunar Ensemble, which recently performed as a headliner for the National New Music Gathering in Baltimore, Maryland. New has conducted several contemporary operas, as well as assisted operas by Mozart, Verdi, and Ravel. With the LA Phil, she has assisted for semi-staged productions of Cavalleria Rusticana, Pagliacci, and Beethoven's Missa Solemnis. In the 16/17 season, New led a Wagner/Arnauld arrangement of Tristan und Isolde with the Chamber Orchestra of San Antonio.
RSNO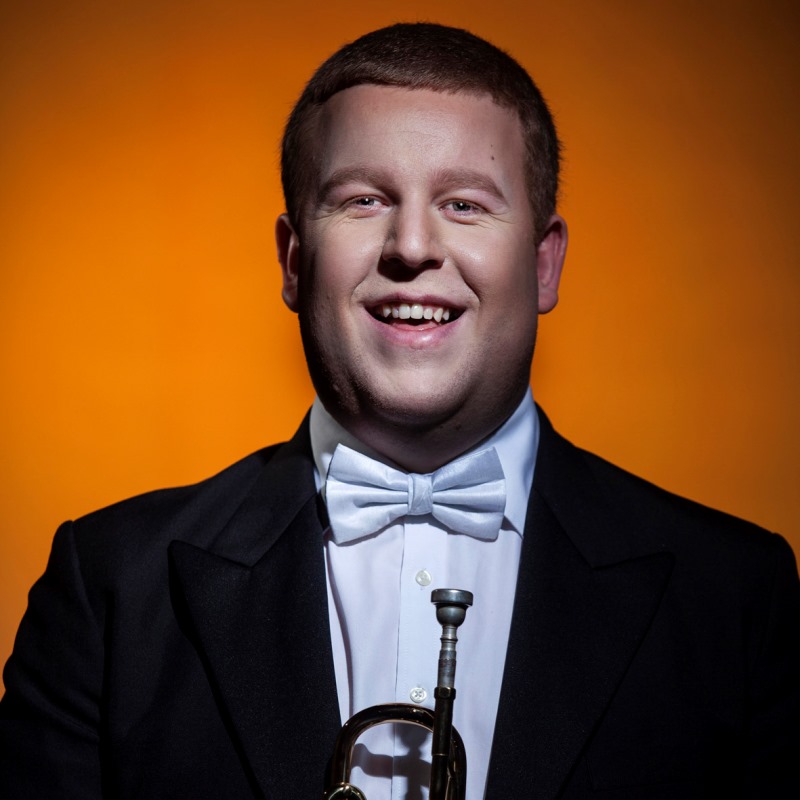 Christopher Hart
Trumpet
A recent graduate from the Royal Academy of Music and the Royal Welsh College of Music and Drama, Chris joined the RSNO as Section Principal Trumpet in November 2016. Prior to this he enjoyed a busy career as a freelance musician, performing across the UK and Europe with ensembles such as the London Philharmonic, City of Birmingham Symphony and Stavanger Symphony Orchestras. He has recorded Stravinsky's L'Histoire du Soldat (Linn Records), and has also recorded with the Royal Scottish National Orchestra, BBC National Orchestra of Wales (for CD and Live BBC Radio 3 broadcasts) and the Stavanger Symphony Orchestra (Live NRK Radio Broadcasts). Chris recently performed Sir Peter Maxwell-Davies' Trumpet Concerto at the Royal College of Music and is developing a career as a recitalist, as a member of the Countess of Munster Musical Trust Recital Scheme for 2016-18. As a student in London, Chris won both the John Solomon Brass Prize for solo performance and the Worshipful Company of Musicians Brass Ensemble Prize, as well as being awarded a Regency Award upon his graduation for outstanding achievement and a DipRAM for an outstanding Final Recital. During his time in Cardiff, Chris won First Prize in the 2014 Concerto Competition, resulting in a performance of the Tomasi Trumpet Concerto in St. David's Hall, Cardiff in July 2014.
RSNO