,
,
Panufnik Sinfonia Sacra (Symphony No3)
Prokofiev Piano Concerto No3
Interval
Prokofiev Selection from Romeo and Juliet

Ludovic Morlot Conductor
Roman Rabinovich Piano

The RSNO's Polska Scotland series is supported by the Adam Mickiewicz Institute

Ludovic Morlot Conductor
Following eight years as Music Director, Ludovic Morlot is now Conductor Emeritus of the Seattle Symphony. Ludovic's innovative programming encompassed not only his choice of repertoire, but theatrical productions and performances outside the traditional concert hall space. There were numerous collaborations with musicians from different genres, commissions and world premieres. Under Ludovic's baton, 19 recordings were released under the Seattle Symphony Media label, the orchestra received ?ve Grammy Awards, and was named Gramophone's 2018 Orchestra of the Year.

This season Ludovic will make his subscription debut with the Philadelphia Orchestra and return to the Los Angeles, BBC, Seoul and Bergen Philharmonic and Vienna Symphony Orchestras. Ludovic is an Associate Artist of the BBC Philharmonic Orchestra with whom he has had a close relationship over many years. Ludovic has a strong commitment to working with young musicians and will this season conduct student orchestras at Yale University and at the Royal Academy of Music in London, as well as returning to the Aspen Festival with whom he has a regular association. In 2019 he led the National Youth Orchestra of China on their European Tour, having conducted their inaugural concerts in New York and China two years earlier.

Ludovic has conducted the Berliner Philharmoniker, Royal Concertgebouw, Czech Philharmonic, Dresden Staaksapelle, London Philharmonic, Budapest Festival, Tokyo Philharmonic and Melbourne Symphony Orchestras. He has appeared at the BBC Proms, Wien Modern and Edinburgh Festivals. Other recent notable performances have included the New York Philharmonic, Chicago, Houston, Minnesota and Detroit Symphony Orchestras. Ludovic has a particularly strong connection with the Boston Symphony Orchestra and has conducted the orchestra in subscription concerts in Boston, at Tanglewood and on a tour to the west coast of America.

Ludovic was Chief Conductor of La Monnaie for three years (2012-2014). During this time, he conducted several new productions including La Clemenza di Tito, Jenufa and Pelléas et Mélisande as well as concert performances in both Brussels and at the Aix-en-Provence Easter Festival.

Trained as a violinist, Ludovic studied conducting at the Pierre Monteux School (USA) and later in London at both the Royal Academy of Music and Royal College of Music. Ludovic is Affiliate Professor at the University of Washington School of Music in Seattle and was elected a Fellow of the Royal Academy of Music in 2014.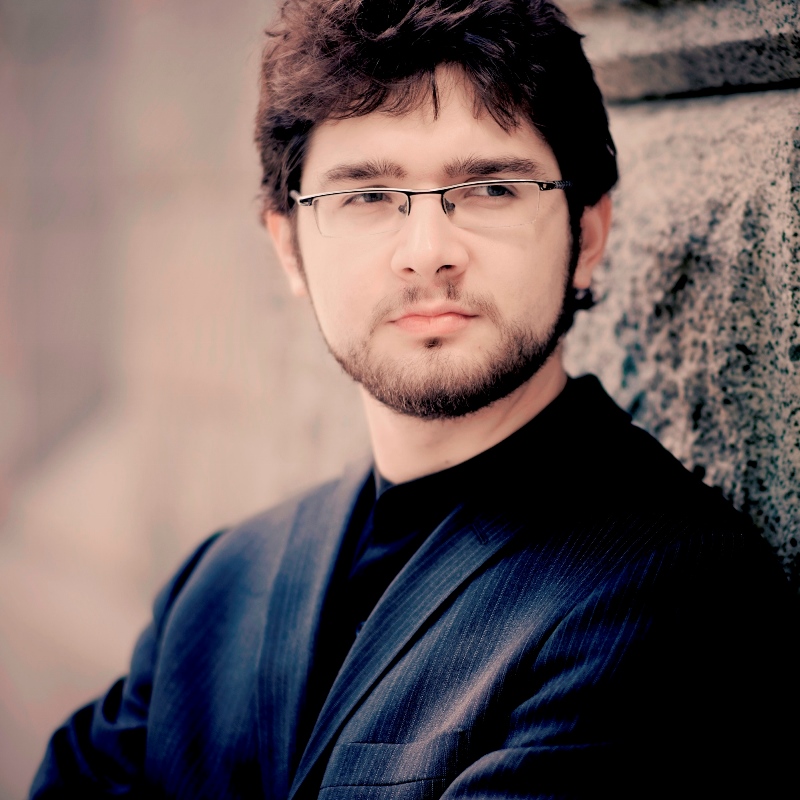 Roman Rabinovich Piano
The eloquent pianist Roman Rabinovich has been highly lauded by The New York Times, BBC Music Magazine, the San Francisco Classical Voice and others. He has performed throughout Europe and the United States in venues such as Wigmore Hall in London, Carnegie Hall and Lincoln Centre in New York, the Millennium Stage of Kennedy Center in Washington DC and the Great Hall of the Moscow Conservatory. Rabinovich has participated in festivals including Marlboro, Lucerne, Davos, Prague Spring, Klavier-Festival Ruhr, and Mecklenburg-Vorpommern. An avid chamber musician, he is also a regular guest at ChamberFest Cleveland.

Rabinovich has earned critical praise for his explorations of the piano music of Haydn. At the 2018 Bath Festival, he presented a 10-recital 42-sonata series, earning praise in The Sunday Times. 2018 also marked the start of Rabinovich's recording project of the complete sonatas on First Hand Records, with the first volume released in November of that year to critical acclaim, including 'album of the week' in The Sunday Times.

Recent concerto appearances include Rabinovich's critically acclaimed debut with the Royal Scottish National Orchestra and Sir Roger Norrington, as well as with the Orquestra Sinfónica do Porto Casa da Música, the NFM Leopoldinum and Szczecin Philharmonic in Europe, and the Seattle Symphony, the Sarasota Orchestra, Des Moines Symphony and Sinfonia Boca Raton in the US.

The 2019-20 season features among others Roman Rabinovich's debuts with the Orchestre Philharmonique de Radio France and Sir Roger Norrington, and the Meininger Hofkapelle and Philippe Bach, as well as his recital debut at the Queen Elizabeth Hall in the South Bank Centre's International Piano Series. On 31 May 2020, on the anniversary of Haydn's death, Rabinovich will curate a 'Haydn Day' at London's Wigmore Hall consisting of a solo recital and two chamber concerts. 2020 also sees the release of the second volume of the complete Haydn Sonatas on First Hand Records.

Born in Tashkent, Rabinovich immigrated to Israel with his family in 1994, beginning his studies there with Irena Vishnevitsky and Arie Vardi; he went on to graduate from the Curtis Institute of Music as a student of Seymour Lipkin, and earned his Master's Degree at the Juilliard School where he studied with Robert McDonald. Dubbed "a true polymath, in the Renaissance sense of the word" (Seen & Heard International, 2016), Rabinovich is also a composer and visual artist.