A look back at 2021
Posted Sat 1 January 2022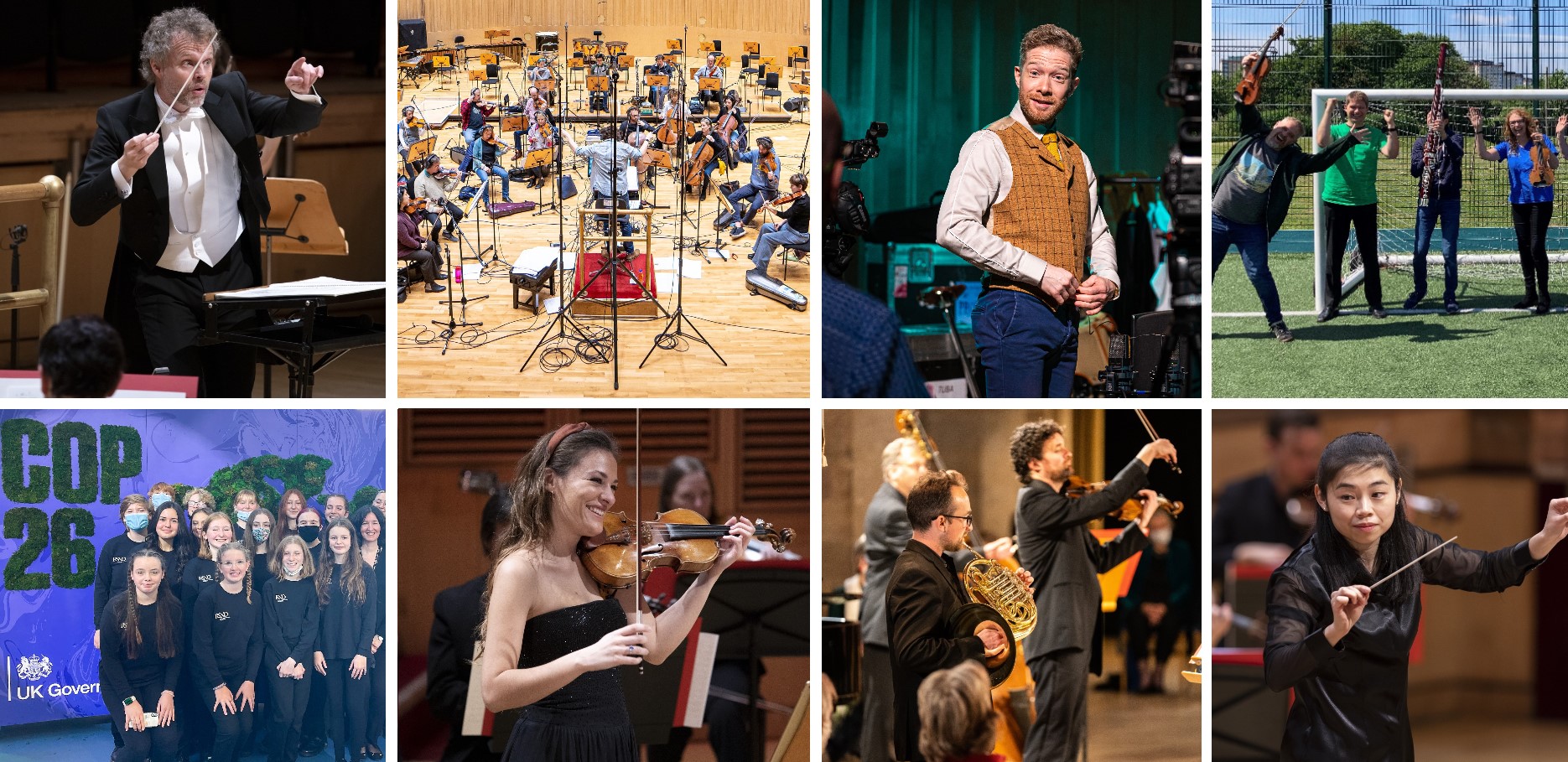 Happy New Year! As we welcome in 2022, we take a look back at 2021 – a year that had a tricky start (hello lockdown number three) but only got better as the months progressed, with audiences returning to concert halls, exciting new learning and engagement projects, and the launch of Scotland's Studio. Read on to discover our highlights.
January 2021 – As we entered another lockdown and experienced the long dark days of winter, we aimed to bring a little light and a lot of music into your homes with digital performances of Dvořák's Symphony No8 and Symphony No9 From the New World, with guest conductors Anna-Maria Helsing and James Lowe. Watch an excerpt from the Symphony No8 performance here.
February 2021 – The month of St Valentines but also, more importantly, pancakes! Our musicians and staff got creative with their sweet and savoury treats, plus we performed the final concert in our first Digital Season – Beethoven Symphony No5 with Music Director Thomas Søndergård. Watch an excerpt from the performance here.
March 2021 – Principals Month saw four of our principals stepping into the limelight! Katherine Bryan (Principal Flute), Adrian Wilson (Principal Oboe), David Hubbard (Principal Bassoon) and Chris Hart (Principal Trumpet) hosted Beginner's Guides to their instruments, chatted to Associate Principal Oboe Peter Dykes for our In Conversation series and performed special concerto pieces. All of the videos from Principals Month are currently available on our YouTube channel.
April 2021 – GRAMMY-award winning violinist and friend of the RSNO, Nicola Benedetti opened our Spring/Summer Digital Season with Szymanowski's Violin Concerto No1, leading to rave reviews from The Herald – ⭐⭐⭐⭐⭐, Bachtrack – "a pure delight" and the Edinburgh Reporter – "Their 2021 season is bigger, bolder and more ambitious in pretty much every way".
May 2021 – On 21 May, we performed our first live concert since March 2020 in the atmospheric setting of Greyfriars Kirk. It was great to be reunited with our audience after 433 days apart! Watch a short video about our return here.
In this month, we also launched our National Schools Concert Programme, Gaspard's Foxtrot. Over 46,000 children engaged with the digital concert experience and interactive resources. We are delighted to be bringing Gaspard's Foxtrot back to schools in 2022. Teachers can now sign-up for the experience here.
June 2021 – As Euros fever swept the nation, we performed pop-up concerts at schools, community centres and National Trust of Scotland properties. We also launched the Play Your Part Appeal, our fundraising campaign to help us continue our work in the community and provide a lifetime of musical inspiration. Find out more and donate to our appeal here.
July 2021 – A lot of work behind the scenes this month as we prepared for our Autumn Season and upcoming learning and engagement projects. Also this month, the Scottish Classical Music Green Guide was released. You can find out what the RSNO and other Scottish arts organisations are doing to support the Scottish Government's aim of net zero emissions by 2045 here.
August 2021 – We returned to the Edinburgh International Festival in style, with a bumper nine performances! Music Director Thomas Søndergård led concerts of Mendelssohn's A Midsummer Night's Dream; Principal Guest Conductor Elim Chan made her festival debut with Saint-Saëns' First Cello Concerto, Beethoven's First Symphony and Entr'acte by young US composer Caroline Shaw; internationally renowned conductor Valery Gergiev joined us for an evening of lively music from his Russian homeland; and we reprised our successful partnership with Sir Andrew Davis for a concert performance of Richard Strauss' Ariadne auf Naxos.
Our performance with Elim Chan is available to watch on demand until Monday 23 May 2022. Watch on the EIF's website here.
September 2021 – After working online since the start of the pandemic, our learning and engagement projects kicked off this month with in-person sessions. Our Community Orchestra: All Together Now were reunited for sectional rehearsals and our new cohort of 40 Young Creatives came together for a fun day of music-making.
October 2021 – We finally returned to live concerts at the Usher Hall, Edinburgh and the Glasgow Royal Concert Hall! Music Director Thomas Søndergård opened our Autumn Season with Stravinsky's electrifying Firebird and it's safe to say the critics loved our return – ⭐⭐⭐⭐⭐ The Times – ⭐⭐⭐⭐⭐ The Herald – ⭐⭐⭐⭐ The Scotsman.
November 2021 – With COP26 being held in our hometown of Glasgow, we marked the occasion with a special performance by our Junior Chorus in the official Green Zone; the release of a concert recording of highlights from Haydn's The Creation, featuring new poetry from Hollie McNish; and live concerts that highlighted environmental issues, with guest violinists Patricia Kopatchinskaja and UN Messenger of Peace, Midori.
This month, we also officially launched Scotland's Studio – our brand-new, state-of-the-art studio purpose built for the recording of film and television soundtracks. Find out more about the Studio here.
December 2021 – Although December brought the unwelcome news of Omicron and the unfortunate cancellation of our Christmas concerts featuring The Snowman, we are thankful that we managed to share some festive cheer earlier in the month with our friends from Children's Classic Concerts. Here are some photos of us in our best head gear!
One last note… we wanted to say a heartfelt thank you to our audiences, supporters, sponsors and communities. Your support, understanding and kind messages have truly meant the world. Here's to a bright and musical 2022!