A Look Back At 2022
Posted Sun 1 January 2023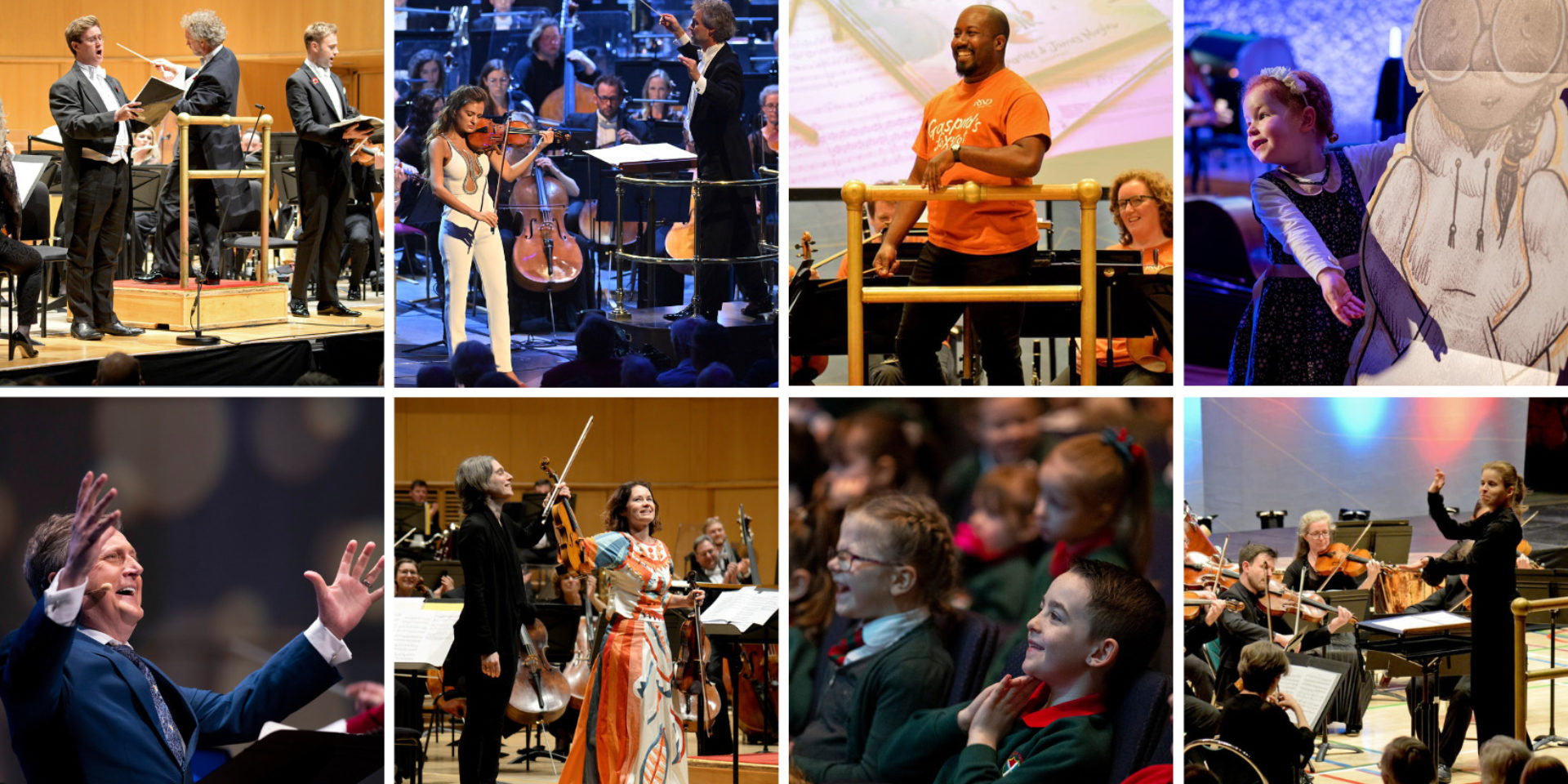 Happy New Year! As we welcome in 2023, we take a look back at 2022 – a year that featured our first European tour since 2020, exciting events for children across Scotland and, of course, lots of wonderful music. Read on to discover our highlights.
January 2022 – As we adjusted to living alongside the Omicron variant of Covid-19, we worked behind the scenes preparing our 2022:23 Season announcement and our community projects, including our Community Orchestra: All Together Now, our Youth Advisory Board and Chorus Academy. We also released the first of our 'In Conversation' videos, where we chat to composers, conductors and musicians. You can watch the series here.
February 2022 – We were joined by wonderful guest soloists for a bumper month of concerts. Violinist Patricia Kopatchinskaja performed Stravinsky's Violin Concerto, pianist Steven Osborne played Beethoven's Piano Concerto No4 and we joined forces with the BBC Scottish Symphony Orchestra for John Adams' Harmonielehre.
This month also saw the tragic news of war breaking out in Ukraine. We showed our solidarity with the people of Ukraine by performing Elgar's Enigma Variations with Sir Andrew Davis, in the colours of the Ukrainian flag.
March 2022 – We kicked off our tour of Gaspard's Foxtrot, our concert for school children, with performances in Glasgow, Edinburgh, Dundee, Perth and Aberdeen. Over 11,000 children joined us, author Zeb Soanes and conductor Kellen Gray for Gaspard's adventure, which featured music by Jonathan Dove and an animated film with illustrations by James Mayhew, created in partnership with Visible Fictions.
This month, we were also delighted to welcome cellist Sheku Kanneh-Mason to Scotland for his RSNO debut. We are looking forward to reuniting with Sheku at our All-Star Gala in May 2023. Find out more here.
April 2022 – For the first time since January 2020, we went on a six-concert tour of Europe! Joined by soloists, Midori and Lise de la Salle, and Music Director Thomas Søndergård, we performed to sold out audiences in Germany, the Netherlands and Poland. Our touring programme included works by Rachmaninov, Tchaikovsky, Elgar and Walton, plus audiences were treated to a special encore, Eightsome Reels 2.0, written especially for the tour by our Principal Horn, Christopher Gough.
May 2022 – We introduced nursery and early-primary-aged children to the magic of classical music with Yoyo & The Little Auk, our new animated film featuring actor James Cosmo, created in partnership with Visible Fictions and supported by Scotland's Year of Stories 2022. With the film available in English, British Sign Language and Scottish Gaelic, teachers and families were also provided with learning resources to enhance the children's experience. Currently over 26,000 children have enjoyed the programme.
June 2022 – After 10 years away, we returned to the beautiful Orkney islands. Performing as part of the St Magnus International Festival, we entertained 800 children with Gaspard's Foxtrot, plus Tabita Berglund conducted concerts featuring music by Grieg, Pärt, Wagner, Khachaturian, Schoenberg and Sibelius. You can watch an excerpt of Sibelius' Symphony No5, conducted by Berglund, here.
July 2022 – As our Orchestra took a well-earnt summer break, there was lots of work behind the scenes as we prepared for upcoming festival, Proms and Season performances. Our Climate Committee also continued to work on our sustainability and environmental goals – improving how we tour, limiting our use of single-use materials and working with partners and venues.
August 2022 – Summer festival time! We had a ball performing at the Edinburgh International Festival, Edinburgh Festival Fringe, Fringe By The Sea and the Edinburgh International Film Festival. Highlights included marking Ukrainian Independence Day with an evening of music and discussion, in partnership with Scottish Refugee Council and Musicians in Exile; performing John Williams' epic film music in the Big Top tent in North Berwick; being the first orchestra in Scotland to perform Mahler's Symphony No3 with real church bells, courtesy of the Royal Liverpool Philharmonic's Forever Bells; and closing the Edinburgh International Festival with Sir Andrew Davis conducting Elgar's The Dream of Gerontius, which is available to watch on EIF's YouTube channel.
September 2022 – On the 8 September, our Royal Patron, Her Majesty The Queen died. We marked this sad occasion with a tribute to Her Majesty, which can be read here. We were also honoured to be invited to speak to Her Royal Highness Princess Anne at a special event dedicated to celebrating The Queen's patronage of Scottish organisations.
Earlier this month, we returned to the BBC Proms at the Royal Albert Hall with Music Director Thomas Søndergård and violinist Nicola Benedetti. You can watch our Proms performance of Wynton Marsalis' Violin Concerto, Britten's Four Sea Interludes and Bernstein's Symphonic Dances from West Side Story here.
October 2022 – We kicked off our 2022:23 Season with a bang! Music Director Thomas Søndergård conducted Britten's Violin Concerto with violinist Stefan Jackiw, David Fennessy's The Riot Act with tenor Mark Le Brocq and Stravinsky's The Rite of Spring. This concert is currently available as part of our Digital Season, which can be watched here.
Plus, to mark Black History Month, Linn Records released our recording featuring works by three of the 20th century's greatest African American Voices – William Levi Dawson, William Grant Still and George Walker, conducted by our Assistant Conductor Kellen Gray. You can stream and buy the recording here.
November 2022 – A wonderful month of music which included pianist Denis Kozhukhin and conductor Jonathon Heyward performing Grieg's Piano Concerto (watch an excerpt here); mezzo-soprano Karen Cargill singing Sir James MacMillan's Three Scottish Songs; and former Youth Chorus singer Magnus Walker taking centre stage for Britten's War Requiem.
Our broadcast of Grieg's Piano Concerto is currently available as part of our Digital Season. Discover more here.
December 2022 – After cancelling our Christmas Concerts in 2020 and 2021 due to Covid-19, we were thrilled to bring our beloved festive show featuring The Snowman to Aberdeen, Dundee, Glasgow and Edinburgh in 2022! Presented by the one and only Aled Jones and conducted by the wonderful Neil Ferris, we performed, alongside our Choruses, to sold out audiences across the country. A wonderful way to bring 2022 to a close!
From all of us at the RSNO, we'd like to thank our audiences, supporters, sponsors and communities for being part of our work in 2022 – we couldn't have done it without you. Here's to a musical 2023!
Photography credits:
January: Martin McCready, Upfront Photography
February: Jess Cowley
March: Martin Shields
April: Chris Hart
May: James Montgomery
June: Jess Cowley
July: Craig Swindells
August: Andrew Perry, Craig Swindells & Sally Jubb
September: RSNO Archive, Jess Cowley & Mark Allan
October & November: Jess Cowley
December: Martin Shields