Sibelius Five
Sat 14 Nov 2020, 7.30PM
Glasgow Royal Concert Hall
Mendelssohn Hebrides Overture Fingal's Cave
Detlev Glanert Violin Concerto No2 To the Immortal Beloved (RSNO Co-commission) UK Premiere
Interval
Craig Armstrong Stac Lee: 'Dawn' and 'Dusk' from The Lost Songs of St Kilda
Sibelius Symphony No5

Ryan Bancroft Conductor
Midori Goto Violin

When Mendelssohn sailed to Staffa, so taken was he by the sights and sounds that he quickly penned the opening of the Hebrides Overture. Nearly two centuries later, the Scottish composer Craig Armstrong captured the spirit of St Kilda in ravishing music. These two Scottish classics are united by a passionate brand-new violin concerto by Detlev Glanert – a composer drenched in the romantic spirit. And then join the RSNO amid the vast Nordic vistas of Sibelius' majestic Fifth Symphony.


Ryan Bancroft Conductor
Ryan Bancroft grew up in Los Angeles and first cam to international attention in April 2018 when he won both First Prize and the Audience Prize at the prestigious Malko Competition for Young Conductors in Copenhagen. In September 2019 it was announced that he had been appointed Principal Conductor of the BBC National Orchestra of Wales.

Bancroft made his debut with the BBC National Orchestra of Wales in November 2018, stepping in at short notice for Xian Zhang, to conduct a programme of Beethoven and Weber on a tour of North Wales. He returned to the orchestra later that season in May 2019 conducting a programme of contemporary music at the Vale of Glamorgan Festival and a studio recording of Sibelius Symphony No5.

During the various rounds of the Malko Conducting Competition, Bancroft conducted repertoire as diverse as Beethoven, Schumann, Mahler, Ruders, Dvorákm, Brahms and Nielsen. During the Competition his natural musicality and warmth impressed the players and audience alike, and his conducting, without a baton, was praised for its fluidity. In the 18:19 season Bancroft made debuts with a number of orchestras including the Rotterdam Philharmonic, Netherlands Reisopera, BBC Scottish Symphony and Norwegian National Opera orchestras.

In the 19:20 season, highlights include debuts with Stockholm Philharmonic Orchestra, RAI Turin, BBC Symphony Orchestra, Orchestre Philharmonique du Luxembourg, Stavanger Symphony Orchestra, Malmo Symphony Orchestra and Munich Chamber Orchestra. Bancroft also returns for engagements with the Danish National Symphony Orchestra and BBC National Orchestra of Wales. In the USA, he will make his debuts with the Seattle and Cincinnati symphony orchestras. Bancroft will also have his debut concerts in China, where he will be working with the NCPA Orchestra in Beijing amongst others.

A strong advocate of new music, Bancroft has performed with Amsterdam's acclaimed Nieuw Ensemble, assisted Pierre Boulez in a performance of his Sur Incises in Los Angeles, premiered works by Sofia Gubaidulina, John Cage, James Tenney, Anne LeBaron and has worked closely with improvisers such as Wadada Leo Smith and Charlie Haden.

Bancroft studied trumpet at the California Institute of the Arts, alongside additional studies in harp, flute, cello and Ghanaian music and dance. He then went on to receive an MMus with Distinction from the Royal Conservatoire of Scotland in orchestral conducting. While studying in Scotland he played trumpet with the BBC Scottish Symphony Orchestra on many occasions.

He continued his studies in the Netherlands, where he is now based, and is a graduate of the prestigious Nationale Master Orkestdirectie through the Conservatorium van Amsterdam and the Royal Conservatoire of The Hague. As a student, his main mentors were Edward Carroll, Kenneth Montgomery, Ed Spanjaard, and Jac van Steen.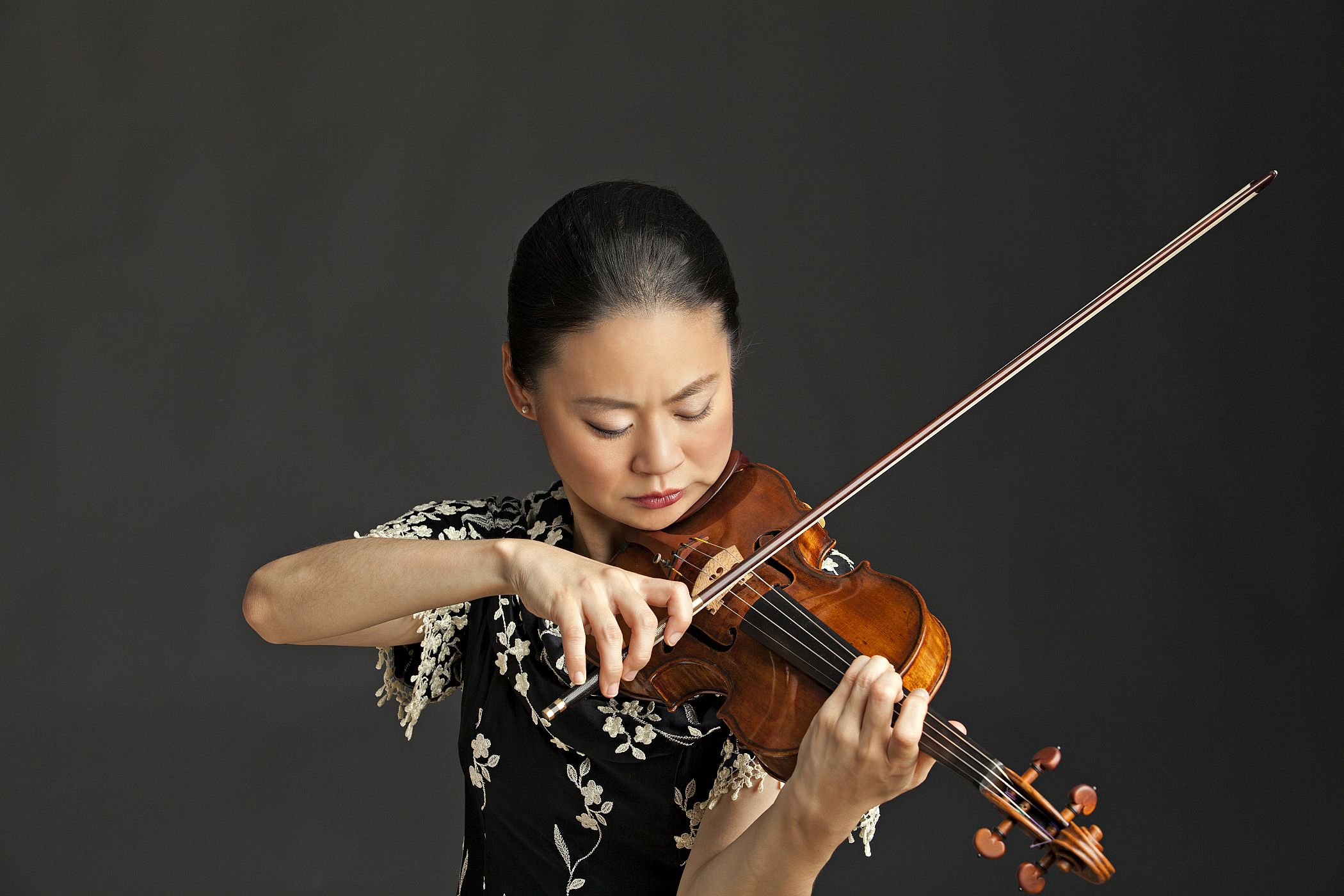 Midori Goto Violin
Midori is a visionary artist, activist and educator whose unique career has transcended traditional boundaries through her relentless drive to explore and build connections between music and the human experience. Never at rest, Midori brings the same dynamic innovation and expressive insight that has made her a prominent concert violinist to her other roles as a noted global cultural ambassador and a dedicated music educator.

A leading concert violinist for over 35 years, Midori regularly transfixes audiences around the world, bringing together graceful precision and intimate expression that allows the listening public to not just hear music but to be personally moved by it. She has performed with, among many others, the London, Chicago, Boston and San Francisco symphony orchestras, the Berlin, Vienna, New York, Los Angeles, St Petersburg and Czech philharmonics, the Sinfonieorchester des Bayerischen Rundfunks, and the Mahler Chamber Orchestra. She has collaborated with such outstanding musicians as Claudio Abbado, Leonard Bernstein, Emanuel Ax, Zubin Mehta, Seiki Ozawa, Christoph Eschenbach, Mariss Jansons, Paavo Järvi, Antonello Manacorda, Constantinos Carydis, Yo-Yo Ma, Susanna Mälkki, and Menahem Pressler.

Midori's recent and upcoming global engagements highlight her versatility through performances of orchestral and chamber works by Bernstein, Bach, Respighi, Beethoven, Schumann, Fauré, Debussy, Enescu, Prokofiev and Brahms. Her tour schedule has included Europe with the Munich Chamber Orchestra, Japan with the Estonian Festival Orchestra and Paavo Järvi and it takes her in the 2019:20 season to Asia with Festival Strings Lucerne. She also undertakes a worldwide recital tour with pianist Jean-Yves Thibaudet. She makes guest appearances with the Vienna Philharmonic, Boston Symphony Orchestra, Orchestre Philharmonique de Radio France, Kammerakademie Potsdam, Orchestra del Teatro Massimo and NDR Elbphilharmonie Orchester.

An advocate for music and composers of her time, Midori will present compositions by living female composers as part of a project dedicated to promoting contemporary music. She will also premiere a new violin concerto by Detlev Glanert in Hamburg in May 2020, during the Beethoven anniversary year. Midori previously inspired Peter Eötvös to compose the violin concerto DoReMi, which she then recording with the Orchestre Philharmonique de Radio France conducted by the composer. Other commissions and world premieres have included works by Einojuhani Rautavaara, Brett Dean and Johannes Staud.

Midori's diverse discography includes sonatas by Bloch, Janácek and Shostakovich performed with pianist Özgür Aydi, and a 2013 GRAMMY Award-winning recording of Hindemith's violin concerto with Christoph Eschenbach conducting the NDR Symphony Orchestra. The two-CD set of her highly acclaimed interpretation of J.S. Bach's Sonatas and Partitas for Solo Violin was released in 2015, followed in 2017 by a DVD of the same repertoire, filmed at Köthen Castle, where Bach served as Kapellmeister. Earlier recordings on the Sony Classical label feature works by Mozart, Dvorák, Bartók, Poulenc and Sibelius, among others.

In her quest to explore and expand how music is essential to people everywhere, Midori goes beyond the concert hall and recording studio to areas where music access is most needed. In 2017, Midori celebrated the 25th anniversary of the activities of two of her non-profit organisations: Midori & Friends, which brings high-quality music education to New York City youth, and MUSIC SHARING, a Japan-based programme that provides access to both western classical and Japanese music traditions through innovative events, activities, instruction and presentations in local schools, institutions and hospitals. Her Partners in Performance organisation, now in its 16th year, promotes interest in classical music outside of major urban centres across the United States, while her Orchestral Residencies Program, founded in 2004, encourages young musicians in the United States and beyond to develop a life-long and multifaceted engagement with the performing arts, helping to ensure that the classical scene will continue vibrantly for years to come.

Midori also brings her activism to a global level. MUSIC SHARING's International Community Engagement Program (ICEP) promotes intercultural exchange by enabling young musicians from around the world to come together and present community performances for audiences with limited exposure to classical music. The programme's ensembles have performed in Myanmar, Bangladesh, Laos, Mongolia, Indonesia, Cambodia, Nepal, Vietnam (twice) and India with follow-up appearances each season in Japan. The 2019:20 ICEP takes place for the second time in Cambodia.

A persuasive advocate for cultural diplomacy, Midori has also been invited to speak a the John Hopkins School of Advanced International Studies in Washington D.C., among other places. She has been honoured for her international activism: in 2007, UN Secretary-General Ban Ki-moon named Midori a Messenger of Peace, and in 2012 she received the Crystal Award from the World Economic Forum in Davos. In 2019 she was invited to attend the annual meeting of the United Nation's International Fund for Agricultural Development (IFAD) in Rome, where she performed for and addresses Pope Francis and other world leaders, calling on them to believe in the transformative power of women and girls in underserved remote communities. The same year, the Carnegie Corporation of New York honoured Midori, a naturalized American citizen, with its "Great Immigrant" award in recognition of her work as a global cultural ambassador.

The same vision that motivates Midori's activism also guides her educational approach. Since Autumn 2018, she has been part of the renowned violin faculty at the Curtis Institute of Music, bringing her musical expertise as an active top-level performer to her studio and her experience as an activist to the school's community engagement programmes. In October 2019, she was appointed to the school's Dorothy Richard Starling Chair in Violin Studies.

Until May 2018, Midori held the Jascha Heifetz Chair as a Distinguished Professor at the University of Southern California's Thornton School of Music, where she taught for 14 years. She continues her involvement at USC in a visiting artist role as Judge Widney Professor of Music. She is also a distinguished visiting artist and violin faculty member at the Peabody Institute of John Hopkins University.

Midori is an honorary professor at Beijing's Central Conservatory of Music and a guest professor at both Soai University in Osaka and the Shanghai Conservatory of Music. In addition, she teaches regularly at Ravinia's Steans Music Institute and the Weimar Meisterkurse. Her own degrees in gender studies and psychology from New York University (BA 2000, MA 2005) strongly inform her holistic teaching philosophy: "In our studio, the tenets of Honesty, Health, and Dignity guide us through the times of trial, self-doubt, self-questioning, and growth."

Midori was born in Osaka, Japan in 1971 and began her violin studies with her mother Setsu Goto, after displaying a strong aptitude for music at an early age. In 1982, conductor Zubin Mehta invited the then 11-year-old Midori to perform with the New York Philharmonic in the orchestra's annual New Year's Eve concert. The standing ovation that followed her debut spurred Midori to pursue a major musical career at the highest level.

Midori plays the 1734 Guarnerius del Gesù 'ex-Huberman'. She uses four bows – two by Dominique Peccatte, one by François Peccatte and one by Paul Siefried.