Video Games Music In Concert
Sat 21 Nov 2020, 7.30PM
Glasgow Royal Concert Hall
Eímear Noone Conductor
RSNO Chorus &nbsp

World of Warcraft, Pokémon, Resident Evil, Hitman and Super Mario are just some of the blockbuster video games which have made it to the big screen over the years. Tonight, experience the thrill of hearing your favourite video game soundtracks played live by Scotland's National Orchestra. Enjoy some of the most dramatic orchestral music of our time, including Halo and Call of Duty, Final Fantasy and Kingdom Hearts, performed by a world-class symphony orchestra.
Eímear Noone Conductor
Eímear Noone is a Dublin based conductor and award-winning Irish composer, composing extensively for film and videogame. She is responsible for some of the most enduring soundscapes on World of Warcraft and other best-selling videogames. "The Irish Queen of Games Music" (The Irish Independent) is one of the world's premier conductors of game scores. In addition to media concerts– The Legend of Zelda, Symphony of the Goddesses and Video Games Live (VGL) more recently her work has included Scheherazade (Rimsky-Korsakov), The Firebird (Stravinsky) and The New World Symphony (Dvorák).

She has conducted orchestras such as the Royal Philharmonic Orchestra, BBC Concert Orchestra, Singapore Symphony Orchestra, Danish National Symphony, Dallas Symphony Orchestra, and Sydney Symphony Orchestra. Eímear has performed sold-out shows at The Mann Center, Wolftrap and Beijing's Olympic Stadium performing to an audience of 80,000, and conducted the orchestra for the Los Angeles Ballet in their inaugural production of Tchaikovsky's The Nutcracker earning recognition from the LA Times.

As a primary conductor for Video Games Live, Guinness World Record's longest running orchestral touring show, Eímear has conducted in China, Brazil, Canada, Qatar, Europe, Mexico and Malaysia. She has also toured as conductor for The Legend of Zelda, Symphony of the Goddesses, a full four-movement symphony created from the themes from this iconic videogame. Zelda holds two Top 10 spots in Time's All Time Greatest Video Games. Eímear was invited to conduct on the 25th Anniversary recording, which set industry records for soundtrack sales. She was chosen by Nintendo to conduct the first ever 3D filming of a game score, a technological benchmark in the ongoing virtual reality revolution. She has also recorded game scores for Sony Interactive.

In the 2019/20 season, Eimear will conduct the Aalborg Symphony Orchestra and Qatar Philharmonic Orchestra for video game music concerts as well as continuing her work in film composition and radio hosting. Eimear hosted the Classic FM's 'High Score' series in the summer of 2019, a series celebrating the music of video games. Eimear will also continue to conduct the Base Hologram Maria Callas Tour, an event that brings the beloved opera legend Maria Callas back to the stage via hologram, singing to the accompaniment of a full live orchestra.

As a composer, Eimear has worked on scores for directors such as Gus Van Sant and Joe Dante, orchestrating for Oscar nominee Javier Navarrette (composer of Pan's Labyrinth) creating haunting music for thrillers Mirrors and The Hole.

Through her music on World of WarCraft, Eímear's music has reached over 100 million people and continually inspired players to invent and build new worlds for nearly 15 years. The scores achieved the Hollywood Music in Media Award for Best Video Game Score and was nominated for 5 Annual Game Music Awards and The ASCAP, Composer's Choice Award upon release. She has recorded almost all of the scores for Blizzard Games over the past 9 years, including: Overwatch, Starcraft II, and conducted the BAFTA nominated score to Diablo III. She founded a major European game music festival in Ireland and is an advocate for and mentor to creative women in technology and music.

From the greatest musical and storytelling traditions, Eímear Noone is a timeless artist and a woman of right now.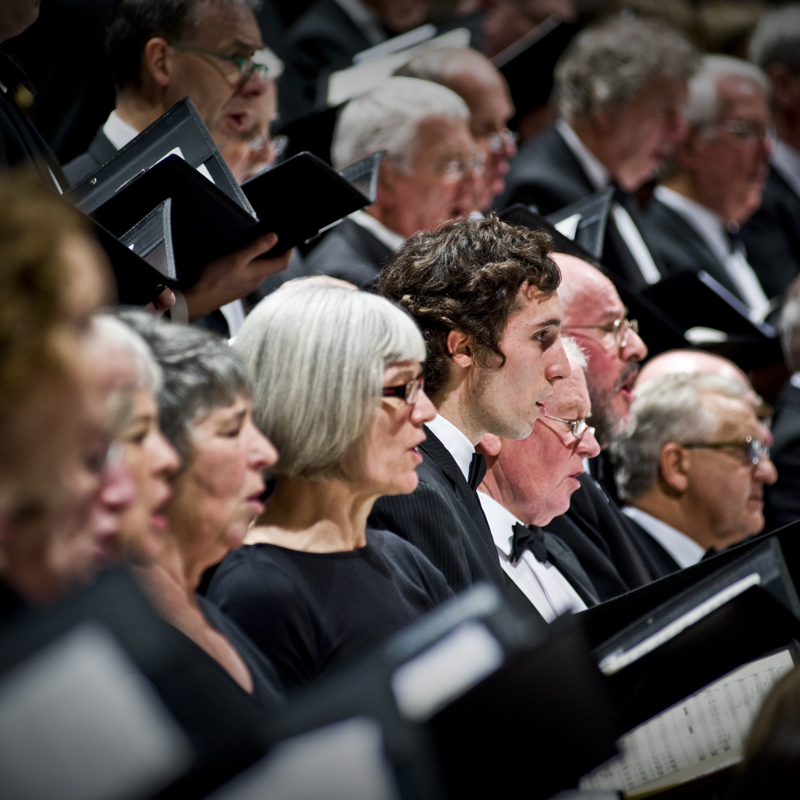 RSNO Chorus &nbsp
The RSNO Chorus performs in around six different programmes in up to twenty concerts across Scotland with the Royal Scottish National Orchestra each year. The RSNO Chorus has also had great success in recording with the Orchestra. Its recordings, amongst others, of Prokofiev's Alexander Nevsky, conducted by Neeme J?rvi, and Holst's The Planets, conducted by David Lloyd-Jones, have both attracted high critical acclaim.

In addition to its commitment to the Orchestra, the RSNO Chorus performs independently and has been invited to perform with orchestras in many parts of the world, establishing an international status and touring to Copenhagen, Hong Kong, Israel, Germany, Belfast, Australia, Trondheim and most recently, Amsterdam and Prague. In 2018 it performed Britten's War Requiem with the RSNO at the BBC Proms.

The RSNO Chorus evolved from a choir formed in 1843 to sing the first full performance of Handel's Messiah in Scotland. Today, it is one of the most successful choruses in the UK. In recent years, it has performed practically every work in the standard choral repertoire along with contemporary works by renowned composers, including John Adams, Magnus Lindberg, Howard Shore and James MacMillan.

The RSNO Chorus is directed by Gregory Batsleer, one of the UK's most dynamic and in demand choral conductors and chorus masters. In 2015 Gregory received The Arts Foundation Fellowship in Choral Conducting.