Get to know RSNO Assistant Conductor Kellen Gray
Posted Mon 31 October 2022
To celebrate the launch of his debut RSNO recording, we sit down with Kellen Gray to find out more about our Assistant Conductor and this remarkable release.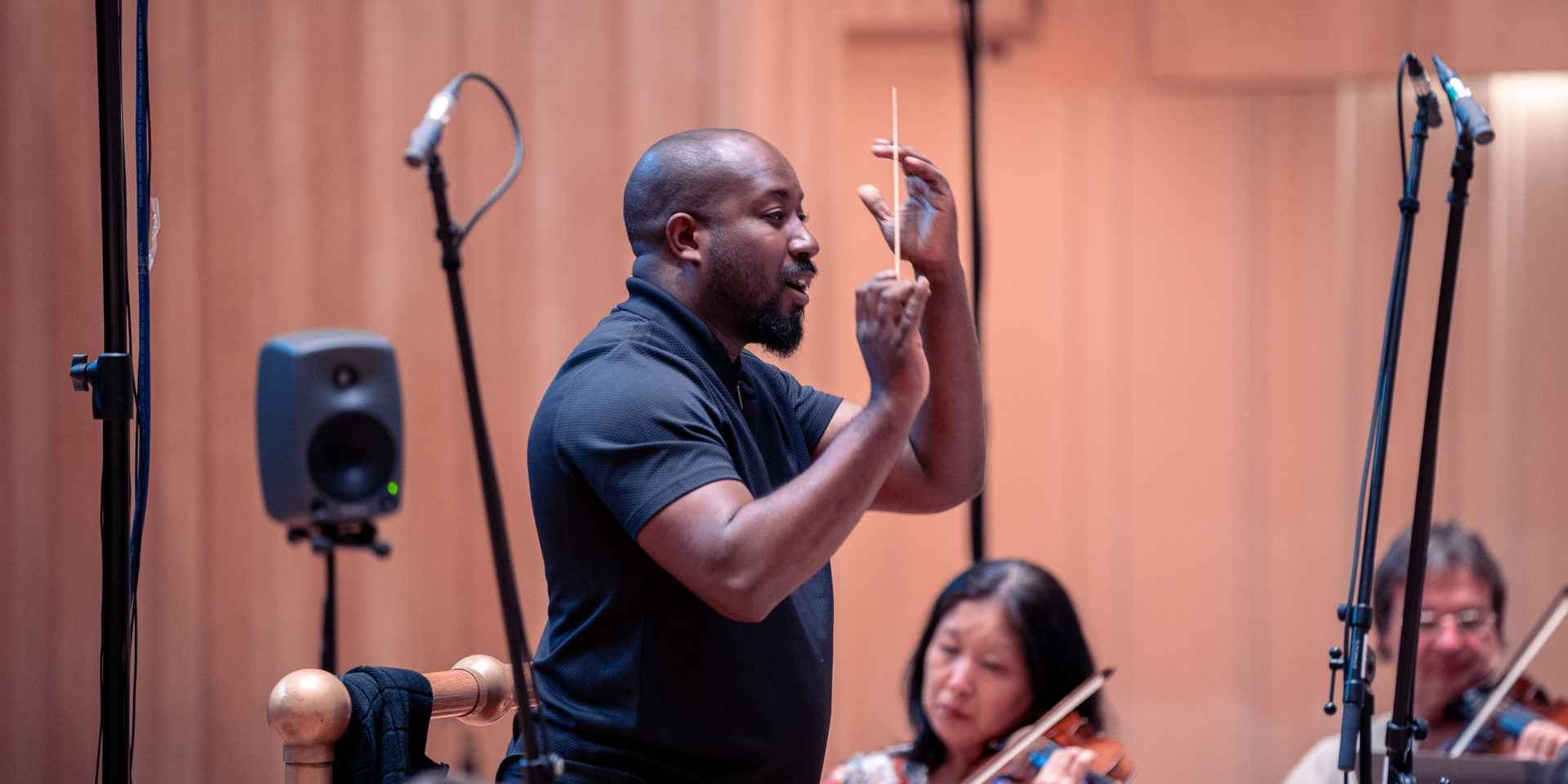 Kellen joined the RSNO in 2021 in this two-year post which offers conductors a chance to develop their talent and experience working with a major symphony orchestra. The Solti Foundation has provided support for the role of RSNO Assistant Conductor since 2018.
How did you first become interested in classical music?
Music was always around when I was a child, whether at church, family functions, or community theatre, it was a just a functional part of life! I studied violin at school in Rock Hill, South Carolina, but I didn't realise that it could be my career until I was a senior in high school. I went on to study Violin Performance at the Schwob School of Music at Columbus State University and a Master's degree in Orchestral Conducting from Valdosta State University.
What other orchestras have you worked with?
I was Assistant Conductor at the Valdosta Symphony Orchestra and the Chicago Sinfonietta. I currently also work as Assistant Conductor at the Charleston Symphony Orchestra, so I travel a lot between Scotland and America!
Composer you'd most like to meet?
I'd have to pick two: Claude Debussy and William Dawson.
Which song would get you on the dance floor?
Anything from the Willie Colon album, "El Malo".
If you weren't a conductor, what do you think you'd be doing?
I always wanted to palaeontologist, but music just stole me away right before college. I imagine I'd be on a dig somewhere in Montana.
Favourite place you've visited in the UK?
It's hard to beat the Orkney Islands.
Images above: Kellen conducting the RSNO recording in Scotland's Studio earlier this year. © RSNO
Released on Friday 28 October, African American Voices is the latest RSNO release on Linn Records. Tell us a bit about the recording:
This recording has brought together the work of three influential black composers: William Dawson, George Walker and William Grant Still. With the growing recognition of black composers, I felt it was important to revisit some of the earliest American symphonies. The work in this recording contains such a rich concentration of folk elements from African American music and culture, but the works have yet to be broadly recorded by conductors and musicians actually of the culture.
You've spoken about the importance of understanding the aural history of this music. What should our audiences be listening out for?
All three composers that you'll hear in this record are vital to the fabric of 20th Century American classical music.
Often William Grant Still's Afro-American Symphony is labelled a "jazz symphony" when actually, like its William Dawson counterpart, it features elements from a much wider variety of African American music. You can hear spirituals, juba, gospel, blues, stride, swing, jazz – the original folk styles of music.
RSNO audiences will be familiar with work by Dvořák and many of you may have been at a performance of the New World Symphony last Season. It's fascinating because Dvořák came to America and found that the heart of American music was not in fact European sounds, but the idioms of original folk music styles: the music of early African-America. The Dawson and Grant Still symphonies were a great evolutionary step in his vision and are very influential works.
When I hear Dawson's Negro Folk Symphony and Grant Still's Afro-American Symphony, I am transported back to my very earliest musical experiences: Sunday mornings at my family's home church in Catawba, South Carolina; a place where vocal traditions are direct decedent from the ancestors who lived there in the seventeen and eighteen-hundreds.
How was it working with the Orchestra on this recording?
It's always a great honour to work with the RSNO and that honour is magnified greatly when the works we perform are by composers to whom I feel inexorably connected.
The RSNO also has a rich history of performing and recording a wide range of styles, which creates a certain flexibility when working with the Orchestra. From performing the folk styles of Scotland, they bring a commitment to authenticity when addressing Grant Still, Dawson, and Walker.
It's exciting because the music from my earliest life experiences is the very same music that these symphonies were distilled from.
I really hope our listeners enjoy the irresistible melodies – both tragic and jubilant – and get a peek into history – both of each composer's time and before.
Image above: Kellen conducting the RSNO's performance of Gaspard's Foxtrot in Glasgow this year. © Martin Shields 
African American Voices is out now on Linn Records.
The RSNO's recording African American Voices was made possible with funding from the Jennie S. Gordon Memorial Foundation. The RSNO is also grateful to the Solti Foundation for their support of Kellen Gray's Assistant Conductor Chair.