RSNO announces 2021:22 Composers' Hub selection
Posted Thu 9 June 2022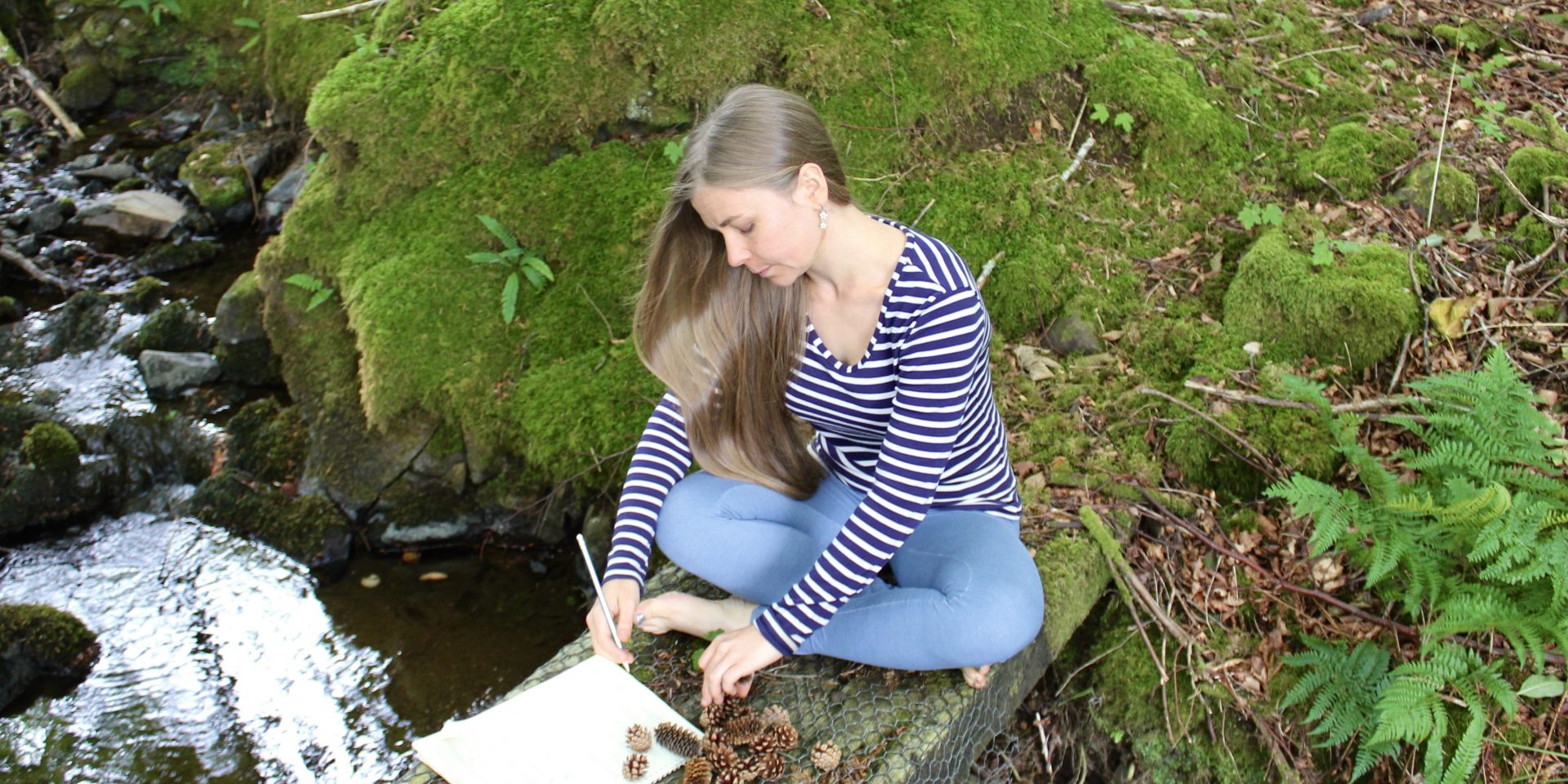 The Royal Scottish National Orchestra (RSNO) today announces that 2021:22 Composers' Hub participant Lisa Robertson's new composition am fìor-eun has been selected for performance in the Orchestra's 2022:23 Season.
Hailing from the West Highlands, Lisa Robertson often explores the relationship between nature and music in her work and her new composition, am fìor-eun, is inspired by eagles in the West Highlands. Robertson's piece will premiere in January, performed by the RSNO under Music Director Thomas Søndergård, alongside Beethoven's Emperor concerto and Brahms' Symphony No4.
Now in its seventh year, the RSNO Composers' Hub is a prestigious programme for composers in the early stages of their career. Six participants – Anselm McDonnell, Cameron Biles-Liddell, Derri Joseph Lewis, Electra Perivolaris, Matthew Whiteside and Lisa Robertson – attended workshops with the RSNO and were mentored by esteemed composers Stuart MacRae and David Fennessy to develop their compositions.
Composers' Hub participant Lisa Robertson said: "The RSNO Composers' Hub has been such a fantastic experience, providing a rare and invaluable opportunity to try things out with the Orchestra, and take some risks, while learning a great deal from the expertise of the amazing RSNO musicians and excellent mentors Stuart MacRae and David Fennessy. I'm very grateful to have been able to take part and the experience has been very impactful for me as a composer. I feel incredibly excited and honoured that am fìor-eun, my piece about eagles and my rural home in the West Highlands, will be performed as part of the RSNO Season. I can't wait to hear the piece again and to share it with audiences!"
Composers' Hub Programme Mentor Stuart MacRae said: "I'm delighted that the RSNO will include Lisa Robertson's am fìor-eun in its forthcoming season. The piece's distinctive, striking and colourful gestures, evoking the aerial world of golden and sea eagles in the Sound of Mull, give rise to a reflection on ecological concerns with real clarity and expressivity. am fìor-eun was chosen from the 2021:22 RSNO Composers' Hub workshops for its highly imaginative sonorities, its convincing shape and clear sense of purpose."
RSNO Director of Engagement Andy Stevenson said: "I want to pass our congratulations on to all of the participants in this year's Composers' Hub programme. It was a privilege to hear the new works being developed and I know that our audiences will love Lisa's piece. The connection she feels to Scotland's nature and the need to preserve it really resonated with us and we hope that this piece continues to raise awareness around the important issue of conservation."
Composers' Hub 2021:22 was supported by PRS Foundation's The Open Fund for Organisations, RVW Trust, The Fenton Arts Trust, Thriplow Charitable Trust and RSNO New Works Patron, Susie Thomson.
Further information about the RSNO Composers' Hub, can be found here.
Tickets for the RSNO's 2022:23 Season, featuring Lisa Robertson's am fìor-eun are on sale now. The concert will be live-streamed and available on demand.
BEETHOVEN'S EMPORER CONCERTO
Friday 27 January 2023, 7.30pm – Usher Hall, Edinburgh
Saturday 28 January, 7.30pm – Glasgow Royal Concert Hall
Lisa Robertson – am fìor-eun, Composers' Hub Winner 2021:22
Beethoven – Piano Concerto No5 Emperor
Brahms – Symphony No4
Thomas Søndergård, conductor
Francesco Piemontesi – Piano
Lisa Robertson
Lisa Robertson is a composer from the West Highlands of Scotland, particularly interested in combining sounds from nature and traditional music, examining relationships between people and the land and highlighting environmental concerns.
Her music has been recorded by The Sixteen and performed by the Czech Philharmonic Orchestra, EXAUDI, Red Note Ensemble, Psappha Ensemble, Hebrides Ensemble, Lucy Schaufer, and Heather Roche, among others. Her music has appeared at festivals including Huddersfield Contemporary Music Festival, where she also performed her own solo violin piece in 2019, Cheltenham Music Festival, West Cork Chamber Music Festival, Sound Festival and on BBC Radio 3, BBC World Service and BBC Radio Scotland. She has been three times shortlisted for the Scottish Awards for New Music and was recently featured in BBC Music Magazine's 'Rising Stars' column.
She recently completed a PhD at the Royal Conservatoire of Scotland with Emily Doolittle and William Sweeney and has also gained influence from masterclasses with Brian Ferneyhough at the Ferienkurse Darmstadt and Sir Harrison Birtwistle at Dartington International Summer School and workshops with Royal Northern Sinfonia, Bozzini Quartet and Ligeti Quartet. She took part in the National Youth Choirs of Great Britain's Young Composers Scheme 19/20 which led to pieces being published by Stainer & Bell and Choir & Organ magazine and a work being released by NMC Recordings.