RSNO announces 2022 Film Composers Lab participants
Posted Thu 8 December 2022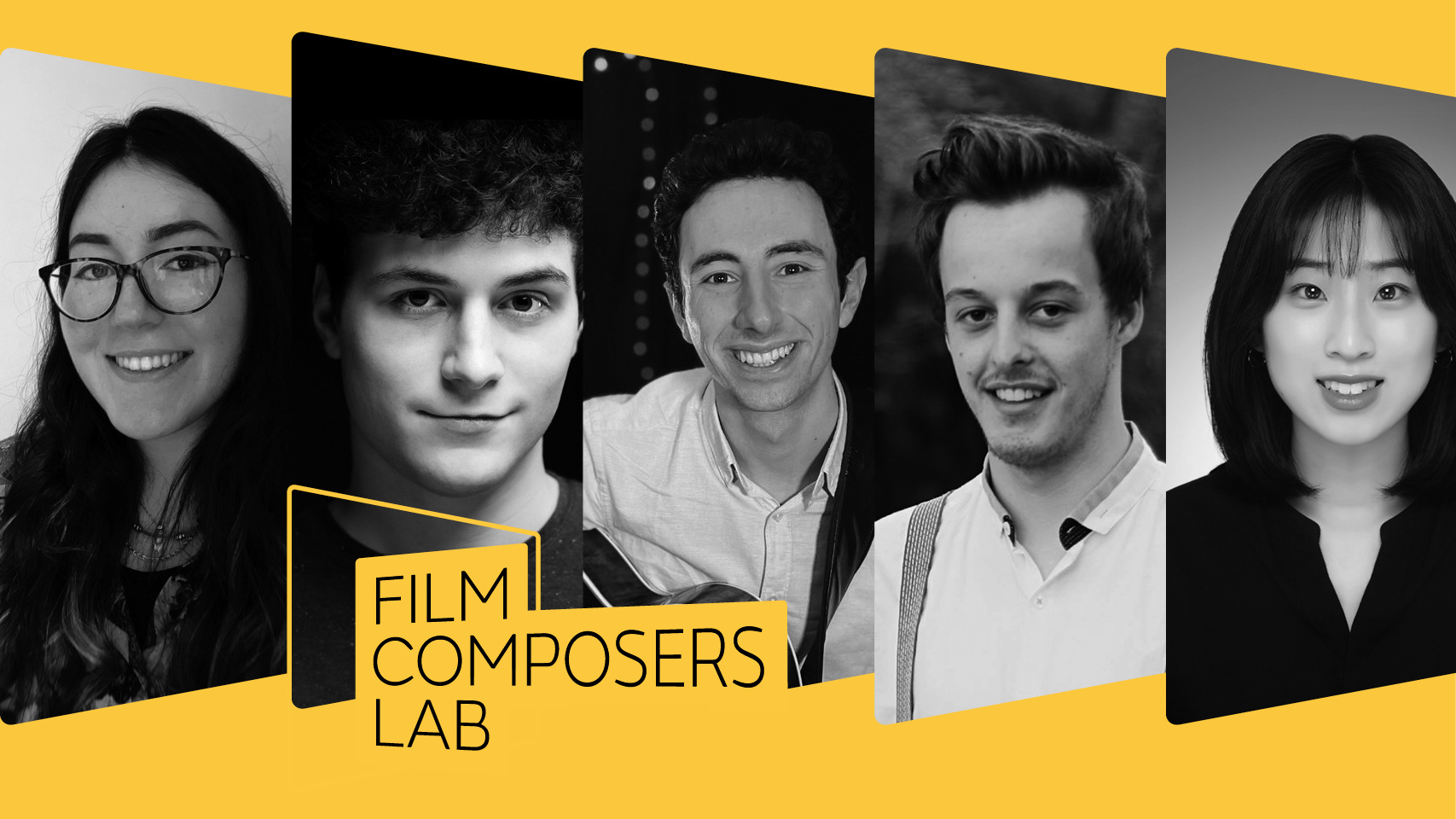 The Royal Scottish National Orchestra (RSNO) announces five participants taking part in the first ever Film Composers Lab. The professional development scheme offers UK-based composers an invaluable opportunity to expand their skills in film composition.
Sohee Baek, John Konsolakis, Joshua Lascar, Alice Mills and Joshua Urben have been selected from a pool of talented applicants. The group met for the first time at the RSNO's performance of Britten's War Requiem and will start the project early next year with their first workshop and guest masterclass.
The selected candidates will be mentored by Scottish film and TV composer John Lunn (Downton Abbey, Shetland, The Last Kingdom) alongside film and video game composer Danai Kokogia as Associate Co-Mentor. Working closely with their mentors and guest speakers, the participants will each create an original score for a specially selected short film. The project will culminate in a public showcase screening of all of the newly scored films. The selected winning work will be performed live by the Orchestra during the RSNO's 2023:24 Season.
Film Composers Lab launched in partnership with the Edinburgh International Festival (EIFF) this August. In October, the RSNO was deeply saddened by the news that EIFF and the Edinburgh Filmhouse ceased trading. The RSNO remains committed to delivering the scheme and is delighted that former EIFF Festival Producer Holly Daniel is continuing to work on the project, bringing her invaluable film industry expertise to the group.
Film Composers Lab mentor John Lunn said: "This is a seriously impressive initiative by the RSNO, and I am delighted to be involved. My musical education meant everything to my success and I'm glad to have this opportunity to pass that on by helping the next generation of talented film composers."
RSNO Director of Engagement Andy Stevenson said: "It was fantastic to meet Sohee, John, Joshua, Alice and Joshua and get this new project underway. I can't wait to see what the talented group produce. Since Scotland's Studio opened a year ago, world famous composers and film studios have come to Glasgow to work with the RSNO. It is really exciting to now have emerging composers at the start of their careers use the facility to produce new music for film."
Film Composers Lab is delivered with kind support from the Boris Karloff Charitable Foundation, the Fenton Arts Trust, the Idlewild Trust, the Jones Family Charitable Trust, the RSNO Foundation, the Thriplow Charitable Trust, and the Vaughan Williams Foundation.
ENDS
Notes to editors
RSNO contact: constance.fraser@rsno.org.uk
Sohee Baek is a UK-based Korean composer. She graduated cum laude from Chung-Ang University in music composition (Bachelor of Music) under the supervision of film composer Prof. Narae Chung. She was selected as the International Society for Contemporary Music's representative composer for Korea at the 49th PAN Music Festival in 2021. Alongside composing, Sohee is as a piano teacher and accompanist.
John Konsolakis is a clarinettist and composer. He was runner-up of the University of Edinburgh's Tovey Memorial Prize in 2018 and 2021 (for performance and composition, respectively) and winner of the Emre Araci Composition Competition in 2018 for his piece Closure for string orchestra. He was also nominated for the SABAM Award for Best Original Composition by a Young Composer during the 2022 World Soundtrack Awards in Ghent, where his music for Nosferatu was performed by the Brussels Philharmonic Orchestra under maestro Dirk Brosse. Having performed with orchestras such as the Underground Youth Orchestra, Young Euroclassic Festival Orchestra, and the Edinburgh University Orchestras as both a principal clarinettist and guest soloist since 2012, John has honed his musical skills and possesses a great love and knowledge of orchestral writing and playing that he utilises in his compositions.
Joshua Lascar graduated from the Royal Welsh College of Music and Drama in 2021 with First Class Honours in Jazz Guitar, where he received the Principal's Award for Music. He was also awarded the Musician's Company 2021 Silver Medal Award and is now on their Young Artists programme. Recently, Joshua has been commissioned by Tŷ Cerdd (Cardiff Sonic Map project) and has scored short films (including for broadcast on S4C). He currently works as a composer's assistant to Jordan Rees and freelances as a curator for Lightsong Media Group. He has performed on BBC Radio Wales, Sofar Sounds, and in venues such as the Welsh Parliament, Cardiff Castle, the Dora Stoutzker Concert Hall, the Berklee Performance Center, and for HRH King Charles III in his Llwynywermod Residence. Joshua also works as an external advisor to the Arts Council of Wales.
Alice Mills is a predominantly computer-based composer from Surrey. Her love of technology has led her to be particularly interested in layering of textures using a mixture of orchestral and electronic sounds. Alice's love of art meant she has always aspired to work in film due to the opportunities it provides to collaborate with and work alongside other artists. She has a visual brain and loves experiencing images, colours, and textures interweaved with sounds and music. Growing up she was classically trained in piano, violin, and clarinet; therefore, orchestral music is a big part of her identity. However, since studying music technology at university, she has focussed more on her creative and experimental skills with the use of technology; she is therefore very excited to be returning to her roots and learning about orchestral writing through the Film Composers Lab.
Joshua Urben is an award-winning composer based in London, UK. Josh is a title holder of the NCEM BBC Young Composer of the Year award as well as having won best score at the Royal Television Society Student Television awards and other accolades at film festivals around the UK. Josh studied his undergraduate degree in composition at the Royal Northern College of Music under Laura Bowler and Paul Patterson where works were performed by ensembles such as the BBC Singers, Psappha Ensemble, RNCM Symphony Orchestra, Juice Vocal Ensemble and Dunedin Consort to only name a few. He has previously received compositional masterclasses from the likes of Judith Weir MBE, Errollyn Wallen, Brains and Hunch as well as premiered works on BBC Radio 3 and the television network, ITV. Josh strives to tell a story in every piece of music he writes, through hybrid scores of orchestral and electronic music. Josh is currently studying his MA in composition for screen at the Royal College of Music in London, UK under the tutelage of Filip Šijanec.