RSNO announces the appointment of Liam Lynch and Gunda Baranauskaitė
Posted Wed 16 November 2022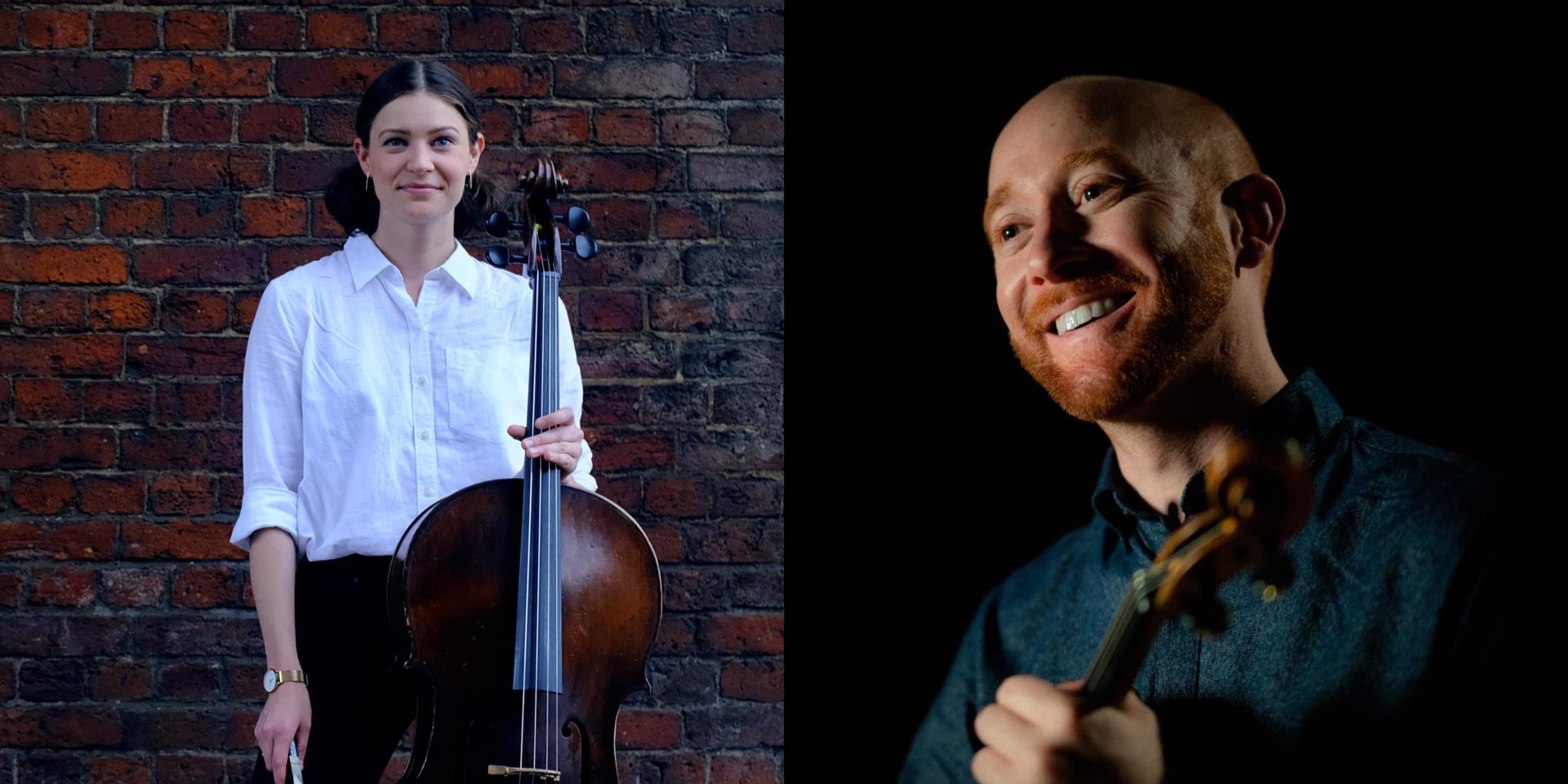 The Royal Scottish National Orchestra (RSNO) is pleased to announce the appointment of two new musicians this winter. Violinist Liam Lynch joins the Orchestra on 30 November 2022 and cellist Gunda Baranauskaitė joins on 14 December 2022.
Baranauskaitė and Lynch have both frequently performed with the RSNO during their impressive freelance careers.
Originally from Dunfermline, Lynch studied with RSNO Assistant Leader Tamás Fejes at the (then) Royal Scottish Academy of Music and Drama, graduating with First Class Honours.  He is a highly respected freelance violinist, and has worked with all of the Scottish orchestras, performing in many concert series and events across Scotland as a chamber musician and soloist.  Lynch is also active in the Gaelic community and enjoys playing traditional music.
Baranauskaitė studied at the Lithuanian Music and Theatre Academy and the Royal Northern college of Music in Manchester, where she received an Advance Postgraduate Diploma with Distinction. A former member of the Lithuanian National Symphony Orchestra, she has also performed with internationally acclaimed orchestras including the Hallé, Lithuanian Chamber Orchestra, City of Birmingham Symphony Orchestra as well as various chamber groups and baroque ensembles.
Both players will be joining the RSNO as it continues its 2022:23 Season, with forthcoming concerts featuring music by Tchaikovsky, Beethoven, Strauss and Brahms.
ENDS
Notes to editors
RSNO contact: Constance Fraser constance.fraser@rsno.org.uk
For more information on RSNO musicians, concerts and events, visit www.rsno.org.uk.
Liam Lynch
Liam is from Dunfermline and graduated from the (then) Royal Scottish Academy of Music and Drama with First Class Honours where he studied with RSNO Assistant Leader Tamas Fejes. He first began playing freelance with the RSNO 15 years ago in 2007 and has had a busy career playing with all of the Scottish orchestras since then.
As a chamber musician he was a member of the Alba Quartet and has played extensively with the Maxwell and Edinburgh Quartets. He has performed the premieres of works, both as concerto soloist and chamber musician, by composers including Peter Maxwell Davies, David Fennessy and John de Simone. He has also performed concertos with amateur orchestras across Scotland and is regularly guest soloist and director of the London-based Piccadilly Sinfonietta.
Active in the Gaelic community, Liam is working towards fluency in the language, and also plays traditional music. He lives in the Southside of Glasgow with his partner and their cat and dog.
Gunda Baranauskaitė
Born in Klaipėda, Lithuania, Gunda started learning the cello at the age of 6 at the Eduardas Balsys School of Arts, and later studied with Edmundas Kulikauskas at the Lithuanian Academy of Music and Theatre in Vilnius where she received her Bachelor and Master's diplomas in Performing Arts.
Whilst Gunda was studying she was appointed to a tutti cello position with the Lithuanian National Symphony Orchestra. After graduating she was invited to join the contemporary music ensemble Synaesthesis where she served as principal cellist until her move to the UK.
In 2017, Gunda started her Advanced Postgraduate Diploma studies with Nicholas Jones at the Royal Northern College of Music, and during her studies she began her freelance career, working with the City of Birmingham Symphony Orchestra, BBC Philharmonic, The Hallé and Royal Scottish National Orchestra. Gunda has performed at prestigious festivals and events such as the BBC Proms, Edinburgh International Festival, Schleswig-Holstein Music Festival and Prague Spring International Music Festival. She has played at The Béla Bartók Symphony Hall (Budapest, Hungary), Rudolfinum Hall (Prague, Czech Republic), Bridgewater Hall (Manchester, UK), Birmingham Symphony Hall (Birmingham, UK), Wigmore Hall, Southbank centre, Royal Albert Hall (London, UK) and other venues throughout Europe and the US.
In 2020, Gunda, together with her life partner, pianist Ugnius Pauliukonis, realised their mutual passion for chamber and contemporary music and formed the SONO Ensemble – a free form chamber ensemble. SONO explores new ways of presenting traditional repertoire as well as experiments with contemporary music performances that often include additional art forms. They have presented various exciting projects across the UK and Lithuania.