RSNO collaboration with acclaimed artist Gerard M Burns helps raise over £100,000
Posted Fri 30 June 2023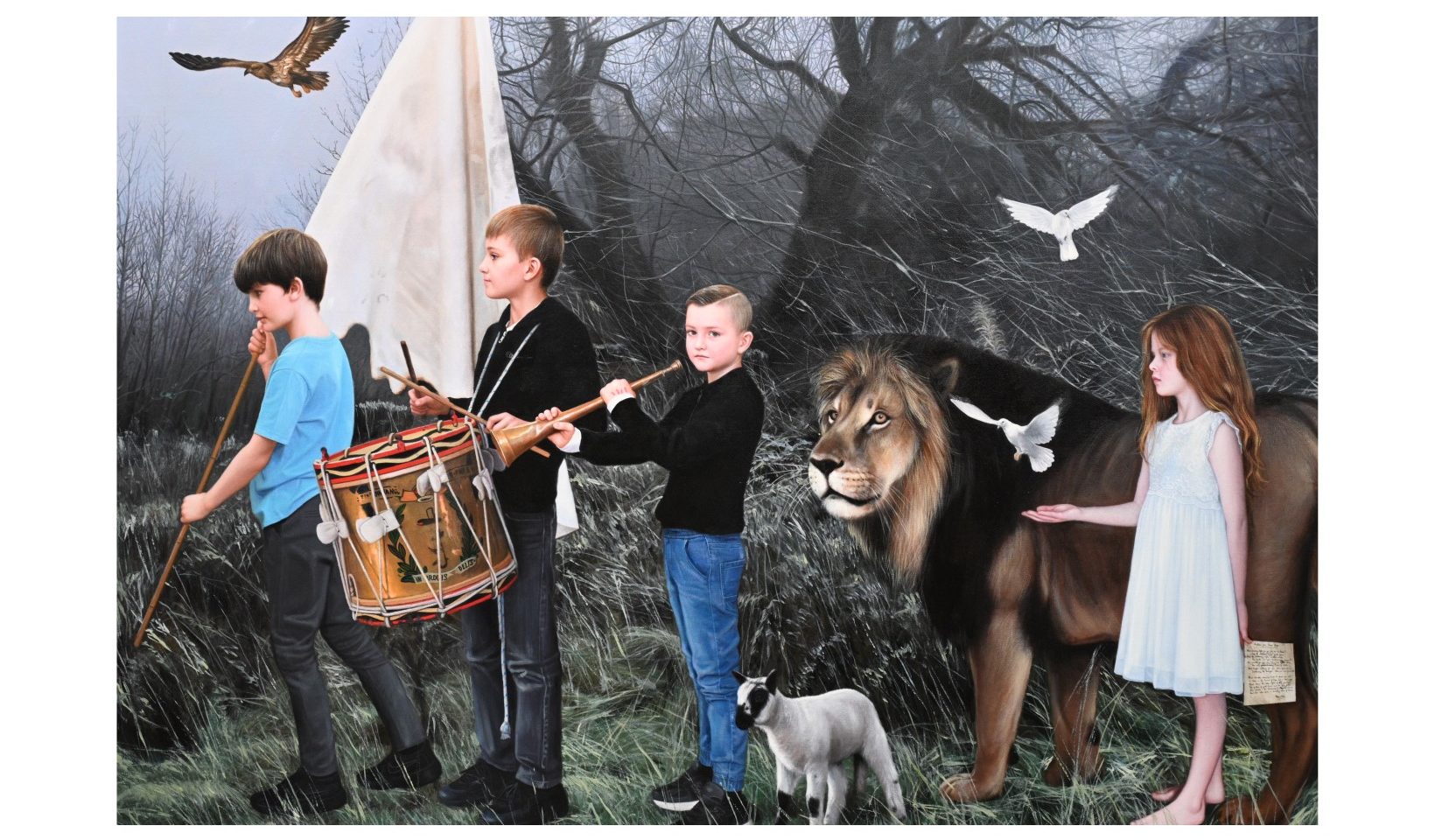 The Royal Scottish National Orchestra (RSNO) has unveiled a series of paintings inspired by Britten's War Requiem by acclaimed Glasgow-based artist Gerard M Burns.
The project, titled A Portrait of Music, began in November, with the Orchestra and RSNO Chorus' performance of the choral masterpiece (★★★★ The Times, The Herald, The Scotsman). Burns was given unrestricted backstage and concert access to research and sketch the performers as he worked to create three paintings which he has donated to the RSNO.
The paintings were unveiled at the RSNO's Midsummer Gala Ball on Saturday 24 June, as the Orchestra launched its fundraising campaign auctioning the work for public exhibition. Following a champagne reception, sponsored by legal firm Turcan Connell, the 2023 Midsummer Gala Ball raised a total of over £100,000; vital funds which will help support the Orchestra's work both on and off the stage. All those who donate to the 'A Portrait of Music' project will have their names displayed when the art goes on show to the public in concert halls in Edinburgh and Glasgow.
Readers can find out more about the project and how to get involved here, including an interview with Burns discussing the process and his relationship with the RSNO.
Gerard M Burns said: "Collaboration and the building of partnerships is pretty much the lifeblood of what I do as an artist. Such collaborations inevitably take my work in directions I wouldn't otherwise have anticipated. This amazing collaboration with the RSNO has resulted in not only a series of new paintings of the Orchestra itself but also three very powerful new paintings based on Benjamin Britten's War Requiem jointly titled A Portrait of Music.
My hope is that these paintings will now go on to have a life of their own and will allow people to gain a new insight into this incredible piece of music, and the work of this wonderful Orchestra."
RSNO Chief Executive Alistair Mackie said: "It has been fascinating to receive updates from Gerard on this brilliant project over the last six months. It is a joy to watch artists of different disciplines support and sustain each other. As we see cultural bodies face funding cuts and closures it is vitally important that we maintain a community of artists in Scotland, ensuring that we can continue to share rich cultural offerings with the world."