RSNO Offers FREE concert films to care homes this Christmas
Posted Tue 22 December 2020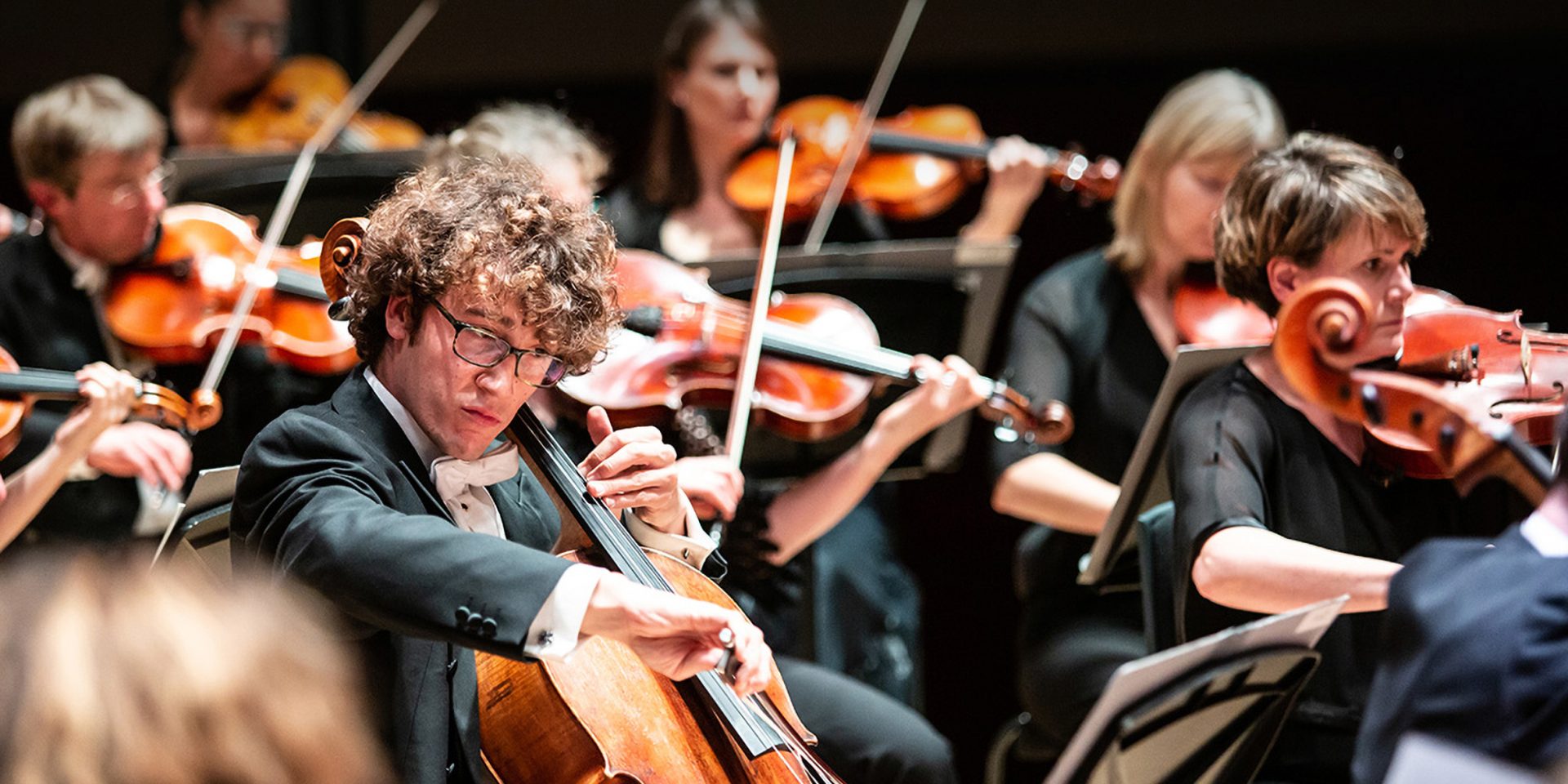 The Royal Scottish National Orchestra is reaching out to care homes and charities across Scotland this Christmas offering of a trio of concert films to stream for free.
Three concerts have been selected by the RSNO from its critically acclaimed Digital Season to offer free of charge to charities, care homes, and hospices across the country. The Orchestra is urging any interested organisations to get in touch by 31 January 2021 for a chance to receive this special offer.
The concept for the free concert trio came about following the Orchestra's regular community work in Dundee and the wider Tayside area. Building on work with Tayside Healthcare Arts Trust, the RSNO got in contact with Balhousie Care Group, St Columba's Hospice Care, and Sense Scotland, who work with individuals across the region. Following a successful take-up of the concerts from the organisations, the RSNO is now expanding the offering across Scotland.
The concerts making up the trio are: Beethoven Violin Concerto featuring soloist Midori, which originally premiered on 23 October 2020; Beethoven Symphony No7, which premiered on Friday 18 December and features guest artist Francesca Dego performing Mozart's Turkish Violin Concerto No5; and in the New Year the concert trio concludes with pianist Paul Lewis joining the RSNO for Grieg's Piano Concerto on Friday 12 February 2021.
RSNO Digital Season concert tickets retail for £10 per concert or £20 for a household tickets or all ten concerts are available for £90 under a Season purchase. The Orchestra has waived any fees for this special trio offering to charities, with each concert being made available for 48 hours which allows for multiple screenings for audiences over a two-day period.
Chief Executive of the RSNO, Alistair Mackie, said: "We would like to show our thanks and appreciation to people across Scotland for their support of the RSNO and our Digital Season, by sharing our music with families and individuals who may be having a really difficult time over Christmas and New Year. We are grateful to our partners across Dundee who have helped us make this special gift of free music possible to so many people this year.
"We are thrilled with good news of the vaccine and know better days are coming, but we still have some challenging times ahead. This Christmas will be really tough for vulnerable people who may not be able to see loved ones, and so we hope our music helps to bring some comfort and light.
"I'm pleased to say we have already shared our performances with three fantastic organisations and would love more to get involved. If you work with a charity, care home, or hospice and would like to find out more, please do get in touch with us."
Jill Kerr, Group Chief Executive Officer of Balhousie Care Group, said: "We're thrilled that the Royal Scottish National Orchestra has chosen Balhousie Care to work with on this unique concert series and are so grateful to them for this exciting opportunity. We know how much music means to our residents, in particular to those with dementia. Music not only brings people together and lift spirits, it stimulates the brain and sparks important memories. We know it's going to have a great benefit to them, and be hugely enjoyable too."
Dr Giorgos Tsiris, Arts Lead at St Columba's Hospice Care, said: "The orchestra's first ever Digital Season has been a fantastic initiative, and we are grateful to RSNO for making some of their concerts freely accessible to our hospice community. These online concerts are a valuable addition to our music and arts provisions at St Columba's Hospice Care making a positive difference to patients and families, as well as staff and volunteers. The social isolation that many people experience due to the pandemic has often entailed a degree of aesthetic deprivation too, and the online concerts is a creative way of reaching and enriching people's everyday lives."
Jen Niven, Head of Fundraising at Sense Scotland, said: "This is a lovely early Christmas gift for the Sense Scotland family. At this time of year especially we miss the live musical performance. However, free access to the RSNO concert online brings the power of music into our very own homes throughout the country for everyone to enjoy."
Care homes, hospices, and other organisations interested in free access to the selected RSNO concerts are asked to contact engage@rsno.org.uk by 31 January 2021.
As part of reaching more homes with music over the festive period, the RSNO also appears on the Edinburgh International Festival compilation double disc album made in partnership with Linn Records, which features highlights of the August 2020 festival. The Edinburgh International Festival's Learning and Engagement team has also issued a callout to community groups and volunteers across Edinburgh who could benefit from the CD. More information is available at www.eif.co.uk/festival-guide/news-and-blogs/complilationcd.
For more information on RSNO concerts and the Digital Season visit www.rsno.org.uk.
The RSNO thanks the Northwood Charitable Trust, Tay Charitable Trust, RJ Larg Family Trust, and Leng Charitable Trust for their support of the Orchestra's work across Dundee and Tayside.