RSNO to perform side-by-side with Sistema Scotland students
Posted Mon 21 February 2022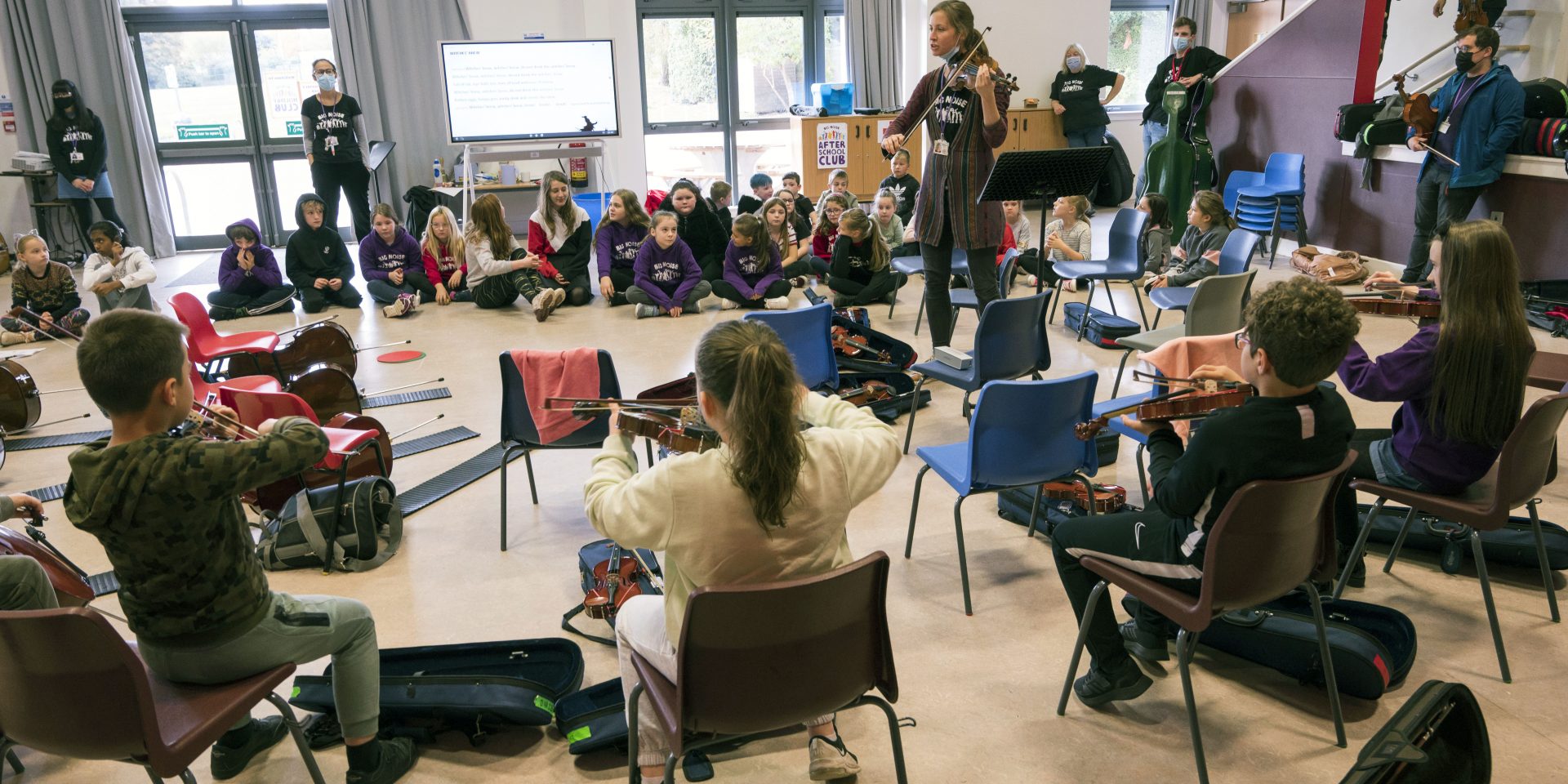 The Royal Scottish National Orchestra (RSNO) announces a side-by-side performance with young musicians from Big Noise Douglas, in partnership with Sistema Scotland. This special performance will see 30 children perform Purcell's Rondeau from Abdelazer on stage with Scotland's National Orchestra.
The concert, to be held on Thursday 24 March at the Caird Hall Dundee, will be an opportunity for the young musicians from the east end community of Douglas to share what they have learnt in front of an audience, on stage with world-class musicians. Conducted by Tianyi Lu, the programme will also feature Tchaikovsky's Fifth Symphony and Elgar's Romance.
The children, aged 10-12 years old, have been rehearsing the piece with teachers at Big Noise Douglas, and next month RSNO musicians and a guest conductor will join them for a rehearsal session ahead of the concert. The Big Noise teaching model was established by the charity Sistema Scotland in 2008 and Big Noise Douglas was founded in Dundee in 2017. Children from Claypotts Castle and St Pius Primary Schools in P1, P2 and P3 as well as nursery years are given a chance to take part and attend daytime and after-school activities.
Sistema Scotland uses music making as a way to build confidence and skills in children and young people across Scotland. Recognising the barriers that financial and other inequalities create to accessing musical education, community-based programmes like this are essential in ensuring that everyone gets a chance to meet their true potential.  Working with social action organisations such as Sistema Scotland is vitally important for the progression of the RSNO's Music for Life strategy, striving to deliver classical music to people of all ages and backgrounds in Scotland.
The RSNO's work in Dundee is kindly supported by Leisure & Culture Dundee Major Music Award, Northwood Charitable Trust, Leng Charitable Trust and Tay Charitable Trust.
Sistema Scotland Director of Music, Peter Nicolson said:
"We are delighted that the children and young people at Big Noise Douglas will have this exciting opportunity to work closely with RSNO musicians and perform alongside them on stage at the Caird Hall. This is a fantastic demonstration of the strength of partnership between Big Noise and the RSNO and is testament to how much the orchestra values their role in inspiring children and young people. I have no doubt that this experience will prove immensely beneficial for our Big Noise Douglas participants."
RSNO Director of Learning and Engagement, Andy Stevenson said:
"We are very excited to share the stage with some of the talented young musicians from Big Noise Douglas and I can't wait to hear the sound of Scotland's musical future. It is vitally important that children get first-hand experiences such as this and we hope that this will be the first of many more opportunities to come."
ENDS
Notes to editors
RSNO media contact: constance.fraser@rsno.org.uk
Tickets for the concert are on sale now and can be purchased here.
Royal Scottish National Orchestra
Formed in 1891, the Royal Scottish National Orchestra (RSNO) plays an integral part in Scotland's musical life, performing across Scotland with regular concerts in Glasgow, Edinburgh, Dundee, Aberdeen, Perth, and Inverness. The Orchestra appears regularly at the Edinburgh International Festival and the BBC Proms, and has toured throughout the USA, China and Europe. The Orchestra's artistic team is led by Danish conductor Thomas Søndergård, who was appointed RSNO Music Director in 2018, with Hong Kong-born Elim Chan as Principal Guest Conductor.
The RSNO's pioneering Music for Life framework aims to engage the people of Scotland with music across key stages of life: Early Years, Nurseries & Schools, Teenagers & Students, Families, Accessing Lives, Working Lives and Retired & Later Life. The RSNO is committed to placing the Orchestra at the centre of Scottish communities across the length and breadth of the country.
The RSNO is supported by the Scottish Government and local authorities in Scotland. Partnerships are crucial to the work of the RSNO, and through these, the organisation facilitates local, national and international relationships with cultural, commercial, public, charitable and community organisations, in order to increase and sustain the impact, reach, reputation and contribution of the Orchestra's work.
Since March 2020, the organisation has created a series of Digital Seasons, multiple online learning and engagement programmes and behind the scenes content and, in October 2021, the RSNO launched its first ever combined Live and Digital Season, continuing to bring world-class music to its audiences in Scotland and around the world.
Sistema Scotland
Sistema Scotland is the charity that delivers the Big Noise model and runs the Big Noise programmes. Its work is underpinned by the belief that all children and young people in Scotland have great potential, skills and talents. The charity also recognises that poverty and inequality in Scotland already have a significant impact on the support and opportunities some children have to build their self-esteem, confidence and social networks. Sistema Scotland believes that music and nurturing relationships have a critical role to play in inspiring individuals, families and communities.
Big Noise Douglas in Dundee began in 2017 and works with around 600 participants, from babies to P7s. The programme is delivered in partnership with Optimistic Sound and Dundee City Council, supported by Strategic Partner Gannochy Trust. Big Noise Douglas works in partnership with Claypotts Castle and St Pius primary schools in Douglas and delivers:
in-school teaching and activities for nursery and early years pupils
an after-school club for Primary 4s and up which now has four distinct orchestra groups
weekly Little Noise sessions for babies, young infants and their carers; and
a community orchestra for adults.
In addition to Big Noise Douglas, Sistema Scotland also runs programmes in Raploch & Fallin (Stirling), Govanhill (Glasgow) and Torry (Aberdeen). A brand-new Big Noise programme is due to start in Wester Hailes (Edinburgh) in spring 2022.