Scotland's National Orchestra is on tour!
Posted Tue 9 May 2023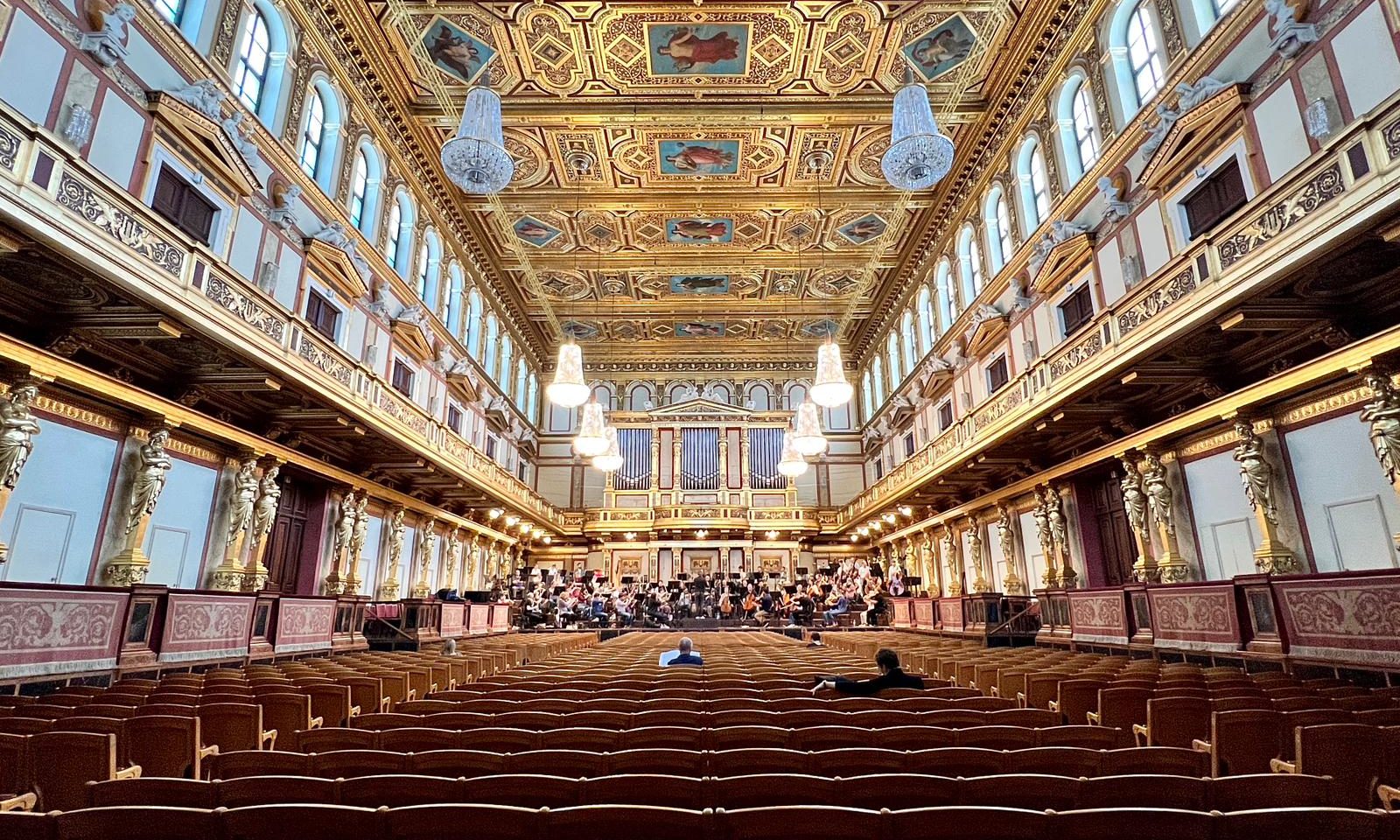 This week we're travelling to four countries in five days with 90 musicians and staff, Music Director Thomas Søndergård and soloists Leif Ove Andsnes, Matthias Höfs and Christian Schmitt as we embark on our Spring 2023 European Tour. You can follow us on Instagram, Facebook and Twitter as we travel and find updates from musicians here on our daily blog.
Tours provide an important opportunity to promote Scotland's cultural output across the world, and we're always delighted to share some of Scotland's best music with audiences overseas. This year our touring programme includes Sir James MacMillan's Britannia, written in 1994 as a 'celebration of the British orchestra', commissioned by the Association of British Orchestras. Audiences will also get to hear former RSNO Principal Horn Christopher Gough's composition Eightsome Reels 2.0. A new arrangement of the Orchestra's classic encore, Chris took inspiration from other British composers including Malcolm Arnold and Benjamin Britten to update the work.
We'll be joined by trumpet player Matthias Höfs in Vienna and Ljubljana, performing Fazıl Say's Concerto for Trumpet and Organ alongside organist Christian Schmitt. Star pianist Leif Ove Andsnes will perform Rachmaninov's Third Piano Concerto in Udine and Vaduz – some of you may have seen him recently performing the piece alongside the RSNO in Glasgow and Edinburgh (★★★★★ The Times).
Day five – Vaduz 
Assistant Principal Horn Alison Murray
Yesterday was a travel day from Ljubljana to Feldkirch. On the schedule this looked like it might have been a very tiring day but for me, the eight and a half hours passed fairly easily. Despite the gloomy weather the scenery was really beautiful, with lots of mountains and waterfalls. Time was spent reading, watching tv programmes and catching up on sleep, although some did manage to enjoy a livelier (party) journey! It's always so nice to see everyone enjoying themselves in between all of the concerts which can be hard work.
We arrived in Felkirch which is a lovely medieval town. We went out for an amazing dinner – the best of the tour for me. One of my favourite things about touring (as my colleagues have said all week!) is getting to try new and delicious food and wine. Feldkirch looked beautiful by night but this morning we had more time to explore. There's a wildlife park and some lovely forest and river walks, and of course some retail therapy. The sun was shining too which was very welcome after a couple of rainy days.
There was a short journey to Veduz, Liechtenstein for tonight's concert, the final of the tour. It was a smaller stage which made it tight fit. It's really interesting performing in such different venues in close succession. It's amazing how the acoustics and atmosphere differ from place to place. It was a great concert, you could really feel that everyone wanted to end on a high. It's been a lovely tour – now on to the next one!
Day four – travel day
Planning Officer Ingrid Bols
Because we spend so much time planning the tour it's such a relief when we finally get everyone to the airport. It's a strange feeling after you've spent months booking hotels, trains, busses to actually be on the road. Although we try our best to plan for everything there will always be unexpected challenges to keep thing's interesting!
It was a dream come true to be at the Musikverein. I never in a million years thought I'd get to go in for the first time through the stage door with my favourite orchestra. I sent a picture of the hall from the stage to my mother and she cried! It is a night I will never forget. The acoustics were very interesting as the stage is very narrow, and it was the first time in my life that I've heard a sound quite like it.
It was our travel day yesterday, taking a coach from Ljubljana to Bischofshofen and then a five-hour train to Feldkirch where we are staying before the concert in Vaduz. A day I have been thinking about and organising for a long time. I was very surprised by how great Austrian trains are, they were very spacious with a lot of room for our instruments and a very fancy restaurant carriage – a top tip for other tour planners!
Head of Production Craig Swindells 
This is my ninth tour with the RSNO and I love it! People are often surprised to hear how much the years I spent in the military help with the processes involved in touring, having been on many when I was still in the army. We're moving massive amounts of luggage, instruments and people across the continent which has to be done with a lot of care but often very quickly. Days can be long, but tours are always such a great opportunity to get to know musicians and bond together.
I always try and get out and about to feel a sense of each new city we're in. It can be hard sometimes as we're always on the move and inside the concert halls getting ready for the Orchestra to rehearse and perform but I feel lucky to have seen so many beautiful places.
I love spending time in Europe and we're very at home here. It's always interesting meeting the stage crew at each venue, finding out new ways of working and often getting tips I can take home with me. It's our tradition to share a drop of whisky at the end of the night to say thank you to everyone who has helped us prepare the stage for the musicians – I've definitely introduced a few people to it for the first time!
Associate Principal Oboe Peter Dykes
Greetings from Ljubljana, or as they'd say round these parts, Dobrodošli!
If you're looking for a city combining beautiful European historical architecture with Socialist Brutalism, then this is the spot for you! Head down to the three bridges, catch a nice glass of local Refošk, then swing over to the Cankarjev Dom concert hall where your very own RSNO is whizzing through a programme of James MacMillan, Fazıl Say, and Sibelius. It's an eclectic mix of a programme, but Slovenians are well versed in concert experiences that are a little bit different, with young hungry audiences keen to lap up overseas ensembles who regularly come to perform in the 'zlati abonma' golden concerts season. I'm a little in the know myself, having previously lived in the town for three years as a member of the Slovenia National Theatre Opera and Ballet Orchestra. It's a fascinating place with a somewhat spicy history after breaking away from former Yugoslavia, and then joining the European Union, and living there for a few years was fascinating. The main cultural event (not for the faint hearted!) this week is of course the mighty Eurovision Song Contest, and while much of Europe pokes fun at it, it's quite a big deal in Slovenia, a chance for the plucky population of 2 million people to strut its stuff. Let's be honest, the Slovenian entry this year, 'Carpe Diem' is a belter, definitely up there as a top shelf Euro boy band timeless classic.
Anyway, enough of the real music, back to tonight's concert. After the glorious ending of Sibelius' First Symphony, and whipping the crowd into a frenzy with Chris Gough's magnificent Eightsome Reels 2.0, it's time to head back into the Ljubljana night… back in my day one could have the option of a delicious late night Burek pastry, or the option for the truly oiled, an unforgettable locally produced horse burger… what a town!
Next stop, Liechtenstein. Thanks for reading, adijo!
Principal Contrabassoon Paolo Dutto
Great surprises in Udine, one after the other! The city is very pretty, and it's been delightful to stroll through the historic centre. It's great to see how happy everyone is to finally be in Italy! It always amazes me how much my country is loved and is met with such sympathy and warmth by tourists.
Our journey to Udine was very picturesque. I have always loved travelling through the Alps – the trees, green and peaceful meadows, placid cows and small villages pinpointed by bell towers and surrounding houses. The villages are all enclosed and hidden by the mountains, the immovable giants. Such a journey helps us to better understand Mahler and Strauss' scores which are so imbued with the scenery. Their music and the atmospheres they evoke spontaneously come to mind as we travel to our next destination.
Last night I was very proud to perform to a packed concert hall – the audience was so enthusiastic and full of applause. I love this Orchestra!
Day One – Vienna
Associate Principal Cello Betsy Taylor
I joined the RSNO in 2000 and have been on every tour since. I absolutely love being on the road with the Orchestra – it's such a great opportunity to spend more time with my colleagues and get to know new members. This year one of my former students Feargus is playing with us, it's so great to see him here!
We've been lucky in Vienna with the weather, it definitely feels like summer is on its way. After a long journey from Glasgow we checked into our hotel on Sunday night – I was delighted to find a cello on display in the lobby, definitely a good omen for the tour…
One of my favourite things about touring is getting to sample new types of food from all over the world. I've already made my way through some apfelstrudel and Sachertorte and went to a great coffee house in our break yesterday.
Last time I performed in Vienna my now husband came to surprise me on my birthday, so it was great to return to the Musikverein with such fond memories. The Golden Hall is absolutely breathtaking, as soon as you walk in you're stunned by the gold statues and HUGE chandeliers. It's a shoebox shaped hall, like the Caird Hall in Dundee, and has the most beautiful acoustic, with a very warm sound bringing a new energy to the music we're playing.