The RSNO announces 2022 Composers' Hub and Notes from Scotland cohorts
Posted Tue 12 October 2021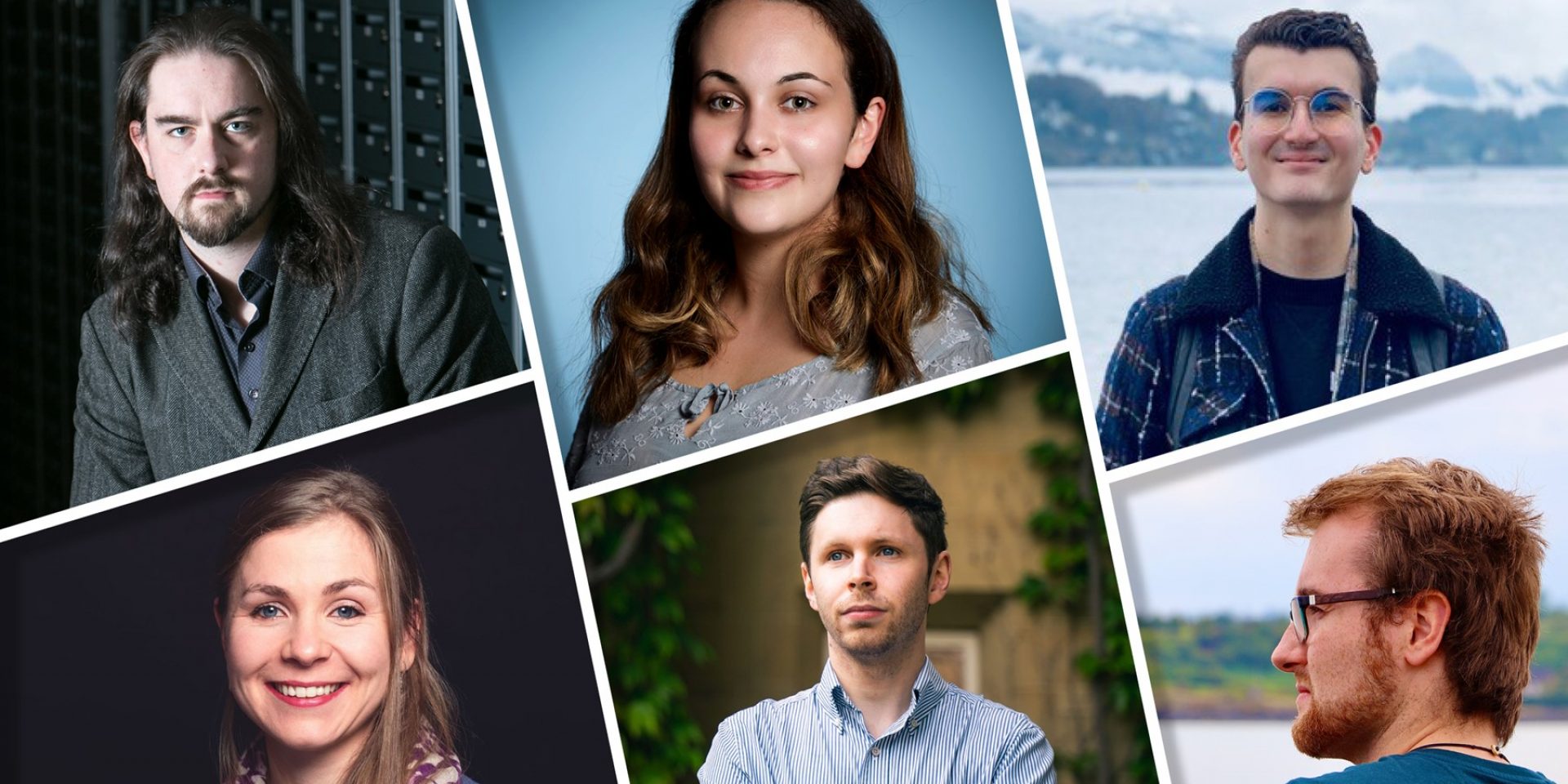 The Royal Scottish National Orchestra continues its commitment to early-career composers, announcing its 2022 Composers' Hub and Notes from Scotland cohorts.
The Royal Scottish National Orchestra (RSNO) continues to strengthen its support for emerging talent as it announces its latest cohort of six composers for the seventh year of the Composers' Hub scheme. Anselm McDonnell, Cameron Biles-Liddell, Derri Joseph Lewis, Electra Perivolaris, Lisa Robertson and Matthew Whiteside have been selected from a strong pool of applicants. This year, three of the six participants are either Scottish, or currently based in Scotland.
The annual project gives emerging composers the opportunity to write for orchestra in a range of different contexts whilst developing skills and relationships within a major arts organisation. Throughout the year they will receive guidance from award-winning composer and Composers' Hub mentor Stuart MacRae as they work closely with Scotland's National Orchestra to develop their new compositions. RSNO musicians and guest mentors will also offer feedback and advice to each participant. The programme culminates with a public workshop during which a piece will be selected by guest judges to be performed in the RSNO's 2022:23 Season.
Delays due to the nationwide lockdown mean that two previous winners' will have their work premiered during the Spring/Summer 2022 Season. Jasper Dommett was named the overall winner of the 2020:21 cohort, while Carlijn Metselaar was the overall winner from the 2019:20 programme.
The RSNO's Notes from Scotland programme for young composers aged 14-18 and living in Scotland is also underway, with five talented individuals selected: Stephen Speirs; Viktor Seifert; Alexander McNamee; Scott Manson and Emily Rae. Jay Capperauld (2015:16 Composers' Hub alumnus), Oliver Searle (Lecturer in Composition at RCS) and Katherine Wren (RSNO Viola) will mentor the cohort for six months, as they develop their composing talents whilst gaining new skills and confidence in the field. At the end of the programme the participants will each write a piece of chamber music to be performed by an RSNO Chamber Ensemble on 20 February 2022.
Supporting new talent from a variety of backgrounds remains at the forefront of the RSNO's work. In 2020 the RSNO introduced its Scotch Snaps series. Scotch Snaps, supported by the John Ellerman Foundation, celebrates the diversity of composers born or living in Scotland, introducing audiences in Scotland and beyond to their new compositions. By providing creative and professional development opportunities with schemes such as Notes from Scotland and the Composers' Hub, the RSNO ensures that audiences can continue to enjoy new and inspiring works in the future.
Commenting on this year's Notes from Scotland programme, RSNO Director of Learning and Engagement Andrew Stevenson said:
"Notes from Scotland gives young people with an interest in composing music a chance to come together and share their ideas, learning valuable news skills from experienced mentors. The scheme provides an unbeatable opportunity for the young composers to see their music come to life on stage. Championing new work is an essential part of what we do at the RSNO, and I can't wait to hear what the year's participants have in store for audiences!"
Chair of the RVW Trust, Hugh Cobbe, said:
"The RVW Trust is very pleased to support the RSNO's Composers' Hub scheme giving six outstanding composers a great opportunity to develop their skills. It is essential that the next generation of composers are given platforms like this to experiment and develop their work from its earliest stages. We wish the best of luck to all of those participating."
Anselm McDonnell is an Irish/Welsh composer based in Belfast. He has written over seventy works for a variety of ensembles and regularly collaborates with artists from other disciplines. His music has been performed in North America, Canada, Finland, Japan, Russia, and across Europe. He also performs on the classical and electric guitar. McDonnell has written for ensembles such as the London Symphony Orchestra, CRASH Ensemble, Chamber Choir Ireland, BBC Singers, Ulster Orchestra, and the BBC National Orchestra of Wales. His debut album Light of Shore was released on 8 October 2021, supported by Moving On Music and ACNI, and he is currently writing new commissions for CRASH, First Old Boy's Brass Band, BBC Concert Orchestra, New Music Dublin Festival, Belfast City Council, and pianist Cahal Masterson for 2022/23.
Cameron Biles-Liddell is an award-winning composer based in North Wales, studying for a PhD in composition at the University of Manchester through the support of the Victor Sayer's Award for Composition. His music takes inspiration from a wide variety of sources ranging from the environment, artwork and concepts surrounding temporality, with a particular interest in controlling stasis and motion within music. Cameron's music has been performed around the UK, with workshops and performances from pianist Benjamin Powell (from Psappha), the Quatuor Danel, solo harpist Olivia Jageurs and the BBC National Orchestra of Wales.
Cameron's music has also been showcased in a variety of composition opportunities across the UK, ranging from BBC Composition: Wales 2021, the Dartington Advanced Composition Course and, most recently, Psappha's 'Composing For…' scheme. Outside of composition, Cameron is a keen educator and is a widening participation fellow at the University of Manchester.
Derri Joseph Lewis is a prize-winning Welsh composer. In 2021, Derri collaborated with a number of world-class musicians, including guitarist Tom McKinney (in partnership with Psappha Ensemble) and the National Youth Choirs of Great Britain. Derri's vocal music in both English and Welsh has been featured by Oxford Lieder Festival and Ludlow English Song Weekend and recorded as part of Helen Charlston's Isolation Songbook on the Delphian label. Derri's music often explores a playful approach to timbre and rhythm and incorporates themes of LGBTQ+ identity. In 2020, Derri graduated from the Royal Welsh College of Music and Drama, having studied with Joseph Davies & Ceri Tippetts, and completing a study-abroad term at the Zürich University of the Arts (ZHdK).
Electra Perivolaris is a composer and pianist from Scotland of mixed British and Greek heritage. Following success in the BBC Young Composers' Competition in 2014, Electra's music has been performed by musicians from the Hebrides Ensemble, and the London Symphony, BBC Scottish Symphony and Scottish Chamber orchestras. She was chosen to represent her generation of female composers in a new commission for BBC Radio 3 and the BBC Singers. This year, she was commissioned by BBC Radio 3 to compose a new piece for the BBC Concert Orchestra. Electra is graduating from the Master of Music in Composition degree at the Royal Academy of Music, where she won the Diploma of the Royal Academy of Music Award in Composition for an Outstanding Final Portfolio. Electra has been described as a 'Classical Star of the Future' by BBC Introducing, and 'one of the most exciting composers emerging in Scotland today' by Sir James MacMillan.
Lisa Robertson is a composer from the West Highlands of Scotland, particularly interested in combining sounds from nature and traditional music, examining relationships between people and the land and highlighting environmental concerns. Recently profiled in BBC Music Magazine's 'Rising Stars' feature, she has three times been shortlisted for the Scottish Awards for New Music. Her music has been performed by the Czech Philharmonic Orchestra, Red Note Ensemble, Hebrides Ensemble, EXAUDI, Lucy Schaufer and Heather Roche, among others, and has appeared at festivals including Huddersfield Contemporary Music Festival, Cheltenham Music Festival, Sound Festival, West Cork Chamber Music Festival and on BBC Radio 3.
Currently a PhD candidate at the Royal Conservatoire of Scotland, she also took masterclasses with Brian Ferneyhough, Sir Harrison Birtwistle and Sir James MacMillan. As a National Youth Choirs of Great Britain 'Young Composer', Stainer & Bell, Choir & Organ and NMC Recordings released some of her works.
Matthew Whiteside is a composer and the Artistic Director of The Night With… based in Glasgow. His 2019 album Entangled, featuring three string quartets with electronic interludes, was described as "effective and unsettling" by BBC Music Magazine and "Post-minimal bold sparseness" by The Herald. Other recent work has included Night Thoughts, commissioned by Crash Ensemble for New Music Dublin 2020 and shortlisted in the 2021 Scottish Awards for New Music, Little Black Lies commissioned by Scottish Opera Connect and Quartet No. 4 (Entangled) commissioned by the Institute of Physics for the 2018 NI Science Festival. Entangled also won the 2018 Light Moves Innovative Use of Sound Award. Matthew also scored Michael Palin's Quest for Artemisia for BBC 4 and two feature films (Anna Unbound and The Loudest Sound).
During lockdown he reimagined his existing compositions to release a series of electroacoustic remixes.
---
Hear Matthew Rooke's The Isle is Full of Noises!, the latest in the RSNO's Scotch Snaps series at the Autumn Season opener on Friday 22 October (Edinburgh) and Saturday 23 October (Glasgow).
The RSNO is grateful to the RVW Trust, the Fenton Arts Trust, Thriplow Charitable Trust, and PRS Foundation's Open Fund for Organisations for their support of 2021:22 Composers' Hub.