The RSNO announces 2022:23 Season
Posted Wed 27 April 2022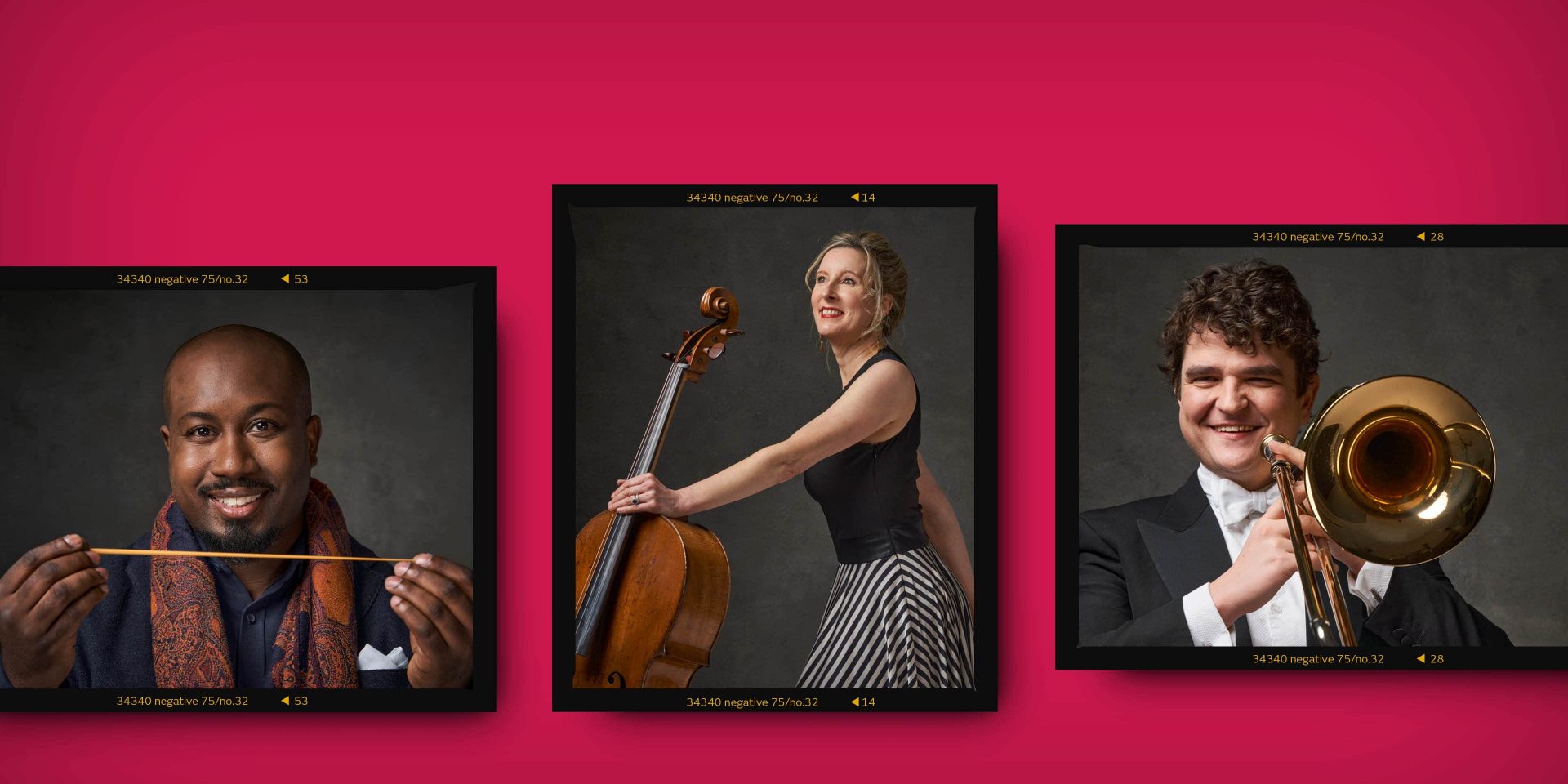 The Royal Scottish National Orchestra (RSNO) announces its 2022:23 Season, the first full 19-concert Season since the start of the pandemic.
RSNO Artistic Director Thomas Søndergård and Chief Executive Alistair Mackie announce the Orchestra's 2022:23 Season, welcoming audiences back to concert halls for a nineteen-concert Season. The RSNO introduces new partnerships and strengthens existing artistic relationships. The Season includes new works and emerging artists alongside popular classics performed by returning stars.
Highlights include:
Artistic Director Thomas Søndergård returns, conducting eight Season concerts, including a Brahms Festival presented over the second half of the Season, featuring all four Brahms symphonies.
RSNO further develops its digital delivery with six Season concerts live-streamed from the Glasgow Royal Concert Hall and Learning and Engagement projects continuing to connect with new audiences through online outreach.
The Orchestra welcomes back Nicola Benedetti, Sheku Kanneh-Mason, and Benjamin Grosvenor for a star-studded evening of Beethoven, joined on stage by the RSNO Youth Chorus.
RSNO announces a series of new creative partnerships, including a three-year collaboration with the award-winning Dunedin Consort.
RSNO introduces 2022:23's Musician in Focus, Jörg Widmann, starring as soloist and conductor in concerts featuring his own compositions alongside classics by Beethoven and Mozart.
The 2022:23 Season promotes new music and emerging artists, with a world premiere by David Fennessy, a UK premiere by Jörg Widmann, and Mahan Esfahani making his RSNO debut performing Poul Ruders' Concerto for Harpsichord, a piece co-commissioned by the RSNO.
Principal Guest Conductor Elim Chan returns to conduct a joint performance with the Dunedin Consort, and a programme of Mozart and Tchaikovsky with Scottish pianist Steven Osborne.
Scotland's National Orchestra strengthens its commitment to youth engagement and broadening accessibility with showcase concerts, discounts for under 26s, and more family events including the brand-new show, Gaspard's Christmas.
The RSNO Chorus return to the stage under new Chorus Director Stephen Doughty for classics by Britten and Verdi.
The Orchestra's RSNO at the Movies strand returns with Video Games Music in Concert conducted by Eímear Noone and The Magical Music of Harry Potter.
Chief Executive of the RSNO, Alistair Mackie, said:
"The 2022:23 Season provides us with an opportunity to show just how far we have come since our last Season launch in March 2020. It is important to recognise that despite the challenges faced over the last two years, with the help of our supporters we have accomplished a lot. We are continuing to develop our Learning and Engagement activity and digital work whilst maintaining the heart of what makes the RSNO so great: performing diverse Season concerts across Scotland which show our musicians at their best.
"In 2022:23 we have favourites from Grieg, Tchaikovsky, and Beethoven alongside new and experimental work from the likes of David Fennessy and Musician in Focus Jörg Widmann. We're welcoming back Nicola Benedetti, Benjamin Grosvenor, and Sheku Kanneh-Mason who have all recently performed with us, as well as new soloists and conductors making their debuts.
"I am so happy to be working with partners such as the Dunedin Consort and the Italian Cultural Institute, reaching out to new audiences and sharing creative ideas and resources. We also take inspiration from some of Scotland's youngest musicians, working with schools and community organisations including Sistema Scotland to ensure that as Scotland's National Orchestra we are supporting the breadth of talent we have in this country."
Music Director Thomas Søndergård said:
"This Season will really show the fantastic form of the Orchestra. With such a diverse programme, it is my pleasure to join the musicians and soloists once more. I am delighted to be conducting the Brahms Festival throughout the Season, with some of my favourite works by the composer selected to bring out the best in our players. It's been fantastic working on the repertoire and developing the Season with Alistair and the Orchestra, creating a programme that shows how unique the RSNO really is."
Guest soloists and conductors
In May, the Orchestra hosts an All-Star Gala as Nicola Benedetti, Sheku Kanneh-Mason, and Benjamin Grosvenor join Music Director Thomas Søndergård and the RSNO Youth Chorus in concert. All artists have recently performed with the RSNO, and this concert provides a unique opportunity to hear Beethoven's Triple Concerto with three British superstars at the helm.
The RSNO welcomes Jörg Widmann as 2022:23 Musician in Focus. The multitalented artist will show his skills as clarinettist, composer, and conductor, joining the Orchestra for three concerts this Season. Widmann made his well-received debut performance with the RSNO during its first ever Digital Season in November 2020. He will perform his own clarinet concerto Echo-Fragmente in a special concert alongside the Dunedin Consort, and later conducts Mozart's Jupiter Symphony.
This Season, the Orchestra welcomes a number of soloists and conductors performing with the RSNO for the first time, including violinist Randall Goosby, soprano Susanne Bernhard, pianist Joyce Yang, and saxophonist Jess Gillam, who recently shone in an RSNO Presents concert with the National Youth Orchestra of Scotland.
Premieres and new works
The RSNO continues to support new music and less frequently heard repertoire, including new works by David Fennessy, Poul Ruders, and Jörg Widmann.
The RSNO Composers' Hub programme enters its seventh year, with compositions by the 2021 winner to be performed in a Season concert. RSNO Composers' Hub gives early-career composers a rare opportunity to compose for orchestra and gain experience within a major arts organisation.
The Orchestra continues its Scotch Snaps initiative, celebrating the diversity of composers born or living in Scotland, introducing new audiences to their compositions. The Season opens with the world premiere of a specially commissioned piece by David Fennessy, The Riot Act, which was originally due to be debuted in the 2020:21 Season.
In November, two works by Scottish composer James MacMillan will be performed: Scottish mezzo Karen Cargill sings MacMillan's Three Scottish Songs and later the RSNO perform his Larghetto for Orchestra. In February, matinee audiences will enjoy Scottish composer Craig Armstrong's Suite from Baz Luhrmann's Romeo and Juliet.
Poul Ruders' Concerto for Harpsichord will be performed by critically acclaimed harpsichordist Mahan Esfahani in the UK premiere of the work. The piece was co-commissioned by the RSNO and Aarhus Symphony Orchestra and was written especially for Esfahani.
Collaborations and partnerships
The 2022:23 Season launch sees the announcement of new partnerships and the strengthening of existing working relationships. Partnerships are an essential part of the RSNO's ambition to extend its reach as Scotland's National Orchestra. Sharing the Orchestra's resources and talent is integral to its work as a national company, encouraging wide-ranging musical participation.
The RSNO announces a three-year partnership with the award-winning Baroque ensemble Dunedin Consort. Collaborating for a performance of Musician in Focus Jörg Widmann's clarinet concerto Echo-Fragmente, Dunedin Consort will also present two concerts in the New Auditorium: Peter Whelan directs Haydn, and the Matthew Passion. The partnership will continue to develop over the following two seasons, with educational projects and workshops for schools and musicians.
Following the success of the Polska Scotland series in 2021, the RSNO will be working with the Italian Cultural Institute exploring the cultural links between Scotland and Italy. The Institute will be supporting two concerts in the 2022:23 Season: a matinee in Glasgow including Strauss' Aus Italien and Craig Armstrong's Suite from Baz Luhrmann's Romeo and Juliet with former RSNO Assistant Conductor Junping Qian, and the Season Finale, Verdi's Requiem, which will be performed in Edinburgh and Glasgow, and live-streamed.
The RSNO's Chamber Series makes a return to Glasgow including a concert with the chamber collective the Hebrides Ensemble featuring a performance of Musician in Focus Jörg Widmann's Octet, and a recital from world-renowned pianist Roman Rabinovich. The Chamber Series continues to provide an opportunity for the Orchestra to give a platform to talent within its ranks, exploring music less frequently heard in concert halls.
Throughout the Season the RSNO promotes concerts that highlight talented young musicians across Scotland, working with organisations including the National Youth Orchestra of Scotland (NYOS), St Mary's Music School and the Music School of Douglas Academy. Following a successful side-by-side performance with students from Big Noise Douglas in March 2022, the RSNO is continuing to work with Sistema Scotland, hosting showcase performances with Big Noise groups from Govanhill, Wester Hailes, Douglas, Raploch and Torry.
Youth Engagement
The RSNO's showcase concerts highlighting community and music-education organisations across the country form part of the RSNO's wider youth engagement strategy. The RSNO aims to provide a platform for young performers and audiences, nurturing talent and interest in classical music from all areas. The organisation's Learning and Engagement projects have continued to see new and diverse groups engage with the RSNO, and it remains a core goal to keep these young people connected to their national orchestra throughout their lives.
Alongside artistic collaborations with youth organisations, the RSNO continues its commitment to making Season concerts more widely accessible, with free tickets for under 18s and ticket deals for under 26s, giving new audiences a chance to join Scotland's National Orchestra in concert halls across the country. The Digital Season subscription of six live-steamed concerts is available at a concession price of £18 (or £3 per concert) for under 26s, mature students, disabled patrons, unemployed patrons, and NHS staff.
The RSNO Youth Chorus, formerly known as the Junior Chorus, will be performing Britten's War Requiem and The Magical Music of Harry Potter, as well as featuring on stage at the All-Star Gala with Nicola Benedetti, Sheku Kanneh-Mason, and Benjamin Grosvenor. In changing the acclaimed RSNO Youth Chorus' name it gives the young singers a stronger link to the RSNO's other youth programmes, widening the reach of the choral group.
Family concerts
The RSNO continues to bring some of the best-loved music from entertainment to Scotland and this year has expanded its family concert offering, with musical favourites from Marvel movies, the Harry Potter franchise and John Williams' Oscar-winners. Conductor and composer Eímear Noone, who has worked on soundtracks including The Legend of Zelda, World of Warcraft, and Starcraft joins the Orchestra for an evening of Video Games Music in Concert.
Following the success of the Gaspard's Foxtrot tour this March, which saw over 8,500 school children watch the live concert across Scotland, families can now join Gaspard the Fox for a very special Christmas concert. Narrated by BBC Radio 4 newsreader and author Zeb Soanes, with music by Jonathan Dove, and live drawing on the big screen by award winning illustrator James Mayhew, this Christmas concert offers a unique take on the traditional holiday show.
The Orchestra's festive offering continues with the return of the RSNO classic Christmas Concert, The Snowman, and The Night Before Christmas, in collaboration with Children's Classic Concerts.
ENDS
Notes to Editors
RSNO media contact: Constance Fraser constance.fraser@rsno.org.uk
Full Season listings available here