The RSNO announces its Spring/Summer 2022 Season
Posted Tue 9 November 2021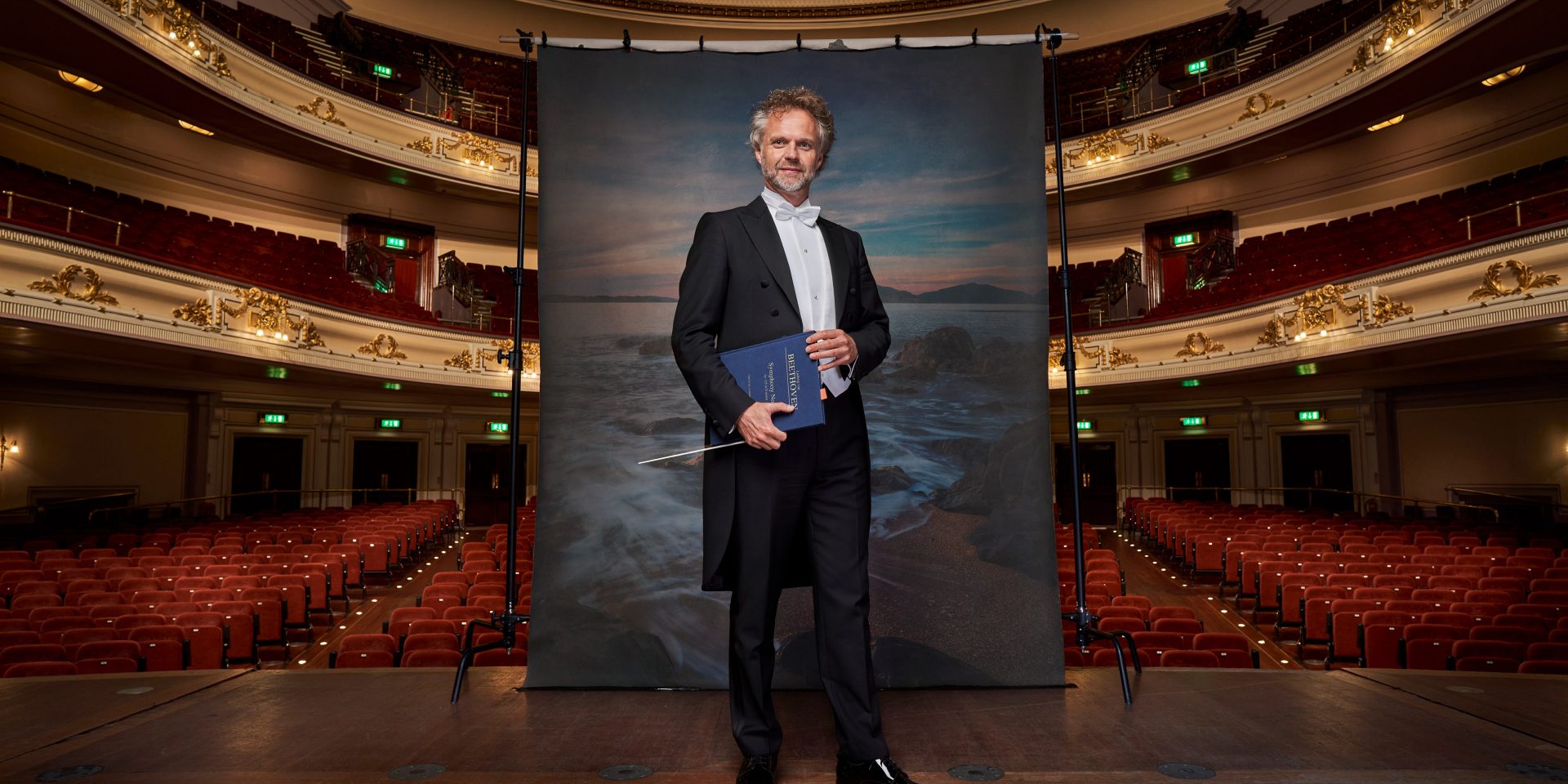 The Royal Scottish National Orchestra (RSNO) announces its Spring/Summer 2022 Season, continuing its live and digital hybrid offering
The RSNO continues its live and digital blended season with eleven live concerts, three live-streamed from Glasgow Royal Concert Hall and available on demand until June 2022
Scotland's National Orchestra extends its commitment to supporting new orchestral works with Scotch Snaps and Composers' Hub premieres
Music Director Thomas Søndergård conducts Stravinsky's Violin Concerto, Rachmaninov's Symphony No2, Rachmaninov's Piano Concerto No2, Strauss' An Alpine Symphony and Beethoven's Ninth Symphony
Sir Andrew Davis reunites with the RSNO following recent unforgettable performances in Wagner's Ring cycle at the Edinburgh International Festival
Star violinists Patricia Kopatchinskaja and Nicola Benedetti return to Scotland
Sheku Kanneh-Mason MBE makes his RSNO debut
Musicians from Royal Conservatoire of Scotland to perform side by side with the RSNO
Spring/Summer programme features symphonies by Beethoven, Sibelius, Shostakovich and Rachmaninov, and concertos by Stravinsky, Dvořák and Gershwin
RSNO presents the National Youth Orchestra of Scotland who perform with BBC Young Musician of the Year 2016 finalist, Jess Gillam
The RSNO's Spring/Summer Season puts its own musicians at the forefront of programming, highlighting talent within the ranks of the Orchestra and showcasing the work of collaborators from its Composers' Hub and Scotch Snaps initiatives. Scotland's National Orchestra also welcomes back superstar violinists Patricia Kopatchinskaja and Nicola Benedetti and introduces Sheku Kanneh-Mason to Scotland's audiences.
Season Highlights
RSNO Talent
This Season shines a light on talent within the Orchestra, with its Spring/Summer programme putting RSNO players centre stage. The Season opener stars Leader Sharon Roffman as she directs the Orchestra and Scottish pianist Steven Osborne in an unconducted performance of Beethoven's Fourth Symphony and Beethoven's Fourth Piano Concerto. Later in the Season, the RSNO travel to Aberdeen as Principal Cello Aleksei Kiseliov performs Shostakovich Cello Concerto No1 under Thomas Søndergård. Principal Horn Christopher Gough performs Mozart's Horn Concerto in Dundee and Principal Flute Katherine Bryan is soloist for the world premiere of the magical new flute concerto by Jay Capperauld, Our Gilded Veins, a piece commissioned by the RSNO.
The RSNO Chorus will join Thomas Søndergård to close the Season, performing Beethoven's Choral Symphony and the acclaimed RSNO Junior Chorus' talent will be showcased performing Fauré's Requiem.
Following the success of the RSNO's first ever Live and Digital Season in the Autumn, three Spring/Summer Season concerts will be offered as live streams from the Glasgow Royal Concert Hall and will be available on demand until 30 June 2022. Audiences across the world can watch Steven Osborne's Beethoven Piano Concerto No4, Tabita Berglund conducting Sibelius Five and Thomas Søndergård bringing the Season to an emphatic close with Beethoven's Symphony No9 Choral.
Students from the Royal Conservatoire of Scotland (RCS) will perform side-by-side with RSNO musicians to mark the 175th anniversary of the institution. Performing Strauss' Alpine Symphony and Jay Capperauld's Fèin-Aithne this celebratory programme makes for an evening of adventurous sounds exploring breath-taking scenery.
Classic FM Recommends
The RSNO is proud to be Classic FM's Orchestra in Scotland. Five concerts in the Spring/Summer Season are recommended by Classic FM: Steven Osborne plays Beethoven; Søndergård Conducts Rachmaninov Two; Sheku Kenneh-Mason plays Shostakovich; Gershwin & Rachmaninov; and Søndergård conducts Beethoven Nine. Following the recent live stream of Mozart's Clarinet Concerto in October, Classic FM and the RSNO are working together this Season to develop further digital offerings for audiences across the UK.
Guest soloists and conductors
The RSNO welcomes back familiar faces and introduces new stars to Scottish audiences. Music Director Thomas Søndergård returns in February joined by Patricia Kopatchinskaja, fresh from her performance in the RSNO's Autumn Season, for Stravinsky's Violin Concerto.
The line-up of guest conductors also includes Sir Andrew Davis, conducting Elgar's Enigma Variations and Williams Symphony No7 Sinfonia Antartica, and John Wilson, whose programme brings together Ravel, Gershwin and Rachmaninov. James Conlon, Music Director of Los Angeles Opera, is joined by pianist Simon Trpčeski for an evening of Shostakovich.
Tabita Berglund, Fabien Gabel, Kevin John Edusei, Tianyi Lu, and Erina Yashima all make a welcome return to the stage.
RCS graduate Kerem Hasan makes an exciting debut conducting the National Youth Orchestra of Scotland joined by soloist Jess Gillam for John Harle's concerto for soprano saxophone, Briggflatts; a programme proving that the future of classical music is in very safe hands.
The RSNO will be joined by some of the biggest recording artists in classical music, with Nicola Benedetti and Sheku Kanneh-Mason performing alongside Scotland's National Orchestra. Sheku Kanneh-Mason will perform Shostakovich's Cello Concerto No2 under the baton of Principal Guest Conductor Elim Chan. Kenneh-Mason rose to international acclaim in 2018 performing at the wedding of the Duke and Duchess of Sussex at Windsor Castle. He has performed with orchestras across the world and released two best-selling albums, with 2020's Elgar making him the first cellist to reach the UK Top 10.
Scottish superstar violinist Nicola Benedetti returns to perform the Scottish premiere of Mark Simpson's Violin Concerto, a piece co-commissioned by the RSNO, London Symphony Orchestra (with the support of the Ernst von Siemens Music Foundation), WDR Symphony Orchestra, and the Cincinnati Symphony Orchestra.
Scotch Snaps, new works and premieres
Supporting new talent from a variety of backgrounds remains at the forefront of the RSNO's work. In 2020 the RSNO introduced its Scotch Snaps series. Scotch Snaps, supported by the PRS Foundation's Resonate Fund, the John Mather Trust and the John Ellerman Foundation, celebrates the diversity of composers born or living in Scotland, introducing audiences in Scotland and beyond to their compositions. Five Spring/Summer Season concerts will feature music from the Scotch Snaps series: David Fennessy's Hirta Rounds; Thea Musgraves' Song of the Enchanter and Loch Ness – A postcard from Scotland; and Jay Capperauld's Fèin-Aithne and the world premiere of his Flute Concerto Our Gilded Veins, commissioned by the RSNO.
Two new compositions from the RSNO Composers' Hub programme will be premiered this Season: Jasper Dommett's Dreams of Isolation (2020:21 winner) and Carlijn Metselaar's Into the Living Mountain (2019:20 winner). Composers' Hub gives early-career composers a rare opportunity to compose for orchestra and gain experience within a major arts organisation. The RSNO hopes that by programming new works alongside some of the most popular repertoire audiences can continue to experience new and inspiring music now and for many years to come.
The aforementioned Scottish premiere of Mark Simpson's Violin Concerto provides an exciting opportunity for audiences in Scotland to see one of its greatest exports, Nicola Benetti, shine. First performed in London in June 2021, the concerto has been met with critical acclaim and was recently shortlisted for a Royal Philharmonic Society award.
The RSNO will perform alongside the BBC Scottish Symphony Orchestra to mark the 2022 Association of British Orchestras Conference in Glasgow. María Dueñas joins the orchestras for Shostakovich's Violin Concerto No1 alongside the UK premiere of Canadian composer Samy Moussa's Elysium.
RSNO at the Movies
The RSNO will mark John Williams' 90th birthday with music from some of his most memorable scores, including Star Wars, E.T. the Extra-Terrestrial, Jaws and Jurassic Park. With over 50 nominations and five awards, no film composer has conquered the Oscars as completely as John Williams. This concert will get audiences in the mood for the 94th Academy Awards ceremony whilst celebrating the iconic composer's 90th birthday in style, with a full-scale symphonic tribute.
Star Wars fans can feel the force of Scotland's National Orchestra in May, as Stephen Bell conducts an epic evening of featuring everyone's favourite themes from the blockbuster saga.
Chief Executive of the RSNO, Alistair Mackie, said:
"It is a great privilege to announce this new series of concerts. Following a successful Autumn Season, we are back and are now able to perform to full concert halls. Continuing our ambition to deliver thought-provoking repertoire and exciting new names alongside RSNO favourites, we hope that there will be something for everyone this Season.
Our audiences have continued to show an appetite for digital content even as the world has opened up again, and we are happy to strengthen our digital output with three more live-streamed and on demand concerts this Season, bringing symphonies by Beethoven and Sibelius to homes across the country."
Music Director Thomas Søndergård said:
"I am thrilled to return for this second half of the RSNO's 21:22 Season and especially happy to be celebrating the talent of my colleagues in the Orchestra. We will be filling concert halls in Scotland with the vast sounds of Rachmaninov, Elgar and Strauss alongside the work of promising young composers which for me gives the greatest excitement leading the Orchestra."
ENDS
Notes to Editors
RSNO media contact: Constance Fraser constance.fraser@rsno.org.uk
Full concert listings and Season brochure are available here.
RSNO Partnerships
The RSNO is supported by the Scottish Government and local authorities in Scotland.
Partnerships are crucial to the work of the RSNO. We aim to facilitate local, national and international partnerships with cultural, commercial, public, charitable and community organisations in order to increase and sustain the impact, reach, reputation and contribution of the Orchestra's work. We are also building partnerships that will help us achieve our climate targets as outlined in the RSNO's Environmental Policy.
The RSNO continues to strengthen its reputation for delivering rewarding programmes for its corporate partners and sponsors, helping to build profile, serve local communities, engage staff and customers and generate inspiring stories.
ScotRail will continue to be the RSNO's Principal Transport Provider, a partnership which reduces the environmental impact of the RSNO's touring schedule, encourages concertgoers to take the train to concerts and supports ScotRail's commercial activities across Scotland.
Capital Document Solutions continues its generous support of the RSNO's photocopying and document management services. As part of this partnership Capital Document Solutions sponsors a series of concerts across the season, with opportunities to build the company's brand and gain access to hospitality at concerts, helping to develop relationships with staff and clients. This partnership is now in its fourteenth year.
The RSNO is proud to be Classic FM's Orchestra in Scotland, as its Principal Media Partner.
The RSNO continues its cultural partnership with the Institut Français Écosse, an association which supports Franco-Scottish cross-cultural collaboration.
The RSNO also continues its long-standing relationship with La Bonne Auberge. The sponsorship of La Bonne Auberge supports our inspirational partnership with Children's Classic Concerts.
The RSNO is delighted to announce a new partnership with Trees for Life and is proud to be supporting their mission to rewild the Scottish Highlands by restoring the globally unique Caledonian Forest. The RSNO would like to thank all its sponsors, corporate partners, media and broadcast partners and project partners who make a crucial contribution to the work of the Orchestra.
Funders: The Scottish Government, Aberdeen City Council, Dundee City Council, Glasgow City Council, Glasgow City of Music
Corporate supporters: Anta, Capital Document Solutions, Victor & Carina Contini, Dine, Gallagher, Hampden & Co. Bankers, Institut Français Écosse, Investec Wealth & Investment, Isio, La Bonne Auberge, Prestonfield, Valvona & Crolla.
Broadcast Partner: BBC Radio 3
Principal Transport Provider: ScotRail
Chair Sponsors: Cadenhead's, Mitchell's Glengyle, Springbank Distillers Ltd, J&A Mitchell and Co. Ltd.
The RSNO is also deeply grateful for the generosity of its individual supporters. Our Conductors' Circle and Patrons are a vital part of our annual fundraising. As a charity, we also rely upon a wide range of generous support from Trusts and Foundations.