Thomas Søndergård extends RSNO Music Director contract
Posted Wed 26 April 2023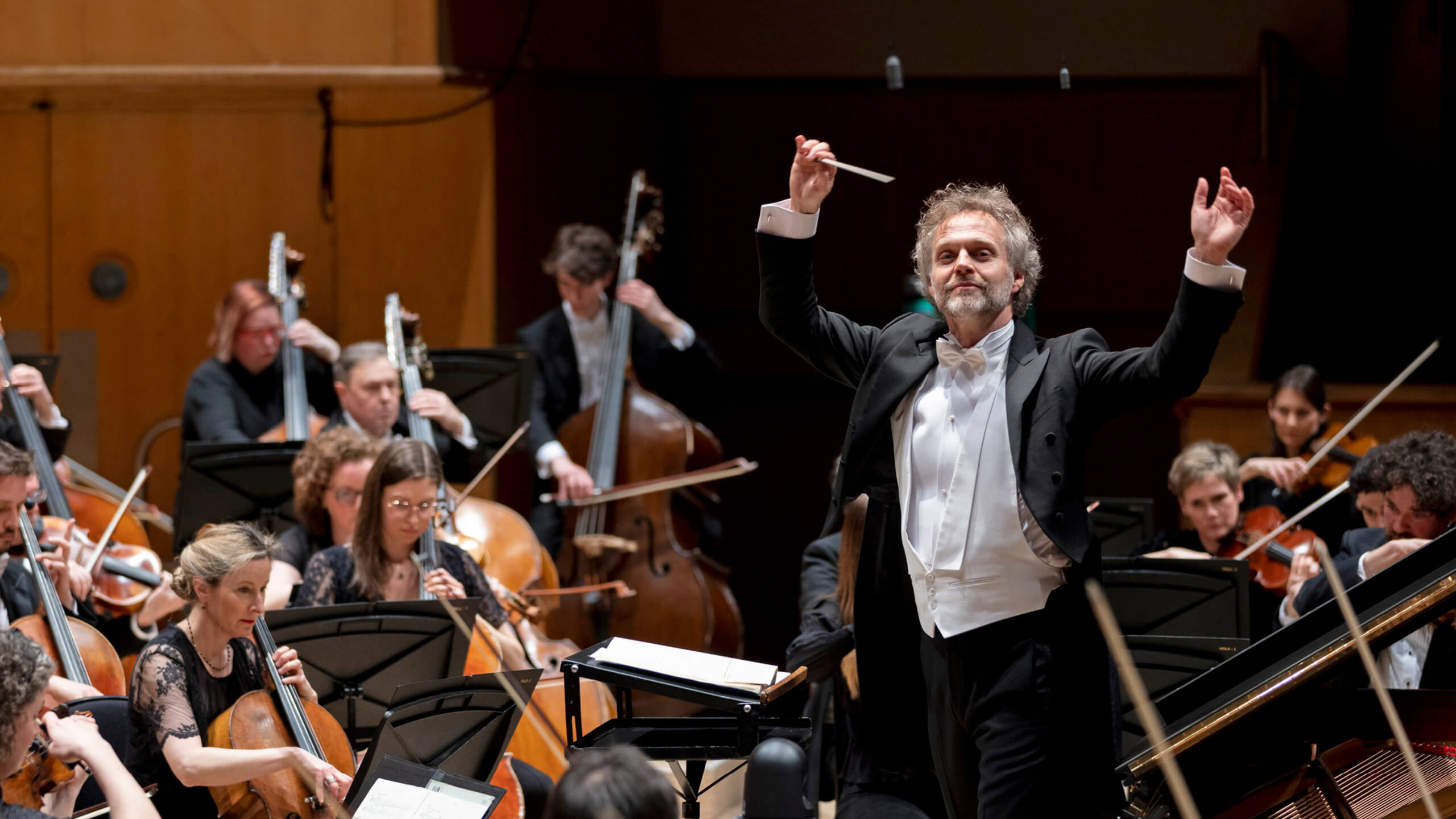 The Royal Scottish National Orchestra (RSNO) announces that Music Director Thomas Søndergård will remain in post throughout the 2024:25 Season, with a commitment to work together beyond that point. The news was first announced at the RSNO's Season launch event for subscribers and supporters on Monday 24 April.
Søndergård first conducted the RSNO in 2009, later going on to serve six seasons as Principal Guest Conductor before his appointment as Music Director in 2018.
Thomas Søndergård, RSNO Music Director, said: "As we share the news of our 2023:24 Season with audiences I am delighted to confirm that I will be returning to work with the RSNO for the foreseeable future. We're already busy planning the 2024:25 Season, and it's with great pleasure that I continue working with the fantastic musicians of Scotland's National Orchestra.
"I always feel that I am returning home when I perform in Scotland, and I am grateful to audiences for their continued support over the years. The bond I have with this Orchestra is so important as we continue to evolve and develop our programming and concert series."
Søndergård will next appear with the RSNO at the Usher Hall on Friday 28 April at the Usher Hall, Edinburgh and Saturday 29 April at the Glasgow Royal Concert Hall for concerts with pianist Leif Ove Andsnes performing Rachmaninov's Third Piano Concerto.
ENDS
Notes to editors
RSNO contact: constance.fraser@rsno.org.uk
Images of Thomas Søndergård and the RSNO are available here
Thomas Søndergård
Danish conductor Thomas Søndergård is the current Music Director of the Royal Scottish National Orchestra, following six seasons as Principal Guest Conductor. In July 2022, it was announced that Thomas would succeed Osmo Vänskä as Music Director of the Minnesota Orchestra, becoming Music Director Designate from the 2022/23 season and assuming the full Music Director role from 2023/24. Between 2012 and 2018, he served as Principal Conductor of BBC National Orchestra of Wales (BBC NOW), after stepping down as Principal Conductor and Musical Advisor of the Norwegian Radio Orchestra.
He has appeared with many notable orchestras in leading European centres, such as Berlin (including Berliner Philharmoniker, Rundfunk-Sinfonieorchester Berlin, Mahler Chamber Orchestra), Leipzig (Gewandhausorchester), Paris (Orchestre National de France), London (London Philharmonic, BBC Symphony, London Symphony and Philharmonia Orchestra), Amsterdam and Rotterdam (Royal Concertgebouw Orchestra, Netherlands Philharmonic, Rotterdam Philharmonic) and is a familiar figure in Scandinavia, with such orchestras as Oslo Philharmonic, Gothenburg Symphony, Danish National Symphony, Royal Stockholm Philharmonic, Swedish Radio Symphony, Finnish Radio Symphony and Helsinki Philharmonic. North American appearances to date have included the symphony orchestras of Chicago, Toronto, Atlanta, Montreal, Vancouver, Houston and Seattle. He has made highly successful tours to China, Korea, Australia and New Zealand.
The 2022/23 season saw Thomas return to the Edinburgh International Festival (Mahler Symphony No. 3) and the BBC Proms with the RSNO. The two Proms performances were centred around Wynton Marsalis' Violin Concerto, performed by Nicola Benedetti. His performances during the RSNO main season included a full Brahms symphony cycle, Britten's War Requiem and further European touring. Thomas made extensive guest appearances in the US this season, with debut appearances with Baltimore Symphony, St Louis Symphony, Cleveland Orchestra and Cincinnati Symphony, alongside return visits to Minnesota Orchestra, Houston Symphony and Chicago Symphony. On the operatic stage, following his Reumert award winning appearance in early 2022 for Die Walküre, Thomas returned to the Royal Danish Opera this season to conduct Strauss' Elektra. Also in his native Denmark, he retunred to the Danish National Symphony Orchestra to conduct the world premiere of Rune Glerup's new violin concerto with Isabelle Faust.
In January 2022, Thomas was decorated with a Royal Order of Chivalry – the Order of Dannebrog (Ridder af Dannebrogordenen) by Her Majesty Margrethe II, Queen of Denmark.