World Premiere of Gaspard's Foxtrot in Concert for RSNO National Schools Concert Programme 2021
Posted Wed 10 February 2021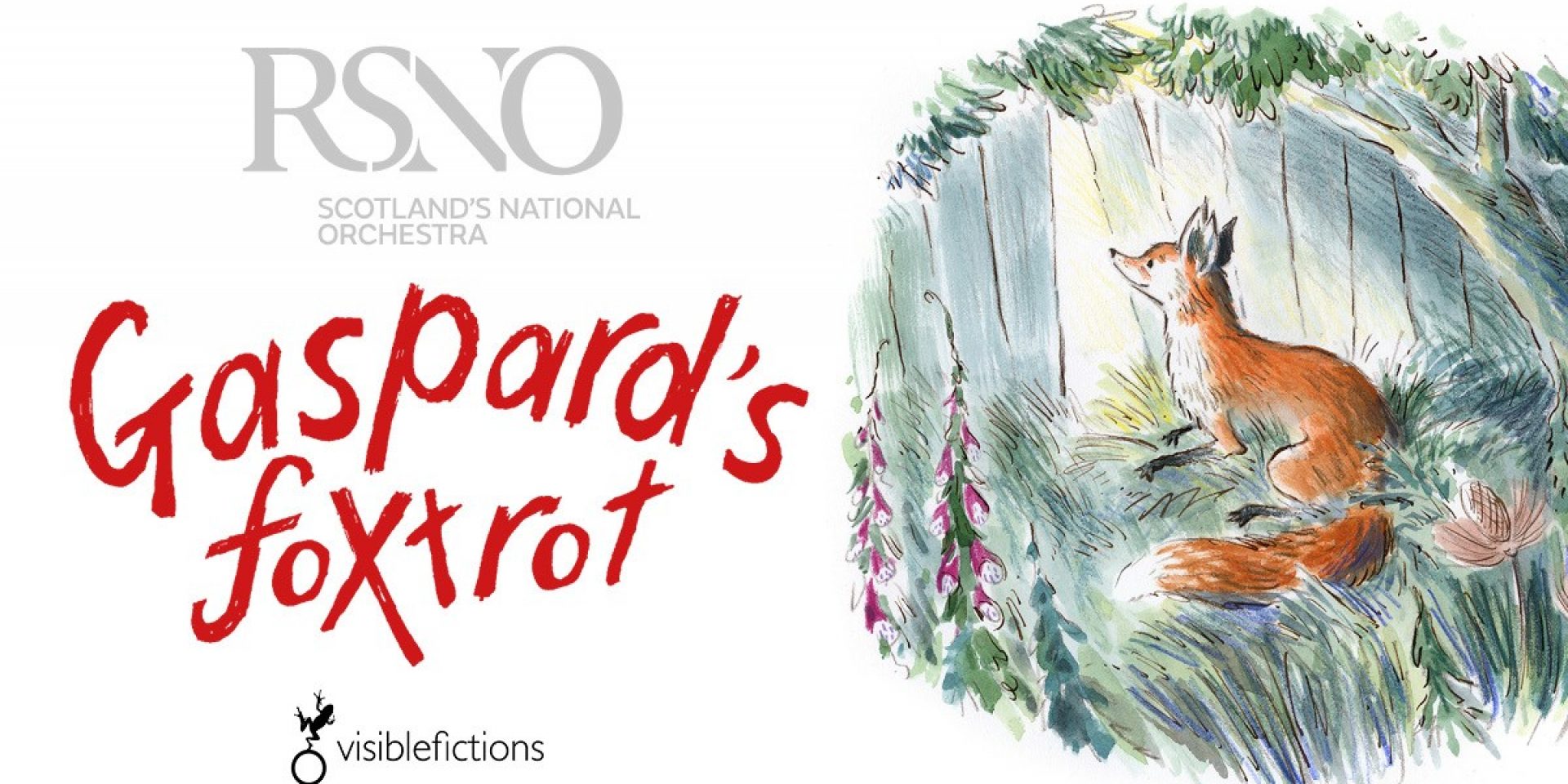 "This is a lovely story, beautifully illustrated and speaks to the hearts of all children, young and old." – MARIN ALSOP, conductor
"Another wonderful tale of the exciting adventures of Gaspard, our urban fox friend, beautifully told and illustrated. A real treat." – DAME PATRICIA ROUTLEDGE
"The wonderful thing about Gaspard the Fox is that it's hard to imagine a time when he was never there. He has the look and sound — in the words and pictures on the page and the music of the orchestra — of a classic. Three cheers for Gaspard!" – PHILIP ARDAGH, Roald Dahl Funny Prize-winning author
Gaspard the Fox is a series of popular children's books, created by Zeb Soanes, about an urban fox and his relationship with other animals and humans in the city. The latest adventure Gaspard's Foxtrot will be published on World Book Day (4 March 2021) and has been set to music by distinguished composer Jonathan Dove. The Royal Scottish National Orchestra is bringing the magic of Gaspard the Fox to life as part of its brand-new digital National Schools Concert Programme 2021 on 10 May, with the world premiere of Gaspard's Foxtrot including a specially produced concert film and learning resources.
In this newly devised concert, the RSNO will be working in partnership with Visible Fictions to produce the accompanying film and animation footage. The Glasgow-based production company will help tell the story of loveable Gaspard accidentally boarding a bus and exploring the sights, sounds and smells of a big city before trying to find his way home. As part of the storytelling the concert film will feature the illustrations of James Mayhew, which many will recognise from the Gaspard series.
The RSNO is calling on primary schools across Scotland to sign up to receive the film as well as accompanying education resources, including an online workshop with presenter Lucy Drever and teacher CPD in March ahead of the free concert's release on 10 May. Calls for schools in Scotland to sign-up for the RSNO National Schools Concert Programme 2021 have been supported by Scottish Government Deputy First Minister and Cabinet Secretary for Education and Skills, John Swinney.
The digital programme has been specially created as an introduction to classical music for primary school pupils in P3-P5, and participating schools can take part in live learning sessions ahead of the show. Gaspard's Foxtrot has been specially devised with education and learning partners to compliment ongoing Curriculum for Excellence work and enrich learning experiences for primary school pupils. The concert will include British Sign Language (BSL) interpretation and inclusive resources materials to ensure it reaches as many young people across Scotland as possible.
The concert film is the latest initiative from the RSNO as it works to reimagine its Learning and Engagement programme to continue working with schools across Scotland, whilst following COVID-19 restrictions and guidelines.
Zeb Soanes, author of Gaspard's Foxtrot, said: "The whole Gaspard journey, from the very beginning, has been a labour of love springing from the enchanting real fox that inspired the books. The exciting thing about Gaspard's Foxtrot was that it was conceived to be both a book and a concert, so the challenge for me was to write a story that inspired both James Mayhew's illustrations and Jonathan Dove's music.
"Rather than the score being an afterthought to an existing story, this is very much a musical adventure through the city and Jonathan has created a remarkable tapestry of sound from the buzzing of bees and the throng of city traffic to scurrying tube mice and polka-dancing pigeons — and through it all Gaspard's gentle curiosity at the fascinating sights he encounters.
"We are hugely proud to be sharing this world premiere with the Royal Scottish National Orchestra who have pulled out all the stops (at a time when it isn't easy to attend live events) to magically animate the concert-hall experience and bring this picture book to life."
RSNO Director of Concerts and Engagement, Bill Chandler, said: "We are thrilled to be the first Orchestra performing the music for Gaspard's Foxtrot in this very special concert film for primary schools across Scotland. Zeb Soanes' story of Gaspard the Fox is loved by so many families, and it's easy to see why this loveable and fun character appeals to children everywhere.
"Our National Schools Concert Programme are always a highlight of the calendar year and whilst we are unable to perform in venues across the country, we have focused all of our efforts and energy into producing an exciting and engaging digital concert film which can be beamed straight into classrooms across Scotland. Music and storytelling are excellent ways for children to learn and we are fortunate to have some great partners working with us on the film and educational materials."
Deputy First Minister John Swinney said: "Music and storytelling have the power to inspire young children and enrich their learning experience, and I'd like to encourage schools across Scotland to register their interest for the Royal Scottish National Orchestra's National Schools Concert Programme this year. The digital delivery of these concerts means that primary school pupils all over the country can enjoy the music and story of Gaspard's Foxtrot, and receive quality learning resources to enhance their knowledge of music, stories and the arts."
Marc Lambert, CEO of Scottish Book Trust said: "Scottish Book Trust is delighted to work with the RSNO on their digital school concert programme. We hope the learning resources will support pupils' enjoyment of Gaspard's Foxtrot, inspired by the Gaspard the Fox picture book series, and in turn will inspire their own creative writing. There will also be an excellent booklist for teachers looking to explore the theme of journeys with their students."
Douglas Irvine, Artistic Director of Visible Fictions, said: "We are so excited to bring our storytelling expertise to this dynamic collaboration.  Fusing orchestral music with this charming story, together with enchanting visuals will create a truly unique and memorable experience for a young online audience."
For more information or to sign up to take part in the RSNO Schools' Concert programme Gaspard's Foxtrot, schools should visit: www.rsno.org.uk/gaspard
For more information on the story of Gaspard the Fox books visit: www.gaspardthefox.com
The RSNO would like to thank the following organisations for their support of the school concert series: Aberdeen Endowments Trust; Alexander Moncur Charitable Trust; Austin and Hope Pilkington Trust; Balgay Children's Society; Boshier-Hinton Foundation; David and June Gordon Memorial Trust; Educational Institute of Scotland; Ettrick Charitable Trust; Gannochy Trust; Forteviot Charitable Trust; Hugh Fraser Foundation; Leng Charitable Trust; McGlashan Charitable Trust; Mickel Fund; Murdoch Forrest Charitable Trust; Northwood Charitable Trust; R J Larg Family Trust; Robertson Trust; Scott-Davidson Charitable Trust; Stevenston Charitable Trust; Tay Charitable Trust; Tillyloss Trust; Walter Scott Giving Group; Wavendon Foundation; William Syson Foundation; Witherby Publishing Group Charitable Trust; Individual donors across Scotland; and are also grateful for the support of those trusts that wish to remain anonymous.
Illustration from Gaspard's Foxtrot © James Mayhew, written by Zeb Soanes, published by Graffeg March 2021.
Music published by Peters Edition Limited