Nurturing the next generation of Scottish composers with the support of the John Mather Trust
Posted Tue 13 December 2022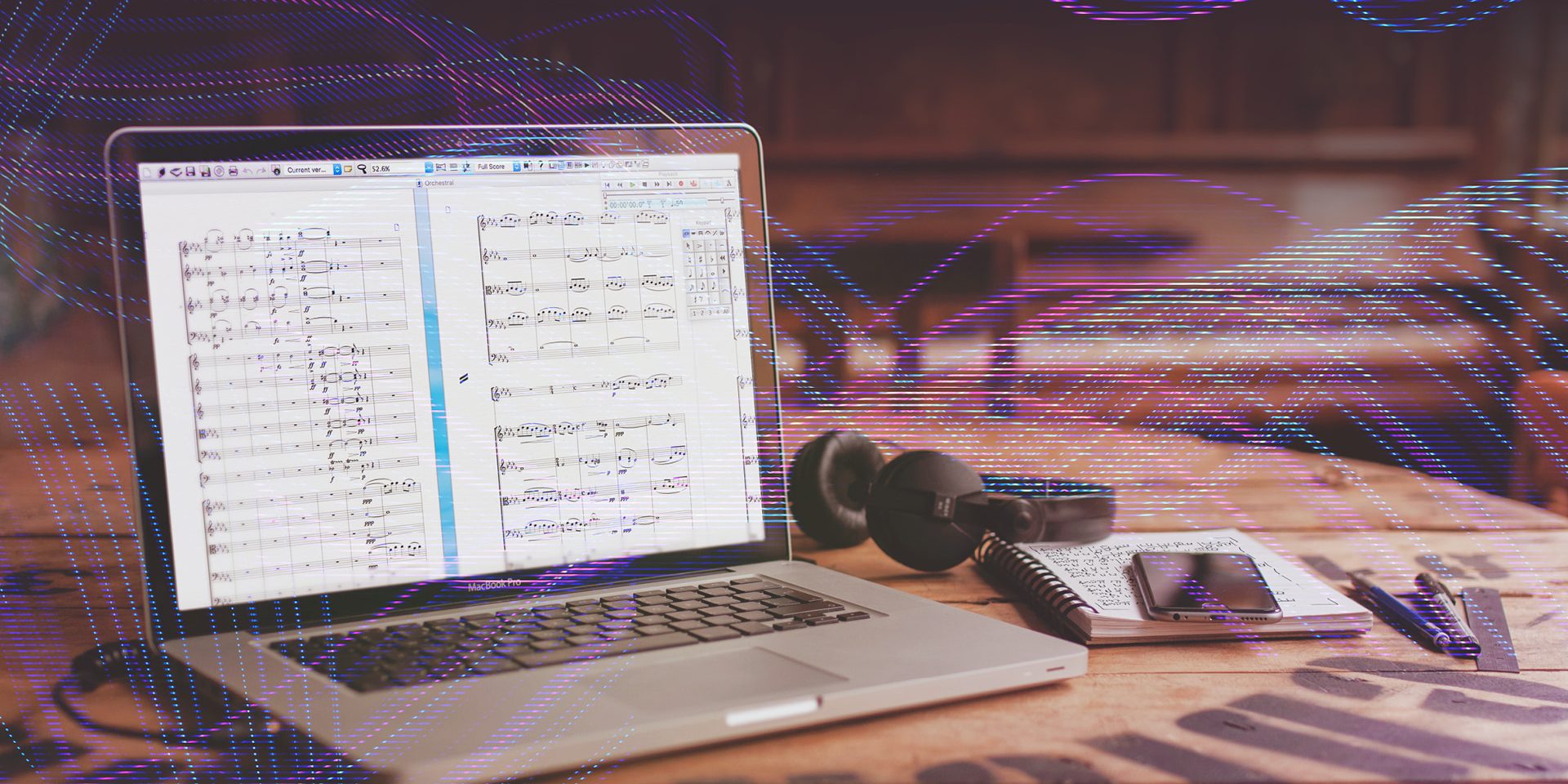 The 2022:23 Notes from Scotland programme is well underway, with the next generation of Scottish composers working with the RSNO and guests to develop their talents. Earlier this month the group met for their first workshop, which followed three online discussion forums and a visit to a RSNO rehearsal before this year's BBC Proms performances.
Notes from Scotland gives six Scottish composers aged 14-18 a chance to develop their skills under the mentorship of professional composers and musicians. Leo, Sarah, Dharma, Catriona, Tadahito and Nancy will be taking part in the training and competition process after being selected from a national pool of applicants. They will each work on a piece of contemporary chamber music for RSNO musicians, whilst getting to know the Orchestra and each other with fun activities throughout the year.
Pictured above, this year's cohort with RSNO Viola Katherine Wren and Notes from Scotland mentors Dr Oliver Searle, Jay Capperauld and Helen MacGregor.
This year the Notes from Scotland programme has been supported by the John Mather Trust, a charitable trust which works towards the relief of poverty, the advancement of education and the promotion of the arts and architecture, particularly in the West of Scotland. This support has had a big impact on the project, allowing the RSNO to expand the cohort from five to six participants, and offer bursaries towards travel and subsistence. Thanks to the John Mather Trust one of the composers will have their piece performed in John Mather's memory at an event hosted by Sir James MacMillan, ahead of the RSNO's performance of his Christmas Oratorio. The work will be selected by a panel of RSNO musicians and Notes from Scotland mentors, with the composer awarded £1000 towards professional development and further training.
The support given by the John Mather Trust to people across all stages of their careers can be seen in action as Jay Capperauld, who was awarded the organisation's Rising Star Award 2021/22, will be an expert mentor to the participants. Jay will be joined by Dr Oliver Searle, composition lecturer at the Royal Conservatoire of Scotland, and award-winning Scottish composer and composition mentor Helen Mackinnon.
Professor George Fleming, Chair of the John Mather Trust said: "We're thrilled to continue John Mather's legacy and lifelong passion for the arts by supporting new creative talent in Scotland. The RSNO's Notes from Scotland programme helps gifted young composers develop their talents and showcase their work alongside Scotland's National Orchestra. We're especially happy that the group will again be mentored by Jay Capperauld, who last year received the John Mather Rising Star Award, and we can't think of anyone better to support the participants as they take their skills to the next level. I'm really looking forward to keeping up to date with everyone's progress and hearing the new compositions at the end of the process. Best of luck to all taking part!"
Notes from Scotland participants will learn more about composition in one-to-one coaching sessions and group activities designed to develop their individual work and the process of receiving feedback. RSNO viola player Katherine Wren will host the online discussion forums with guest speakers – experienced Scottish composers, including George Stevenson and Helen Grime – giving the participants a chance to ask questions and learn from composers with established international careers.
In addition to all the hard work, participants will get an important chance to relax and get to know each other through trips to RSNO performances and a series of well-being sessions, practicing music as a social and cultural experience.
About John Mather
John Mather was a West of Scotland based apprentice who became a lover of the arts, a business visionary and a lifelong employee of what became Clydeport (an organisation in which he had a hugely significant role).
John joined the Clyde Navigation Trust at age 16 and was appointed personal assistant to the general manager, and a few years later he became the administration manager. Within ten years he had risen to the post of managing director before becoming chairman and later executive chairman before the company was privatised and floated on the London Stock Exchange in 1994.
Education and opening the pathway to career opportunity were both very important to John and those themes form threads running through the charitable purposes of the grant-giving charitable trust he established.
Before John's untimely death in 2001, he had already set up a fund to assist young people in the West of Scotland obtain a foot on the career ladder; from craft apprentices at a range of colleges to those with the ambition and talent to become technicians, engineers, businesspeople, scientists, musicians and artists. The John Mather Trust was set up on 20 October 1995.  A significant portion of John's personal estate passed to the charity on his death.
Having come from relatively humble beginnings, John believed passionately that lack of funds should not stop young people from being able to further their chosen careers. With this in mind, the trustees recognise that the John Mather Trust was set up to provide little things that can make a big difference to people, not grandstanding donations, but to give amounts that will have impact.
This year's Notes from Scotland participants
Leo
Hello, my name is Leo and this year I am happy to start my undergraduate studies at the Royal Conservatoire of Scotland for a degree in music composition. I started my musical journey by getting involved in playing instruments like guitar and piano, however, I noticed I really liked creating music more than performing it. I started really enjoying composition during my early high school years and became very fascinated by learning about other composers. I believe music has helped me open up as a person and helped me explore more complex and unusual themes. I love to create eye-opening titles that have meaning to them as I am inspired by artists who explore the weird and wonderful. I am very excited and honoured to have the opportunity to work with the RSNO Notes from Scotland project.
Sarah
Hi! I am Sarah. I am in my 6th year, studying Advanced Higher Music and Latin, and Higher Music Technology. At school, I am a member of the First Orchestra, Mixed Voice and Chamber Choir. I play the cello and piano and I am self-taught in guitar and ukulele. I have also taken part in various school musicals. For ten years, I have been a member of National Youth Choir of Scotland and attended the National Girls Training Choir. This summer I passed my Gold Award, and in my final year, I am helping with the younger musicianship groups. Through school, I was introduced to composition, and thoroughly enjoy writing music. The Royal Conservatoire of Scotland summer school this year helped me to improve these skills and I am looking forward to further developing them with the RSNO.
Dharma
Hello there! My name is Dharma and I am 17 years old. My first experience of composing began when I was around 3 years old and made a short piece on the harmonica. When I was 5, I began making pieces with lyrics. I play the piano and sing and want to learn the Guqin in the future. Music has always inspired me, and I love its ability to bring people together and allow us to be able to share thoughts and emotions, and simply connect on a deeper level. With that said, I am immensely passionate about composition and am thrilled to be working with the RSNO. I am very excited to learn from my mentors, interact with the talented musicians at the RSNO and have the chance to work on something I love! In the future, my intention is to become a well-rounded composer, who remains versatile and makes a wide range of different kinds of music.
Tadahito
Hi! My name is Tadahito. Despite always enjoying classical music I, through a lack of earlier opportunity, started studying music relatively late. I first started studying piano at the age of 11 – all of 5 years ago! Shortly afterwards, I started composing my first, admittedly incredibly simple, pieces, encouraged by my then piano teacher. Within a short number of years, I have come a long way, studying composition as part of the Royal Conservatoire of Scotland's Junior Conservatoire scheme in 2021-2022 and passing my ABRSM Grade 8 piano exam in June 2022. I have the luxury of having many influences, from Bach to Rzewski, but particularly enjoy music from the very tail end of the romantic period. I am really excited to be developing my composition skills with the RSNO this season and look forward to meeting other composers in the process.
Catriona
My name is Catriona and I am 16 years old. I live in Inverclyde and attend the junior department of the Royal Conservatoire of Scotland where I am studying Composition. The instruments I play include piano, guitar and voice. I am keen to learn how to write music for an orchestra. I have a strong interest in film and theatre, and I am currently experimenting with different genres of music. I am looking forward to participating in the Notes from Scotland scheme as this is a wonderful opportunity to improve my skills.
Nancy
Hi! My name is Nancy and this year I will be starting my undergraduate degree in Composition at the Royal Conservatoire of Scotland. I love to write music in my free time and will hopefully go into this field in the future. Aside from Composition, I also play instruments, including Piano, Trumpet, and a few others. I am also really interested in music analysis and history. Right now, I am trying to work on writing more for chamber ensembles, so I am very much looking forward to working with the RSNO on the Notes from Scotland project as this will be an amazing opportunity to receive mentoring and collaborate with musicians!