RSNO announces two newly-created titled positions in its Artistic Team
Posted Mon 13 November 2023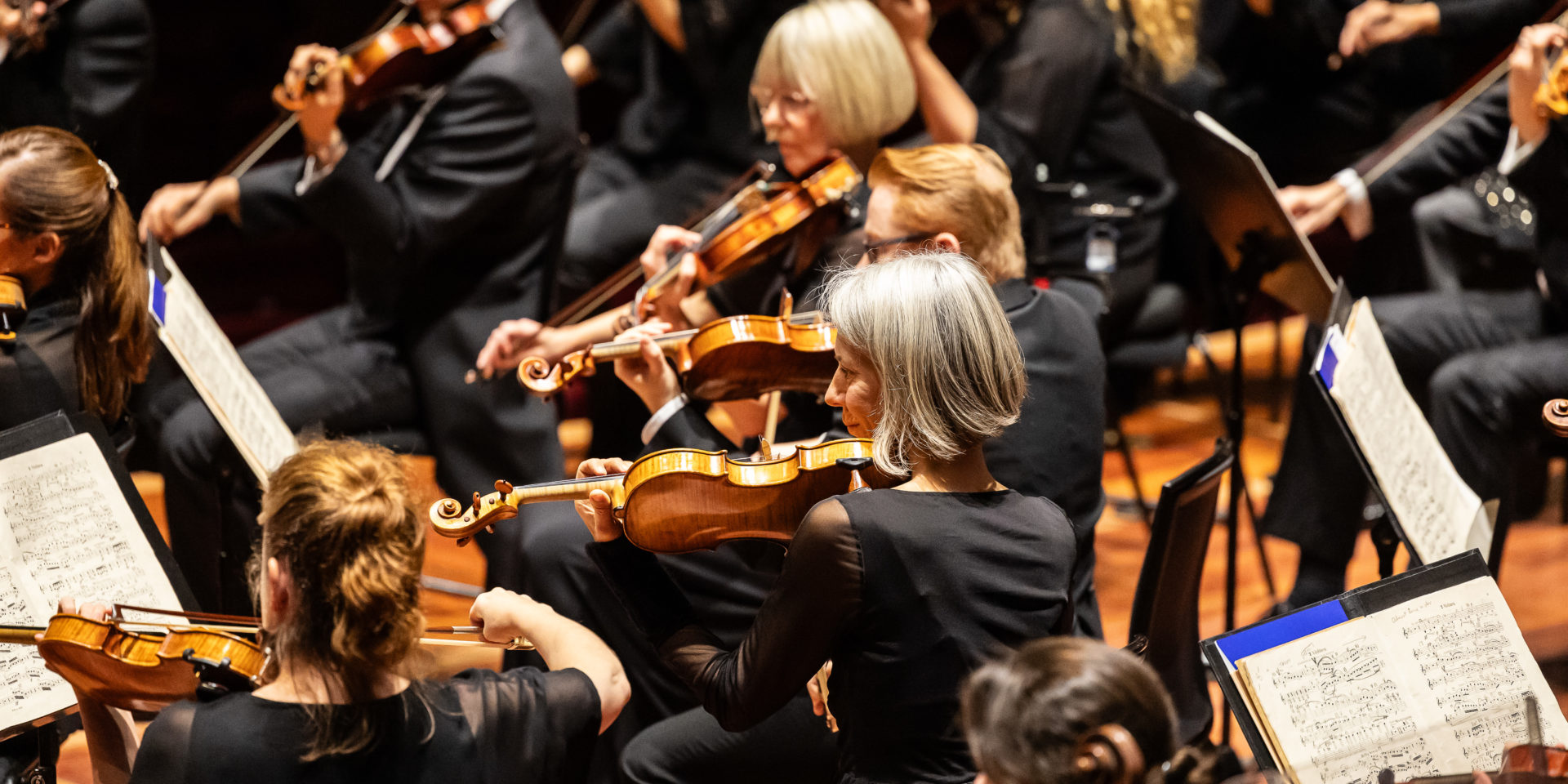 Ellie Slorach is announced as Engagement Conductor and former Assistant Conductor Kellen Gray is appointed Associate Artist.
The Royal Scottish National Orchestra (RSNO) announces an expansion to its Artistic Team demonstrating the organisation's commitment to the future of classical music. The brand-new titled positions reflect the RSNO's dedication to its education and community programmes with the appointment of an Engagement Conductor, and the future of its artistic programming through the appointment of an Associate Artist.
In 2022, fifty-three percent of the RSNO's total audience was reached through its engagement work, encompassing education, healthcare and community settings across Scotland. The two new appointments support the ambition of the RSNO to increase access to music for people of all ages and backgrounds.
Newly appointed Engagement Conductor Ellie Slorach will work with the RSNO Engagement department conducting concerts for young people and new audiences. Early next year, Slorach will conduct the RSNO's 2024 National Schools Concert Programme for secondary-aged children, entitled 'Still I Rise – Stories of Hope and Justice'. The project focuses on the lives and music of three marginalised composers through the lens of Maya Angelou's poem Still I Rise and builds on over 150,000 school children engaged as part of the programme to date. To find out more about the project and to sign up, visit: rsno.org.uk/still-i-rise.
Kellen Gray, former RSNO Assistant Conductor for 2021-23, will return to work with both Orchestra and staff in the new role of Associate Artist. Following the success of Gray and the RSNO's recent recordings of African American Voices I & II on Linn Records featuring several inaugural commercial recordings, Gray brings a wealth of experience to the breadth of the Orchestra's portfolio. Gray will lend his expertise to programme, present and conduct concerts; consulting on diversity and inclusion across the Concert Season in addition to working on the RSNO Young Creatives programme as a conductor.
RSNO Chief Executive Alistair Mackie:
"It is a real pleasure to welcome Ellie and Kellen into the RSNO family in these newly-created roles. In recent years, the standard of the Orchestra's Engagement activity, led by Director Andy Stevenson, has been exceptional and having Ellie and Kellen's expertise in delivering our educational and community-focused initiatives will be invaluable. It is our ambition for the RSNO to reach every child in Scotland and the expansion of the RSNO Artistic Team will only aid this important cause."
RSNO Engagement Conductor Ellie Slorach:
"The breadth of the RSNO Engagement activity is amazing; in the last year we've worked on concerts for families and for schools, worked together with the Dunedin Consort and performed as part of Refugee Festival Scotland. I can't wait to continue and develop in this new role, alongside the incredible musicians and management team at the RSNO."
RSNO Associate Artist Kellen Gray:
"It's such a joy to rejoin the RSNO in this new role. The organisation's renewed commitment to serving broader Scotland and engaging every young person possible is exciting, and I feel privileged to be a part of it.
Making music and bringing music to audiences is a partnership endeavour. The RSNO being an organisation that has played such a central role in my development as an artist, makes this feel like a partnership with family and I'm thrilled to begin the journey."
Ellie Slorach and Kellen Gray join RSNO Music Director Thomas Søndergård, Assistant Conductor Derrick Morgan, Conductor Laureate Neeme Järvi, Conductor Emeritus Alexander Lazarev, Chorus Director Stephen Doughty and Youth Choruses Director Patrick Barrett as members of the RSNO's Artistic Team.
RSNO Engagement Conductor Ellie Slorach
RSNO Associate Artist Kellen Gray