The Royal Scottish National Orchestra Digital Season
Posted Tue 22 September 2020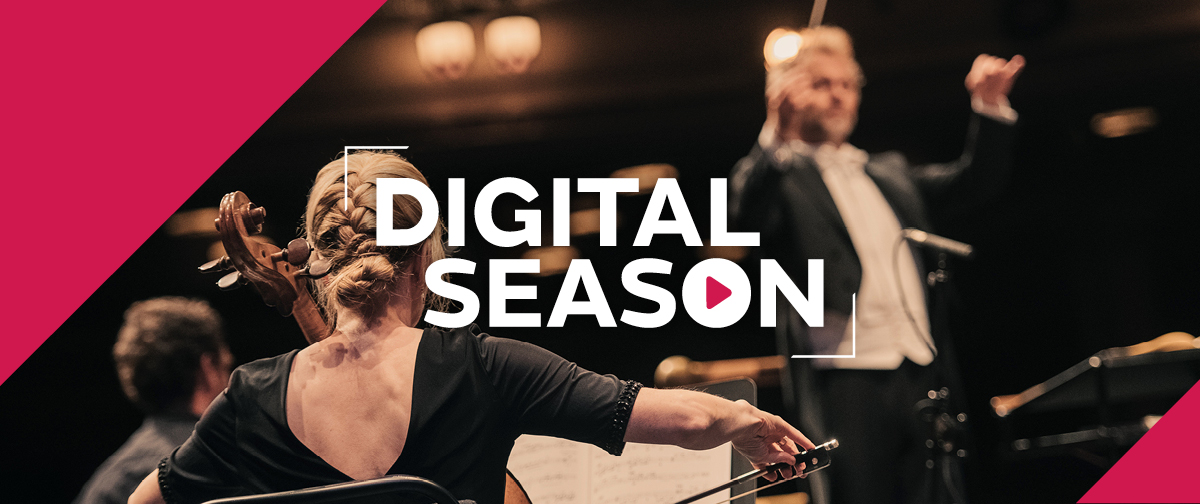 The Royal Scottish National Orchestra is back with a series of ten brand-new concerts to be enjoyed safely at home as part of its first ever Digital Season.
• RSNO launches ten concert digital season led by Music Director Thomas Søndergård
• Season celebrates 250th anniversary of the birth of Beethoven
• Season presents a diverse programme of pieces rarely heard by audiences in Scotland
• Midori is Artist in Residence and performs World Premiere of Glanert Violin Concerto No2
• Season is accessible and affordable
Due to COVID-19 continuing to impact live performances and risk public safety, the RSNO has adapted to new ways of working to allow musicians to rehearse and perform whilst safely socially distanced, in an effort to create this Autumn-Winter Digital Season.
It comes after the RSNO showcased 15 archived concerts to audiences internationally as part of the #RSNOFridayNightClub, a series that began shortly after the national coronavirus lockdown. The series was a runaway success amassing more than 240,000 views, boosting the RSNO Facebook following by 82.41% and YouTube by 170.92%, between February and September this year.
Chief Executive of the RSNO, Alistair Mackie, said: "We were moved and encouraged by the support we received at home and internationally for our efforts to keep bringing music to people during the lockdown period.
"Despite the continued challenges we face, we remain committed to presenting concerts of the very highest international quality that we hope may inspire and encourage us all as we work together to find a way though COVID-19 times.
"At the end of 2019 we created a dedicated digital team of just two staff members to start to grow our online content. Never did we imagine that just a few months later that same small digital team would become the backbone of our new way of working.
"I cannot wait to share these ten brand-new digital concerts with our audiences as we continue to connect with people across Scotland, and around the world, through the power of music."
From Tuesday 22 September at noon, audiences will be able to purchase tickets for RSNO Digital Season concerts online at www.rsno.org.uk/digital-season. Ticket holders will be able to watch each concert online on demand from the date of broadcast until Sunday 14 March 2021.
Each concert will feature a socially distanced and reduced Orchestra, of approximately 50 players, with guest artists and conductors continuing to join the RSNO throughout the Digital Season in various concerts.
Season Programme
Director of Concerts and Engagement Bill Chandler said: "Our Digital Season stays true to our vision for 2020:21 to use our concerts as a platform to discuss important issues and reflect the conversations we are having as a society, as well as enjoying fantastic music along the way.
"The lockdown period reinforced to us the power that arts and culture have to be a mirror in which to see ourselves, and in this Season we were inspired to reflect as many identities, individuals, and cultures as possible.
"We continue our plans to celebrate Beethoven 250, showcase Scottish composers, and pay homage to Scotland's historic links with Poland as part of our Polska Scotland Music series. Along with this fresh new music there will be plenty of exclusive extras for audiences, including concert talks with our musicians and a look behind-the-scenes of how we have made the Digital Season possible."
Thomas Søndergård, Music Director
Thomas Søndergård will conduct five of the ten new Digital Season concerts, as he begins his third Season as Music Director of the RSNO. As the 250th anniversary of Beethoven celebrations continue, each Søndergård conducted concert will include a Beethoven symphony, with the first concert to include the spectacular Symphony No3, Eroica.
RSNO Music Director Thomas Søndergård said: "This time last year we were preparing to open our Season, and I was approaching my 50th birthday. A big birthday often comes with reflection on the new decade ahead, but never did I imagine how monumental and historic this past year would be. The pandemic has been unlike anything any of us have experienced, and like many people I have found great comfort and strength in music during this time.
"It has been wonderful to be reunited with musicians as we prepare to bring new concerts to our audiences at home in Scotland, and around the world. Although we were apart during lockdown, we stayed connected and bonded together by our love of music and our drive to return to rehearsals and performance once again.
"I am proud of the work we have done to produce a Digital Season to safely reconnect and share new music experiences together again. We will continue to be joined by world-renowned solo artists during our Digital Season, and celebrate wonderful themes of Beethoven's 250th year, diverse composers, and music connections from around the world."
Elim Chan, Principal Guest Conductor
Principal Guest Conductor Elim Chan returns to Scotland for the RSNO Digital Season. A rising star with a growing international following, Chan joins the Orchestra to conduct a programme featuring Mozart's Clarinet Concerto played by Jörg Widmann, and Stravinsky' Pulcinella Suite.
Midori, Artist in Residence
World-renowned violinist Midori remains the RSNO's Artist in Residence for the Digital Season, carrying on her original Season 2020:21 planned residency. She joins Thomas Søndergård to perform Beethoven's Violin Concerto in October, before returning with the World Premiere and RSNO co-commission of German composer Detlev Glanert's Second Violin Concerto.
Guest Artists
Boris Giltburg returns to perform with the RSNO for the first time since 2016, playing Beethoven Piano Concerto No3, in November.
Jörg Widmann plays Mozart's Clarinet Concerto in November, under the baton of Elim Chan.
Opera fans are in for a spellbinding evening with Karen Cargill singing Wagner's Wesendonck-Lieder, with Thomas Søndergård conducting.
Italian violinist Francesa Dego comes to Scotland in December to play Mozart's Violin Concert No5 Turkish K219, also with Thomas Søndergård.
Violinist Stefan Jackiw features in a programme full of legends, stories, and fairy tales to leave a lasting impression on audiences.
Anna-Maria Helsing conducts the RSNO in Dvořák's Symphony No8 in January.
Paul Lewis, dubbed 'the finest British pianist for generations,' joins the RSNO for Grieg's Piano Concerto in Season Concerts conducted by Cornelius Meister.
Tenor Edgaras Montvidas joins the RSNO for the first time since Verdi's Requiem in 2016, returning to the Digital Season to sing Britten's dreamlike songs Les Illuminations.
Exploring Diverse Repertoire
From Joseph Bologne, Chevalier de St Georges in the 18th century to Aberdeen-born contemporary composer Richard Thompson, there is a rich and diverse repertoire that is rarely performed in Scotland. Our aim is to bring this creative content to the stage. By programming a range of new and different pieces, we are giving prominent space to works our audiences may not be familiar with including pieces by Joseph Bologne, Chevalier de St Georges, Jessie Montgomery, Errollyn Wallen, Detlev Glanert, Florence Price, and George Walker.
Scotch Snaps
A major part of the planned 2020:21 Season was a showcase and celebration of Scottish composers, both established and emerging. The Digital Season carries on this intention with
Errollyn Wallen, whose piece Mighty River features in the 15 January 2021 concert. The piece is dedicated to Wallen's great-great-great-great-great-great-grandmother, who was a slave. 'It is an innate human instinct to be free,' Wallen says, 'just as it is a law of nature that the river should rush headlong to the sea.'
The following concert on 29 January 2021 includes a World Premiere of Aberdeen-born Richard Thompson's Suite from The Mask in the Mirror. Thompson's 2018 chamber opera The Mask in the Mirror presents the life and identity of Paul Laurence Dunbar, one of the most prominent African-American poets of the early 20th century who struggled with his racial identity and died from alcoholism/tuberculosis when he was 33.
Beethoven 250
The RSNO Digital Season celebrates the 250th anniversary of the birth of Ludwig van Beethoven with six concerts featuring the legendary composer. The Season includes five Beethoven symphonies conducted by RSNO Music Director Thomas Søndergård, including Symphony No3 Eroica in the opening concert. In November Boris Giltburg will play Beethoven's Piano Concerto No3.
RSNO Artist in Residence, Midori, is set to thrill audiences during a Beethoven double-billing in October, in an evening that opens with Symphony No1 before the violinist performs the Violin Concerto. As the winter nights fall in December, the RSNO will bring warmth and light to audiences across Scotland with the beautiful Symphony No6 Pastoral, and the revolutionary spectacular Symphony No7. The Autumn-Winter Digital Season finale will conclude with the electrifying Symphony No5.
Polska Scotland
The RSNO has worked to ensure key themes of the original 2020:21 Season remain in the new Digital Season including the Polska Scotland series, a programme very close to the heart of RSNO Chief Executive Alistair Mackie. Inspired by his own conversations with his mother about a Polish warship and soldiers defending the shipbuilding yards of the Clyde in 1941, the RSNO remains dedicated to honouring this long-standing friendship between two great countries. The late Krzysztof Penderecki's Adagio for Strings (from Symphony No3) will open the first December Digital concert, conducted by Thomas Søndergård. The Polska Scotland series is organised in partnership with the Adam Mickiewicz Institute and financed by the Ministry of Culture and National Heritage of the Republic of Poland as part of the multi-annual programme NIEPODLEGŁA 2017–2022.
Classic FM Recommends
The RSNO is proud to be Classic FM's orchestra in Scotland. Five concerts within the Digital Season have been chosen as Classic FM recommendations. They are: Midori Performs Beethoven's Violin Concerto – Fri 23 Oct 2020, Widmann Performs Mozart's Clarinet Concerto – Fri 20 Nov 2020, Søndergård Conducts Beethoven Seven – Fri 18 Dec 2020, Lewis Plays Grieg – Fri 12 Feb 2021, and Søndergård Conducts Beethoven Five – Fri 26 Feb 2021.
Accessible Tickets
The RSNO Digital Season offers accessible ticket pricing to enable as many households as possible to enjoy new concerts, whilst still supporting the professional musicians of the RSNO during the most challenging period for arts organisations in modern times.
The ten Digital Season concerts are available as a subscription for just £90, or each concert may be accessed with a single ticket purchase of £10. To support the Orchestra, viewers are asked to consider purchasing a household ticket for the price of £20, if watching with family and friends.
Low price concession tickets are available at £3 for full-time students and young people under the age of 26, patrons who are unemployed, and patrons with disabilities.
The RSNO would like to thank the generous support of its audiences during the COVID-19 pandemic and appreciates all purchases and donations made during these difficult times.
RSNO Partnerships
The RSNO is supported by the Scottish Government and local authorities in Scotland.
Partnerships are crucial to the work of the RSNO and we aim to facilitate local, national and international partnerships with cultural, commercial, public, charitable and community organisations in order to increase and sustain the impact, reach, reputation and contribution of the Orchestra's work.
The RSNO continues to strengthen its reputation for delivering rewarding programmes for its corporate partners and sponsors, helping to build profile, serve local communities, engage staff and customers, and generate inspiring stories.
ScotRail will continue to be the RSNO's Principal Transport Provider, a partnership which reduces the environmental impact of the RSNO's busy touring schedule, encourages concertgoers to take the train to concerts and supports ScotRail's commercial activities across Scotland.
Capital Document Solutions continues its generous support of the RSNO's photocopying and document management services. As part of this partnership Capital Document Solutions sponsors a series of concerts across the season, with opportunities to build the company's brand and gain access to hospitality at concerts, helping to develop relationships with staff and clients. This partnership is now in its thirteenth year.
This year the RSNO is delighted to announce a new partnership with the Adam Mickiewicz Institute and the Consulate General of the Republic of Poland in Edinburgh. The RSNO's Polska Scotland series is generously supported by the Adam Mickiewicz Institute and the Consulate General of the Republic of Poland in Edinburgh as part of the international cultural programme marking the centenary of Poland's regained independence. This programme is financed by the Ministry of Culture and National Heritage of the Republic of Poland as part of the multi-annual NIEPODLEGŁA programme 2017–2022.
The RSNO is proud to be Classic FM's Orchestra in Scotland, with five RSNO Digital Season concerts recommended by Classic FM.
The RSNO continues in partnership with the Institut Français Écosse, an association which supports Franco-Scottish cross-cultural collaboration.
The RSNO is also delighted to continue its sponsorship with La Bonne Auberge, a partnership which supports Children's Classic Concerts, now in its tenth year.
The RSNO would like to thank all its sponsors, corporate partners, media and broadcast partners and project partners who make a crucial contribution to the work of the Orchestra.
Funders: The Scottish Government, Aberdeen City Council, Dundee City Council, Glasgow City Council, Glasgow City of Music, Adam Mickiewicz Institute and RSNO Foundation.
Corporate supporters: Anta, Capital Document Solutions, Victor & Carina Contini, Dine, Gallagher, Hampden & Co. Bankers, Institut Français Écosse, Investec Wealth & Investment, La Bonne Auberge, Prestonfield, Valvona & Crolla.
Principal Media Partner: Classic FM
Broadcast Partner: BBC Radio 3
Principal Transport Provider: ScotRail
Chair Sponsors: Cadenhead's, Mitchell's Glengyle, Springbank Distillers Ltd, J&A Mitchell and Co. Ltd.
The RSNO is also deeply grateful for the generosity of its individual supporters. Our Conductors' Circle and Patrons are a vital part of our annual fundraising. As a charity, we also rely upon a wide range of generous support from Trusts and Foundations.
For more information on RSNO concerts and events, visit www.rsno.org.uk
Digital Season Concerts
Søndergård Conducts Beethoven's Eroica – Fri 9 Oct 2020: 7.30pm
Midori Performs Beethoven's Violin Concerto – Fri 23 Oct 2020: 7.30pm Recommended by Classic FM
Giltburg Performs Beethoven Piano Concerto No3 – Fri 6 Nov 2020: 7.30pm
Widmann Performs Mozart's Clarinet Concerto – Fri 20 Nov 2020: 7.30pm Recommended by Classic FM
Søndergård Conducts Beethoven's Pastoral – Fri 4 Dec 2020: 7.30pm
Søndergård Conducts Beethoven Seven – Fri 18 Dec 2020: 7.30pm Recommended by Classic FM
Midori Performs Glanert – Fri 15 Jan 2021: 7.30pm World Premiere
Helsing Conducts Dvořák Eight – Fri 29 Jan 2021: 7.30pm
Lewis Plays Grieg – Fri 12 Feb 2021: 7.30pm Recommended by Classic FM
Søndergård Conducts Beethoven Five – Fri 26 Feb 2021: 7.30pm Recommended by Classic FM
All concerts will feature a socially distanced orchestra of approximately 50 musicians. Please note, due to the ongoing uncertainty of the current Coronavirus pandemic, the RSNO may have to change programmes and/or artists at short notice or delay a broadcast date. If a concert has to be cancelled in its entirety and an alternative concert is not possible, all ticket money will be refunded.