World Premiere of the RSNO's Yoyo & The Little Auk at Refugee Festival Scotland
Posted Mon 20 June 2022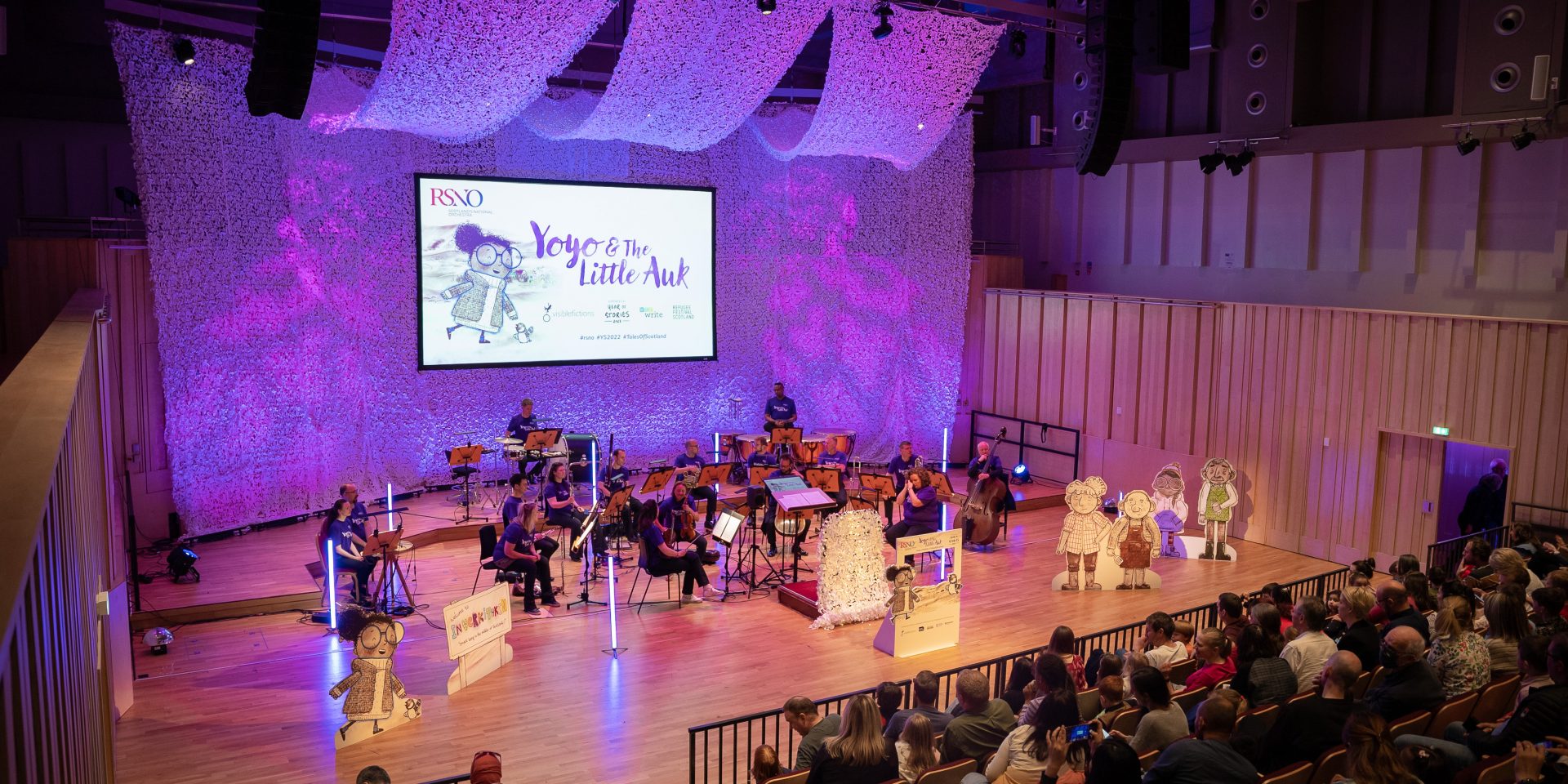 The Royal Scottish National Orchestra (RSNO) performed the World Premiere of Yoyo & The Little Auk live in concert, welcoming families of recently displaced people arriving in Glasgow to the concert as part of the Refugee Festival Scotland.
Held during the Wee Write children's book festival the concert was the first in a series of live performances of the new orchestral tale created in partnership with Visible Fictions, introducing children to classical music in a fun and interactive way. The project is supported by EventScotland in celebration of Scotland's Year of Stories 2022.
This year's Refugee Festival Scotland celebrates the stories of people and communities who have settled in Scotland, which is a central message of Yoyo's story. When a terrible storm hits a flock of birds flying thousands of miles across the ocean, one little auk lands in the fictional town of Inverkithkin and is welcomed into the community by Yoyo on the night of the annual ceilidh. Refugee Festival Scotland's theme this year is storytelling, and alongside EventScotland's Year of Stories the RSNO hopes to show how important the link between music and storytelling is across cultures.
Presented by Lisa Rourke (RSNO Sub-Principal Viola), Scotland's National Orchestra accompanied the brand-new animated film with original music composed by Euan Stevenson. The story was brought to life with a world-class creative team including Scottish BAFTA-winning animator Gavin C Robinson, author Stewart Ennis, director Dougie Irvine and producer Laura Penny.
Further live performances will be taking place across Scotland this year and families and nurseries in the UK can sign up for free to watch the animated film and receive a suite of teaching resources inspired by the story. On Tuesday 21 June the RSNO is marking the summer solstice by releasing the film in British Sign Language and Gaelic thanks to the support of Bòrd na Gàidhlig.
Yoyo & The Little Auk is part of Scotland's Year of Stories 2022 events programme, supported by EventScotland. The project is also kindly supported by the Bòrd na Gàidhlig, Nancie Massey Charitable Trust, Northwood Charitable Trust, Leach Family Charitable Trust, Russell Trust, Verden Sykes Trust, Barrack Charitable Trust and the Cookie Matheson Charitable Trust Leisure & Culture Dundee and Glasgow City Council.
Find more information and future live concert dates here